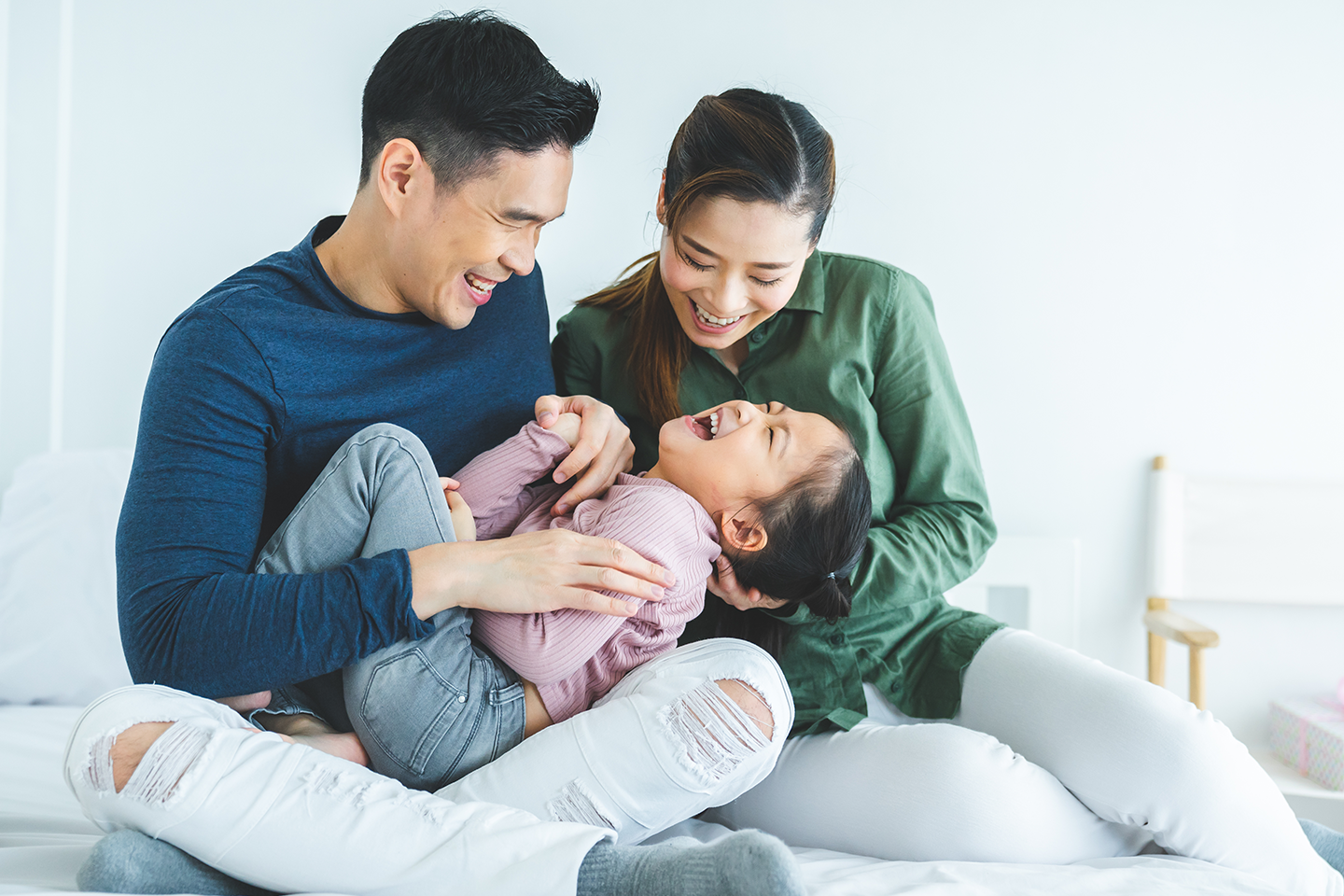 Being a first home buyer in this market is tough. It's no wonder Australians are finding it hard to get a foot on the property ladder.
Here's how to buy your first home with only a 5% deposit
The team at homeloans.com.au, May 2021
Being a first home buyer in this market is tough. While paying rent – where you're effectively paying off someone else's mortgage – you have to somehow put aside extra money to save for a deposit. Never mind that you may be making enough money to comfortably accommodate mortgage repayments already!
It's no wonder Australians are finding it hard to get a foot on the property ladder. Research recently commissioned by homeloans.com.au revealed that 30% of Australian mortgage holders thought saving for a deposit was the most difficult aspect of buying a home.
Worse, the amount you've managed to save so far may be looking increasingly inadequate as property prices keep climbing, with many economists predicting that house prices could rise by as much as 20 per cent over the next two years.
The good news is that you may already be in a position to buy your first home, even if you're short of a 20% deposit. In fact, you can get away with saving only a 5% deposit for certain loans.
Our new home loan, Quickstart, is designed specifically for first home buyers in this position. As well as accepting deposits as little as 5%, Quickstart enables you to borrow a portion of the lenders mortgage insurance (LMI) in your home loan. LMI is a fee that's usually required when the deposit is less than 20%, and it's typically deducted from your deposit.
Being able to borrow a portion of the LMI makes a substantial difference to the property you can afford. As shown in the table below, which looks at what you can buy in each capital city with a $100K deposit (with fees like stamp duty and lenders mortgage insurance included), Quickstart can add as much as $108,000 to your purchase power compared to other 5% deposit home loans.
This extra money can make all the difference for affording a house rather than a unit, adding an additional one or two bedrooms, getting a place in a nicer neighbourhood, or even being the successful bidder for an in-demand property.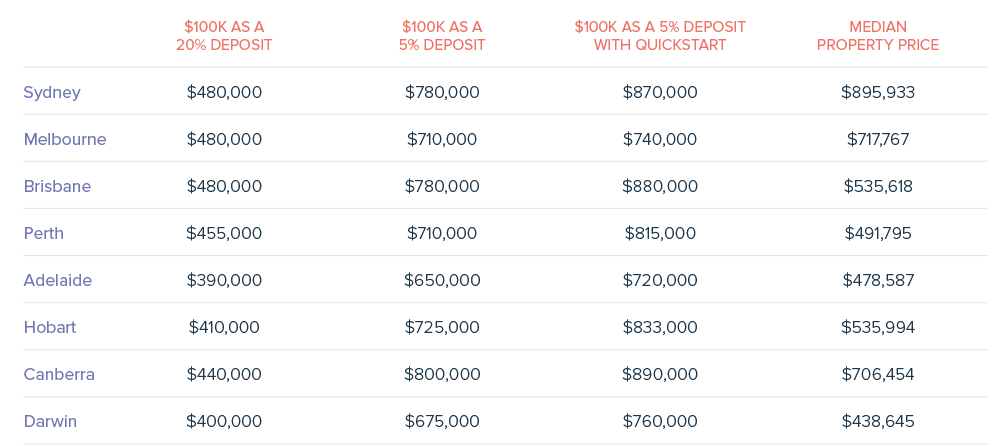 Further, Quickstart is flexible when it comes to the source of the deposit funds. While most lenders require that all the money has been in the borrower's bank account for at least three months, Quickstart doesn't have that restriction, and accommodates funds from first home owners grants, gifts, inheritances, and the Bank of Mum and Dad. In fact, adding an additional $5K to a $100,000 deposit in Sydney can boost your buying power to $915,000!
To illustrate how this all works in practice, let's introduce you to our friends Emily and Robert.
Emily and Robert are from Sydney. They've saved $100,000 for their first home, including $20,000 that Emily's parents gifted to them last month. They thought this would be ample, so they were devastated to learn that as a 20% deposit, their money could only stretch to a $480,000 home.
Upon further research, Emily and Robert discovered they could make their money go further with a home loan that accepted 5% deposits, thus increasing their buying power to $780,000. Alas, Emily has since fallen in love with a two-bedroom apartment only 15 minutes from the CBD for $870,000. Further, they have been advised by their bank that the $20,000 Emily's parents gifted them needs to be in their bank account for at least three months before they can use it for a deposit.
The couple was delighted to discover Quickstart, which bolsters the property price they can afford to $870,000, and accepts "non-genuine savings" within the deposit. As Emily and Robert are both employed full-time, careful with their money and have excellent credit histories, they have a great shot at being approved for their home loan.
Are you a first home buyer keen to get your foot in the door? See our Quickstart page for more information, and get in touch if you'd like to know more!
The opinions expressed in this article are the opinions of the author(s) and not necessarily those of homeloans.com.au. The above is general commentary only and is not advice tailored to any individual's financial situation. We recommend seeking advice from a finance professional before implementing changes relating to your finances.
Property prices are indicative only, and are inclusive of stamp duty relevant to each state/territory, legal fees and lenders mortgage insurance (where applicable). Having a $100K deposit does not guarantee a borrower will be approved for a home loan. Loan approval is subject to borrowers successfully completing a full credit assessment. Median property prices provided by CoreLogic as at 28 February 2021. Examples and scenarios provided are fictitious and for illustration purposes only; any resemblance to real persons or other real-life entities is purely coincidental.
Back to top
homeloans.com.au is an award-winning provider of flexible and competitive home loans for all walks of life.
Click the button below to find out how we can help you.