architecture-and-design-reverse-ceiling-fan-table-lounge-interior
5 easy ways to warm your home
Veda Dante, May 2016
There are a lot of effective ways to warm up your home without breaking the budget and many, unsurprisingly, rely on a combination of common sense and old-fashioned solutions. Here are five ways to up the comfort factor when temperatures plummet.
Above hero image courtesy of Architecture and Design
1.   Reverse ceiling fans
Ceiling fans are probably the last things you would think about turning on in winter but with one simple flick of a switch, not only can you save energy but also direct warmth back into areas where they're most needed.
The majority of fan models have a small switch in the centre (you might have to remove a couple of screws to get to it) that enables you to turn the blades from counterclockwise to clockwise. This means the fan is now able to draw cooler air upwards before forcing it downwards along the walls where it can rise again.
Even at the lowest speed you'll notice a gentle updraft redirecting warm air down to where you're sitting on the lounge or at the dinner table. This is especially noticeable if your home has high ceilings or an open-plan layout.
How exactly does this reduce power bills? Well, since thermostats are typically located around eye level, keeping the warm air low where it's needed means you can turn the temperature down a few degrees and still stay warm.
[caption id="attachment_4674" align="alignleft" width="690"]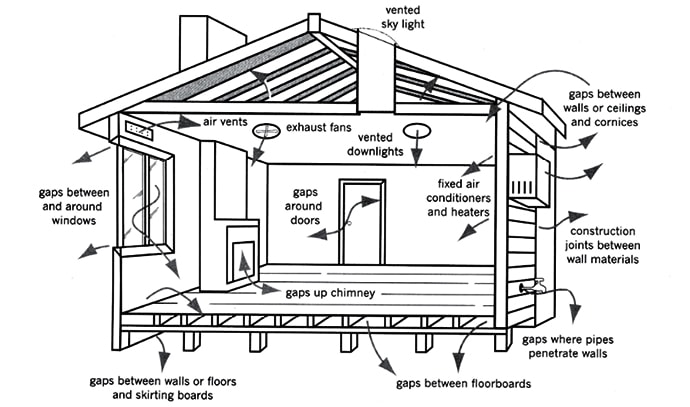 Image courtesy of Your Home
[/caption]
2.   Seal cracks and gaps
Did you know that more people perish from the cold in Australia than in Sweden? That was the finding of a 2015 study that drew a correlation between the quality of our housing (or lack thereof) with our exposure to temperature.
If you've ever lived in a colonial terrace or timber Queenslander then you'll know why many Aussie houses have been deemed "glorified tents" due to poor insulation. It's said that in the average Victorian home, adding up all the cracks and gaps would equate to having a 1-metre by 1.5-metre window constantly open.
To reduce heat loss in your home, start by locating then sealing up cracks and gaps. Here's what to look for:
Visible light under and around windows, and doors
Movement in curtains, and moving air around windows, doors, fireplaces, floorboards, architraves and skirting boards
Also listen out for rattles or whistling around doorframes and windows, especially on windy days. For more information about passive design and sealing spaces, check out Your Home.
[caption id="attachment_4676" align="alignleft" width="690"]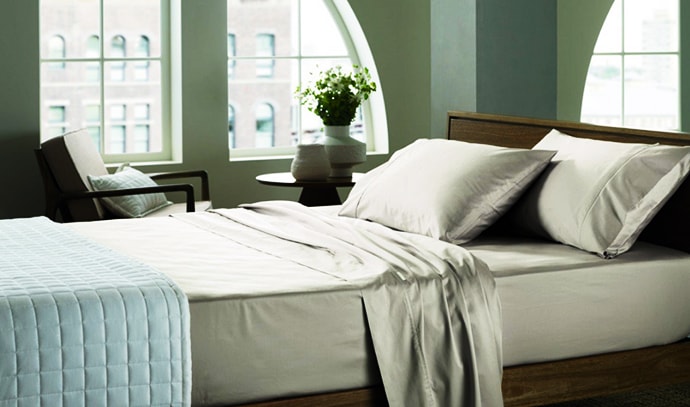 Image courtesy of Twenga
[/caption]
3.   Change your bed sheets
Have you ever wondered why flannel sheets feel warmer than cotton ones, considering that neither is capable of generating heat? It's all down to their fluffy surface, which traps warm air for longer and helps keep your bed nice and warm on cold nights.
It is commonly known that cooler temperatures produce better sleeping conditions, which makes switching to flannel sheets a much better option than switching on the heater. And one that's significantly cheaper.
K-Mart has an extensive range of inexpensive flannel sheets, as does Adairs, My Linen and Twenga. You might also want to consider investing in a smart electric blanket, or a good old-fashioned hot water bottle.
[caption id="attachment_4673" align="alignleft" width="690"]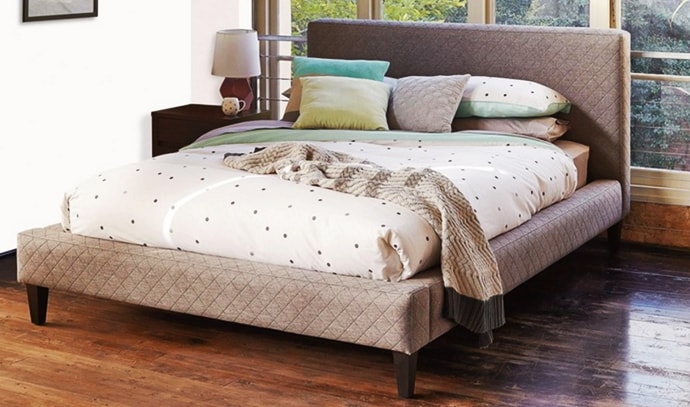 Image courtesy of Domayne
[/caption]
4.   Re-arrange your furniture
Smart furniture placement can play a huge role in the retention of heat – and in many cases you don't have to spend a cent to notice the difference. Moving the lounge away from a large window or outside wall will ensure radiant heat isn't lost from your body, especially if you have sheer curtains or it's a south-facing wall.
Avoid positioning large lounge chairs or your couch directly in front of the heater - which most of us are inclined to do in winter - as they will absorb the heat instead of it dispersing around the room. If your bed is next to a cold external wall and the room is too small to re-arrange it, consider separating the two with an upholstered bedhead like this one from Domayne.
Covering cold surfaces with shag rugs or faux fur throws will also add warmth to spaces without impinging on your budget. Here are some of our favourite strokable winter warming textures.
[caption id="attachment_4675" align="alignleft" width="690"]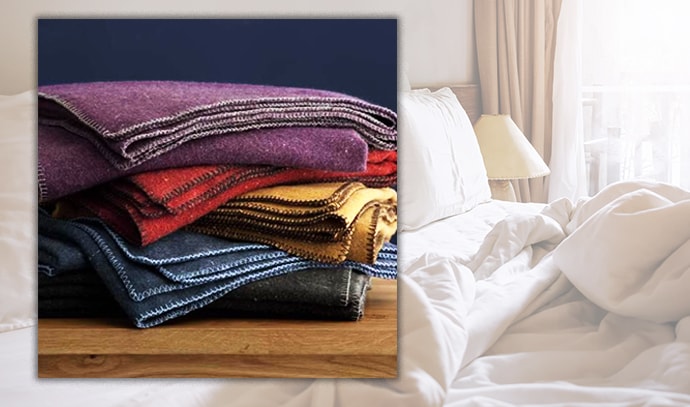 Image courtesy of The Bedroom
[/caption]
5.   Focus on keeping yourself warm
From footed pajamas like these onsies, to a pair of classic uggs, comfy bathrobe or luxurious lounge throw, keeping yourself warm is a lot easier and cheaper than heating every room in your house. Simple things like wearing an extra layer, closing the doors to unused rooms and putting a blanket under your bottom sheet will instantly reduce your power bills.
Physical activity is without-doubt the easiest, cheapest and most eco-friendly way to warm up without turning up the heater. While it might take a bit of extra effort during the colder months, briskly walking around the block or kicking a ball in the backyard with the kids is a surefire way to heat up your body. Smartphone Apps like the 7 Minute Workout are another effective way to quickly generate heat (and get fit) when you have the chills.
Finally, if it's time to invest in a new heater, consumer advocacy group Choice has compiled a great heating guide that outlines the different models on the market and which is the right one for your home.
Back to top