interiors-by-darren-james-wardrobe-walking-cabinet-brown-colored
Built in Wardrobe ideas
Katie Adema, January 2015
Above image courtesy of Interiors by Darren James.
Singer Mariah Carey owns over 1000 pairs of shoes. And of course, these are kept in a specially designed, climate controlled walk-in wardrobe, complete with bleached-wood floors and gold leaf décor. Sounds pretty extravagant, right? Most celebrity closets definitely are. However, creating your own dream wardrobe is more attainable than you might think. More and more everyday people are having luxury closets custom designed and built into their homes, seeing them as an investment feature that will also enhance their lifestyle. A well designed wardrobe can give you many things-an organised and stress-free space to get dressed each day, a perfect storage solution for all your bits and bobs, or even a little retreat away from the kids. [caption id="attachment_2888" align="alignleft" width="690"]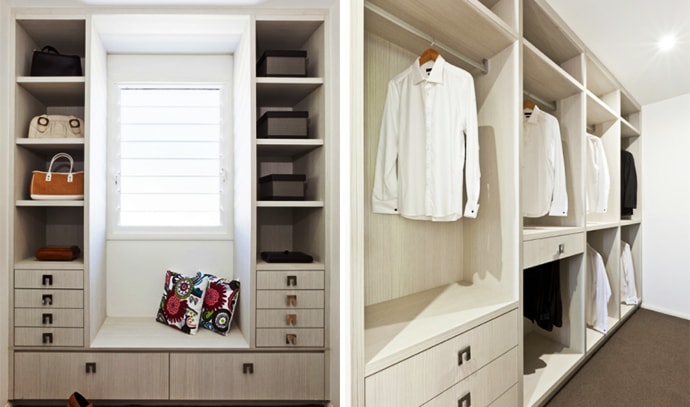 Image courtesy of Interiors by Darren James
[/caption] These extravagant closets are not just for women and their many shoes and handbags; the modern man who values his appearance is also being drawn to the concept of a well organised wardrobe.
Darren James
, founder and design director of
Interiors by Darren James
, custom designs and manufactures unique wardrobes varying from simple built in wardrobes to extravagant walk in closets worth over $120,000 for his clients. Yes, you heard right, $120,000 for a wardrobe! Darren established his business 10 years ago, and in recent years he's seen an increase in enquiries for luxury organised wardrobes. "I think people are starting to really see the value in their personal space," he says. "They want it to be organised so it isn't a stressful space, and need better storage for their clothes, shoes, and accessories such as watches and jewellery." The number one advantage to having a custom made closet is that it will truly make use of every inch of space there is available for smart storage of personal items. [caption id="attachment_2889" align="alignleft" width="690"]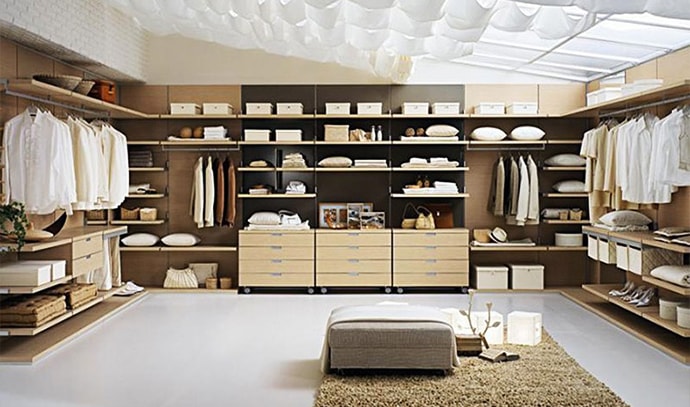 Image courtesy of

Interiors by Darren James
[/caption] "When I'm asked to design a wardrobe the client will always emphasise the need to maximise space," explains Darren. "We do this by counting everything that needs to fit, how big each item is, and take note of how they should be stored so we can design a wardrobe that has exactly the right amount of different kinds of storage space. This will usually include a large shoe rack or shelves, drawers for jewellery and watches, a smaller, shorter hanging space for shirts and a longer space for dresses." This kind of wardrobe is certainly something most people dream of having inside their home. But is it worth the cost? "A basic but well-designed walk-in robe can cost around $5000," says Darren. "Walk-in-wardrobes are especially sought after, as they offer the luxury and practicality of extra space. If you have a lot of clothing, shoes and accessories, a walk in wardrobe can be the answer to lack of space and order, providing it is all organised efficiently. It also gives you more privacy while changing, and can offer extra storage space for things like bed linen. "The main value a well-designed closet offers the owner is a more accessible wardrobe that will save them time and stress, as life is so busy already," he concludes. [caption id="attachment_2890" align="alignleft" width="690"]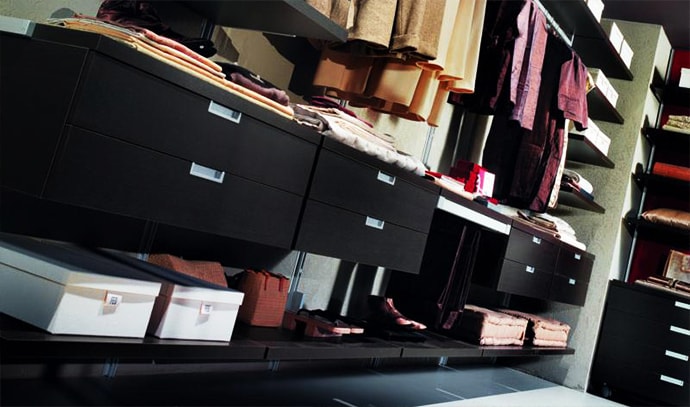 Image courtesy of Interiors by Darren James
[/caption] "Having a wardrobe like this means the owners can rush through crazily on their way to an important event and know where everything is. Conversely, they also have the option of relaxing in the space, taking their time trying on different outfits, because it's also designed to be luxurious." For those who can afford to invest a great deal of money in a top-of-the-range luxury wardrobe, elegant finishes, including upholstery, lighting and smart technology are the key to achieving the ultimate closet. Sensor lighting, high tech security and even movement activated cabinet doors that turn from timber to glass are some of the most sought after luxury finishes. According to Darren, the sky is the limit, such as the client who racked up $120,000 for their finished wardrobe! Think of how many shoes you could fit in a wardrobe like that…. sigh, one can only dream. [alert style="alert-info" dismissable="false"]
What features can be included in a luxury wardrobe?
Here are just some of the things that a designer might look at working into the finished design of your wardrobe:
Purpose built shoe racks or shelving
Drawers and pull out baskets in a variety of sizes
Hanging space for accessories such as ties and scarves
Slide-out hanging space for clothing items
Compartments to store bags, hats and other bulky items
Fixed and adjustable shelving
Extra storage space for bed linen and other household items
[/alert]
Back to top