atc-waterfall-pool-bricks-garden
Using water to create a striking outdoor feature
Veda Dante, July 2017
Water features can be an easy way to liven up any outdoor space, be it a small courtyard, family pool or sprawling backyard. They come in all shapes, sizes and styles, ranging from soothing koi ponds and bubbling fountains to elaborate water gardens and cascading waterwalls. Some examples of residential water features include:
Reflecting pools
- usually consists of a still, shallow pool of water, undisturbed by fountain jets or waterfalls
Fish ponds
– an artificial body of water that houses species like koi, karp and goldfish for decorative purposes
Water gardens
– also known as aquatic gardens, their primary focus is to showcase different aquatic plants
Streams
– horizontal water feature that meanders along walkways, paths, or pool decks
Fountains
– a decorative feature that pours or projects water from a piece of architecture into the air or a basin
Waterfalls
– often created with natural stone boulders to replicate one you would find in nature, water flows vertically over a single drop, or cascades down different levels, falling into a pool
Water walls
– a vertical sheet of water cascading freely or trickling down a wall, water walls are seen everywhere from residential poolscapes to inner city restaurants [caption id="" align="alignnone" width="690"]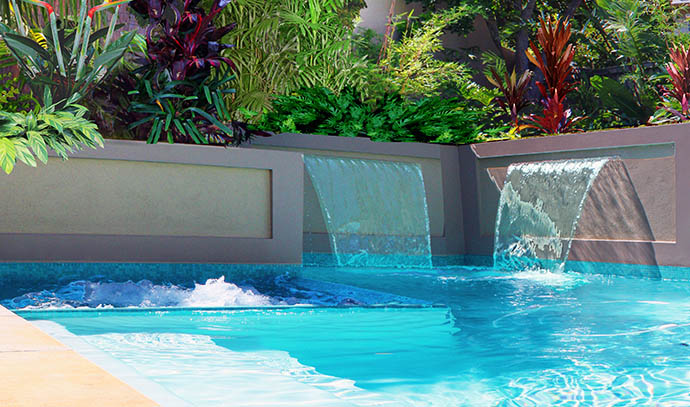 A Total Concept
's sheer descent water features add a striking focal point to poolscapes.[/caption]
Striking focal points
Sydney pool designer and landscape architect John Storch from
A Total Concept
says water features have come a long way from "three decorative rocks piled over a pool or plastic pond and a PVC return line poking out the top to create a 'natural' waterfall." "Today's designs add aesthetic value to an outdoor space, and also entice us outside with their sound and sight, especially in the evening when they're lit up," he says. For example, sheer descent waterfalls – also known as spillways – are used to create a focal point for swimming pools. They produce a striking feature that can be adjusted from a simple sheet of soothing water to a rushing mountain waterfall that drowns out noisy neighbours or nearby traffic noises. [caption id="attachment_8293" align="alignnone" width="690"]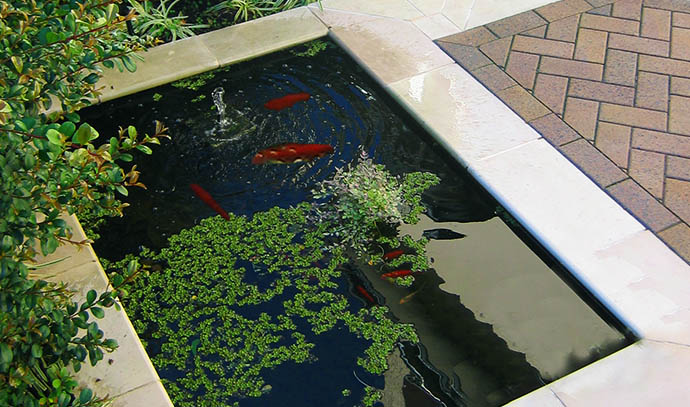 Choosing the right plant species is important, especially if you plan to add fish to your pond.[/caption] Jandy's
Sheer Arc Rain
water features project the water up at 45 degrees in the air, where it naturally arcs and falls into the pool surface. Clearpond's
spillways
are illuminated by colourful fibre optics to create a night-time feature, while Crave Designs'
kits
enable you to build your own.
Living water gardens
Ranging from a rustic billabong to sophisticated pond, water gardens filled with either fish or plants (or both) literally bring your water feature to life. Choosing the right species of plants for your pond is important, especially if you plan to add fish to the mix. Plants not only enhance the aesthetic appeal of the overall design but can also play a valuable role by helping to keep the water clean. For a healthy aquatic ecosystem, it's good to have a mix of oxygenators like water lilies at the bottom, floating plants like duckweed on the surface, submersibles such as water fringe, and marginal or bog plants like sedge for the shallow parts. [embed]https://www.youtube.com/watch?v=AbnU-vdaPoc&t=5s[/embed]
How to build a water feature with a watering can
Here, Jason Hodges from
Better Homes and Gardens
shows you how to transform the humble watering can into a playful water feature – in one afternoon. Not only will the kids love it but it's also a great way to entice them out in the garden. [alert dismissible="false" style="alert-lifestyle"]
Choosing the right pump for your water feature
To determine an appropriate pump capacity, factor in the following:
Volume of water

Type of filtration system

Hose sizes

How high you need to pump the water

Energy efficiency
Waterco supplies a wide selection of filtration systems and pumps as does Bunnings and Creative Ponds.
[/alert]
Images courtesy of A Total Concept
Back to top