children-toys-hanging-on-the-crib
When two becomes three:Creating a nursery in your home
Katie Adema, December 2015
There are many exciting and overwhelming moments in the lead up to having your first child – and setting up the nursery is definitely one of them. In between all the paint colour samples and furniture catalogues, it's no wonder putting together a nursery seems like a job and a half. To make things a little easier for you during a busy time, here's our simple guide to get you started on creating your very own nursery.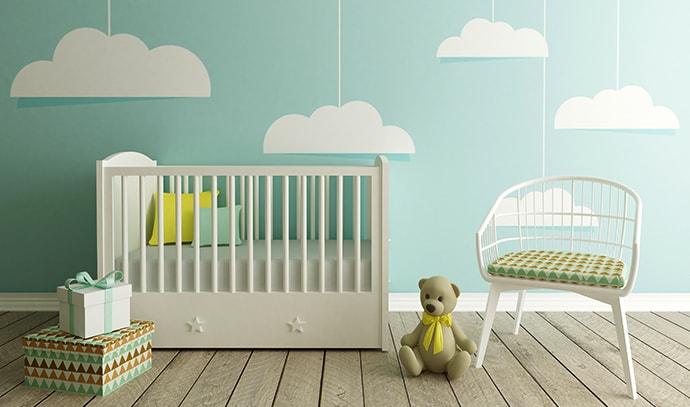 Key pieces first
Although many people get excited about choosing the paint colours and the decorative items for the baby's room first, it is probably wise to make all other aesthetic decisions based on the main pieces of the room, namely the crib, a chest of drawers, changing table and perhaps a feeding chair. By selecting these pieces first, you will create a much more functional and beautiful space because all the smaller items are centred around the main objects in the room.
Divide into zones
The nursery will need to cater for a few different functions – and so the layout of the room needs to reflect this. Areas for feeding, sleeping and changing are essential, plus perhaps some storage area for all your child's things. Dividing the room into these key areas ensure that each space can be easily accessed and everything required for that function are placed in that area. This means a comfortable chair with a small table nearby for feeding, a changing table of an appropriate height and drawers for nappies, wipes and clothes, and of course, a crib for sleeping.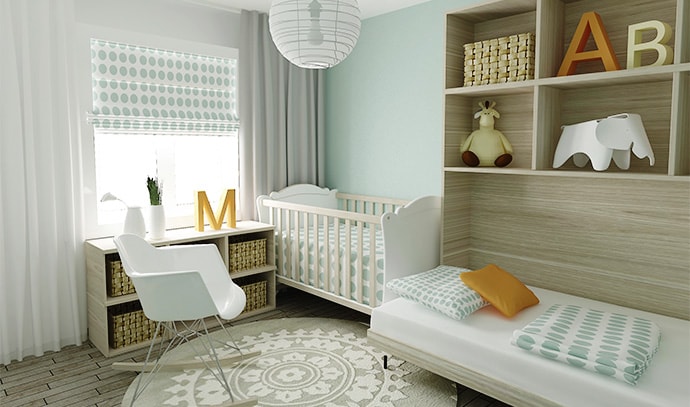 Think about safety
Of course, keeping your child safe is your number one priority, and common sense will most likely stop you from storing any possibly dangerous items in the nursery. However, it's the small details that can make all the difference to your peace of mind – things like a cot with bars the right distance apart and the right height. Other things to consider are whether there are any electric cords or cords from blinds and curtains, and how these can pose less risk, and whether heating vents are covered appropriately.
Choose adaptable colours
This one is especially important if you are not planning on finding out the sex of your child before it is born. Even though your gut is telling you it's a girl, if you commit to a gender specific colour scheme right away, there is a slight chance you could be bringing home your son to a pink room. Gender isn't the only thing at play here – think about the needs of the growing child, the colour scheme of the rest of the house, and whether the colours create a restful sleeping space.
Back to top