outdoor-rug-zebra-black-white-backyard
Top tips to transform your outdoors with rugs
Veda Dante, May 2016
Transterior, transeasonal, all-weather, waterproof - regardless of what you call them, outdoor rugs can transform an unused section of your deck, patio, porch or garden lawn into an enticing entertaining space. Today's designs come in a multitude of colours and patterns, ranging from monochromatic
geometric patterns
and
multi-coloured stripes
to
exotic weaves
. While visually similar to indoor rugs, the difference tends to lie in their heavy-duty construction, which is designed to better withstand the elements – natural and manmade. Upcycled PV, plastic, polypropylene, nylon and acrylic are common synthetic fabrics of choice for all-weather spaces, and what they lack in tactile appeal they certainly make up for in durability. With deep pile rugs best left indoors, the easy-to-clean, mildew resistance of these materials make them an ideal choice for high traffic, spill-prone areas. [caption id="attachment_4759" align="alignleft" width="690"]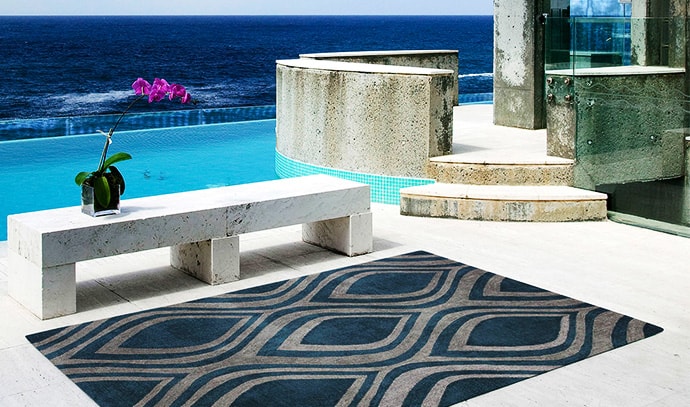 Image courtesy of Jamie Durie
[/caption]
Outdoor rug buying tips
Just like their indoor counterparts, outdoor rugs should complement the surrounding environment and add functionality to the space.
Consider the shape of your patio, pool deck or porch when choosing the dimensions of your rug. Circular rugs work well with round patio tables while square or rectangular rugs help create designated entertainment zones around daybeds and outdoor chairs.
For a seamless segue between the living room and back deck, consider matching the rug to your home's flooring.
Major pieces of furniture such as outdoor table settings, lounges or daybeds should fit comfortably over the rug, with some space to spare.
Large rugs look great covering a deck or patio, helping separate zones devoted to different functions.
Man-made materials such as polypropylene, polyester and nylon are designed to withstand harsh weather conditions like prolonged sun exposure, rain and dirt. Theri textured surfaces tend to handle the elements better than natural materials.
Natural rugs made from bamboo or jute have a striking texture but can harbour mould and mildew if they're exposed frequently to rain or humidity.
The weave of an outdoor rug will affect the way it looks and feels. Open weave rugs like jute allow dirt and debris to pass through more easily.
[caption id="attachment_4760" align="alignleft" width="690"]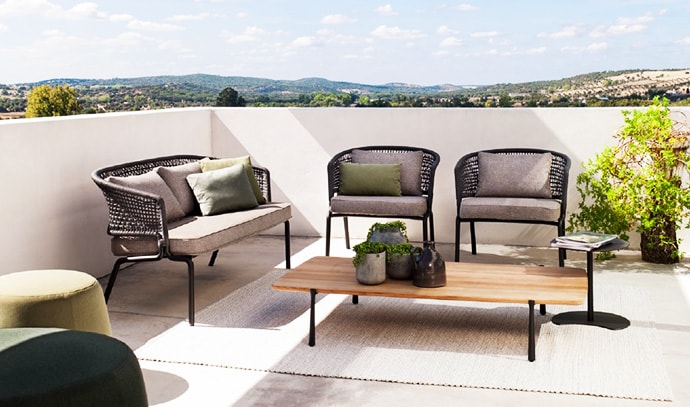 Image courtesy of Cosh Living
[/caption] Create wow factor and absolute comfort with Cosh Living's new Tribu outdoor carpets. Composed using PVC coated polyester, they are weather resistant to sun and rain, and feel sensational underfoot. With their natural colours, the carpets give outdoor areas a warm and enticing atmosphere that suit most contemporary settings. [caption id="attachment_4761" align="alignleft" width="690"]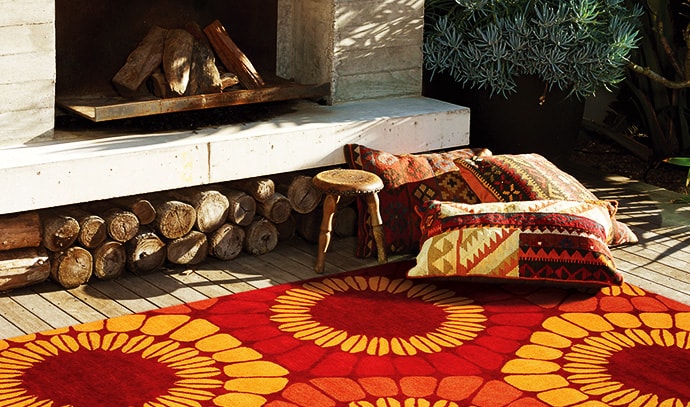 Image courtesy of Jamie Durie
[/caption] Since starting his design practice in 1998, Jamie Durie has received over 33 international design accolades, with the latest being the New York Design Award for
The Tubular Chair
. He's since added "transterior" rugs to the collection, which are made by hand-tufting polyester yarn recycled from plastic (PET) bottles. Unlike hand-knotted rugs, hand-tufted rugs are woven without knots. [caption id="attachment_4756" align="alignleft" width="690"]
Image courtesy of Beyond Bright
[/caption] Australian owned online family business
Beyond Bright
supplies an impressive range of rugs fashioned from eco-friendly materials including plastic and polypropylene. Owners Emmanuel and Anna recommend smaller, 90cm x 179cm sizes to use as picnic rugs, bigger 180cm x 270cm for patios and camping, and larger 269cm x 269cm for big backyard decks and pool areas. .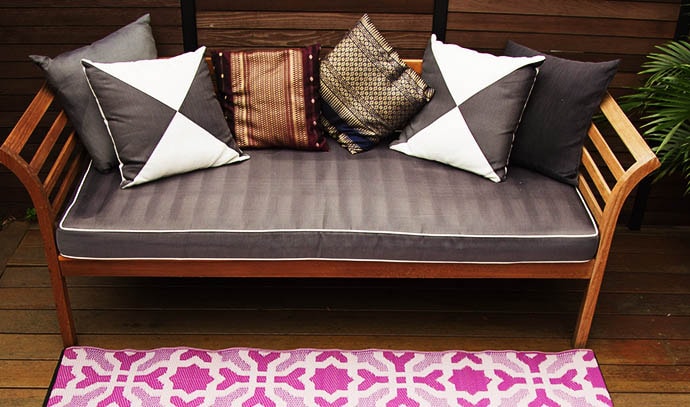 How to clean your outdoor rug
Outdoor rugs are often placed in high-traffic, spill-prone areas such as patios, decks, porches, and underneath outdoor furniture. Man-made materials like nylon, polypropylene and polyester tend to clean easily and dry quickly, with most needing a quick hose down to maintain.
An area rug attracts a lot of dirt (and sand if you live by the beach) so gently scrub it once a month with a simple solution of washing detergent and warm water. Don't forget to clean both sides before you give it a good rinse.
After cleaning, let your rug dry in the sun by draping it over the clothesline, a porch rail or fence, or even on a sloping driveway so the water drains away. (Flip it over so both sides dry properly.) The sunlight will also help to kill off bacteria and algae.
Spot clean as soon as you notice a stain or spill.
Keep your rug looking new by removing moss and algae with diluted bleach or vinegar
When storing your rug, always roll it up (never fold) and cover with plastic if you plan to store it in a garage or shed.
Back to top
homeloans.com.au is an award-winning provider of flexible and competitive home loans for all walks of life.
Click the button below to find out how we can help you.