happy-kids-having-pillow-fight-over-colorful-bed-sheets
Top tips to find the right pillow
Phyllis, March 2016
Nothing starts your day off better than getting a good night's sleep, and one of the best things you can do to ensure you get it is to start with the right pillow. But just as the right pillow will send you soundly off to dreamland, the wrong one could worsen headaches, neck pain, shoulder and arm numbness, discomfort, sneezing, and wheezing. Add to this the extreme yuck factor that if your pillow is past its prime, more than half its weight could be from skin cells, mould, mildew, fungus, and dust mites and it could be time to start shopping for a new model. As a rule of thumb, we should buy a new pillow every 12 to 18 months. But how do you find the one that's exactly suited to your needs from the myriad offerings on the market? Choosing a pillow is a very personal decision and given that we spend the best part of a third of our life sleeping, it is extremely important to find a pillow that offers you the correct balance of comfort and support to suit you.
1.  The first thing to consider is how you sleep
If you sleep on your back, look for a medium support pillow. This will support the natural curvature of the upper spine, providing support under the head, neck, and shoulders.
If you sleep on your side, look for a firmer support, in something that contours and cradles the head, neck, and shoulders. Pillows that have been designed for side sleepers sometimes have a gusset that makes the sides of the pillow seem rectangular.
If you sleep on your stomach, look for a soft support pillow that doesn't turn the head unnaturally to either side.
2.  The next thing to consider is the type of fill
If you like your pillow to curve with your head, then look for a soft natural fill such as down or down-feather blends.
If you like your pillow to have some resistance but still be relatively soft, look for a synthetic fill, which is soft, but generally feels a bit firmer than down. Synthetic pillows fills are commonly microfibre or polyester.
If you like your pillow to feel extremely supportive and maybe a little dense, opt for memory foam, which provides significant support, though it softens a little with use.
If you have asthma or allergies, latex could be the way to go. Latex is a renewable and biodegradable product made from the sap of a rubber tree.Not only is it durable, it's hypoallergenic.
While the firmness of the pillow will be on the packaging, it can vary between manufacturers. Compare firmness by placing the pillows on a flat surface and compressing them with your palm to about half of each pillow's original thickness. The more pressure you have to apply, the firmer the pillow. The faster the pillow returns to its original shape, the more resilient.
Check for neat stitches, straight seams, evenly distributed filling, a usable zipper, and piping that reduces wear on the edges. A tightly woven cover protects the fill.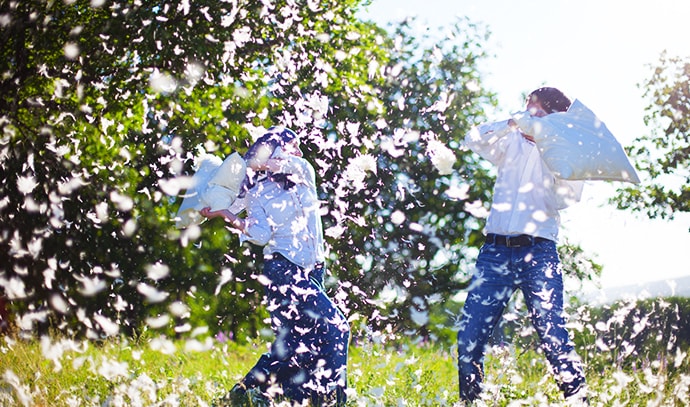 3. You've made your purchase, but before you can rest your weary head there are just a couple more things to remember
Before use: Put on a pillow protector. They're quite cheap and available in most home and bedding shops. The pillow protector can be easily washed, helping to keep your pillow fresh and clean, away from moisture and oils, and will also keep it from staining.
Daily: Give your pillow a good shake and fluff it up. This will help kill any dust mites and keep it fresher and cleaner.
Weekly: Wash your pillowcase.
Monthly: Some pillows can be put through a gentle washing machine cycle to keep them really clean, particularly polyester and latex pillows. Check the labels on your pillows, and if they are suitable pop them in the wash.
Every six months: Test your pillows to ensure they're still in good condition.
Put your pillow on a flat surface and fold it over in half.
Place a sports shoe on top.
If the shoe flies off as your pillow bounces back into its original shape, your pillow is fine.
If the shoe stays there, or the pillow doesn't spring back into shape, it's probably time to buy a new one.
Watch the date: Some pillows are labelled with a use-by date, which is a handy way to remember to buy a new one.
Back to top