living-room-books-couch-air-conditioner-modern-interior-design
Top tips to buy an air conditioner
Phyllis, January 2016
Everything you ever wanted to know about air conditioners but were afraid to ask
My first encounter with the joy of air conditioning was as an eight-year-old. I spent a week of the summer holidays with my auntie, who was house sitting for a friend. Said friend's house had air conditioning vents in the floor between rooms and I had ton of fun re-enacting Marilyn Monroe's subway scene from
The Seven Year Itch
. For that, and numerous other reasons, it remains my idyllic home and many a time have my wistful thoughts returned there as I sweltered through hot summers with merely a fan or, worse, an evaporative cooler. For those of you who are about to plunge into the chilly joys of air conditioned comfort for the first time (or upgrade to a new and amazing model that may even make you a cup of tea in the morning) here is a rundown of everything you need to know.
WHAT'S OUT THERE
There are several types of air conditioner
1.   Split-system
This has a compressor unit outside the house that pumps cold (or hot) air to one or more units inside. They can cool an open-plan area of up to 60 square metres and, having had one, I can vouch for them being the best of both worlds in terms of bang for your buck.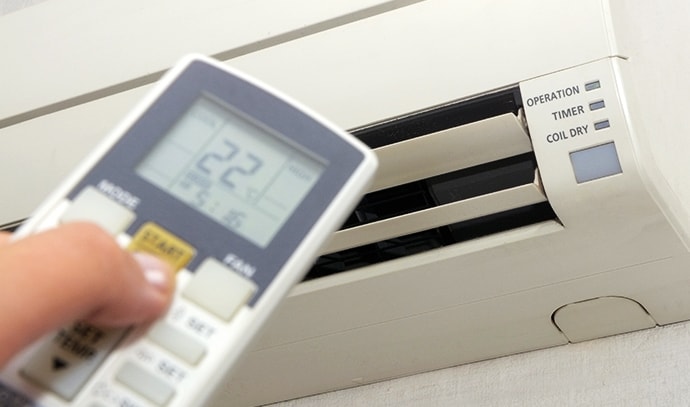 2.   Inverter

technology
These are the ones that are so smart they apparently do everything but make you a cup of tea. It works thus: while the compressor on a conventional air conditioner is always on and working at 100 per cent of capacity, inverter models can sense the temperature in the room (pre-set by you) then vary the compressor speed and temperature to suit.
3.   Ducted
The air con of all air cons! These are usually an external unit with multiple outlets throughout the house. The air reaches the outlets via aluminium ducting installed in the roof (or floor) space. They're very efficient, as you can have the air delivered to certain zones in the house. They're also very good in humid areas, as they dehumidify air.
4.   Cooling-only
This does just what the name suggests and is therefore cheaper than …
5.   Reverse-cycle
These give you warmth in winter as well as cool air in summer and don't cost too much more than their cooling-only cousins.
6.   Wall/window
These are cheaper than split system models and some smaller ones can even be installed by the home owner if they only need to be plugged into a normal power point. Others need additional wiring and will required an electrician to install them. If you consider the cost of knocking a hole in the wall or blocking in part of a window, not to mention the brackets for the unit to sit on, you may be better off going for the split system.
7.   Portable
A great option for renters or those on a very tight budget. A duting vent fits into a window and you just plug it into the power point. The beauty of these is you can have them in the living room during the day, then move them into the bedroom at night.
WHAT TO LOOK FOR 
1.   Power
If you're going to do it, do it properly or you'll regret it. Look for a model with the right capacity for the area you want to cool/heat or with a bit more power. Choosing an underpowered model will put too much strain on it, resulting in less efficient operation and possibly a broken unit.
2.   Fan speed
Look for a model with a wide airflow range and multiple fan speeds. Very high sped will cool the room quickly, while low speeds will circulate the cool air without causing a draught and also conserve energy.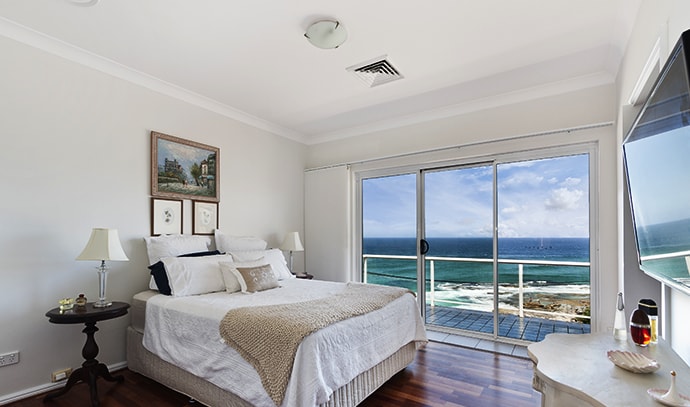 3.   Human presence sensor
This detects whether someone is actually in the room, so that the unit knows to keep working. Some models even direct the air movement towards the person. As far as I'm aware they don't yet make cups of tea, but I'm sure it's coming.
4.   Remote control
Look for large, well-spaced buttons and a big, easy-to-read LCD screen.
5.   Sleep mode
This function adjusts the temperature to a comfortable level for sleeping so the air conditioner doesn't work as hard when you're sleeping. It also keeps it quieter.
6.   Adjustable or oscillating louvres
Point them up for cool air and down for warm. This can be done via the remote for most models. Left and right adjustability helps direct air where it's particularly needed.
7.   Restart delay
A protective feature that prevents the air conditioner from starting up again too soon after being switched off.
8.   Operating modes
Auto

: Automatically chooses the mode required to keep the room at the chosen temperature.

Cool

: Pumps heat from the inside to the outside.

Heat

: Pumps heat from the outside to the inside.

Dry

: Dehumidifies the air, while cooling only slightly.

Fan only

: Blows air without heating, cooling or drying, which is useful when all you want is a cooling breeze.
Back to top