modern-living-room-design-carpet-curatins-sofa-kitchen
Tips to soundproof your home
Phyllis, January 2016
We devote a lot of time and energy to insulating our homes against heat and cold, but unless there's a flight path directly overhead, most householders don't devote much effort to minimising noise. That's a problem, as noise pollution can be more than just annoying. Exposure to prolonged or excessive noise has been shown to cause a health problems ranging from stress, poor concentration, productivity loss in the workplace, communication difficulties and fatigue from lack of sleep, to heart disease, cognitive impairment, tinnitus and hearing loss. Fortunately, there are some simple steps you can take to minimise noise in the home. To soundproof a building, it's important to find the noise entry points and work out how best to block or minimise it as it enters.
1.   Choose quiet appliances
When buying appliances such as dishwashers, fans, fridges, air conditioners, it's worth paying the extra money for quieter models. Check out the spec sheets to ensure you're getting something that won't keep you (and the neighbours) awake at night.
2.   Use sound-absorbent materials
Hard surfaces reflect sound waves; soft surfaces absorb them. If you want to reduce sound bouncing around a room, opt for soft materials such as acoustic ceilings and padded carpeting rather than hardwood, tile, or laminates.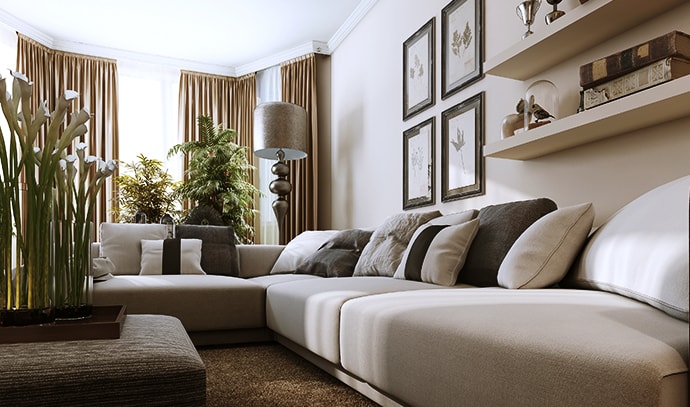 3.   Opt for sound-blocking doors
One of the most effective ways to keep noise from moving from one room to the next is to install (and weatherstrip) solid doors. Most interior doors are of hollow core construction, which is ineffective when it comes to blocking sound. Opt for particleboard-core, composite-core, or solid timber internal doors.
4.   Weather strip interior doors
Install weather stripping around internal and external doors. Usually, the easiest and best material to use is adhesive-backed high-density foam tape.
5.   Buy a soundproof garage door
The typical garage door is built with an open interior framework and a sheet of plywood, steel, vinyl or aluminum on the outside, but you can also buy doors that are filled with foam insulation and have an additional covering on the inside. These are particularly good at keeping street noise from invading through the garage.
6.   Sound-proof windows
Double or even triple glazed windows not only keep noise out of the house, they do double duty as an insulator.
7.   Soft furnishings
Carpets, rugs, heavy curtains and large sofas all serve to absorb sound waves. Acoustic-rated underlays will also help to minimise noise.
Back to top