sealy-aspire-mattress-bedroom-interior
The lowdown on mattresses
Phyllis, October 2015
Above image courtesy of Sealy
Next time you complain your pillow top mattress isn't soft enough, spare a thought for our Neolithic ancestors who slept on beds made of stone. Yes, that's how long people have been dreaming of a good night's sleep on their mattress. Of course these days we have a plethora of mattress styles to choose from (fortunately none of them stone). But what's out there and how do you choose the right one for your needs? I took these questions to the experts: Bedding retailer
Snooze
and mattress manufacturer
Sealy
. [caption id="attachment_2775" align="alignleft" width="690"]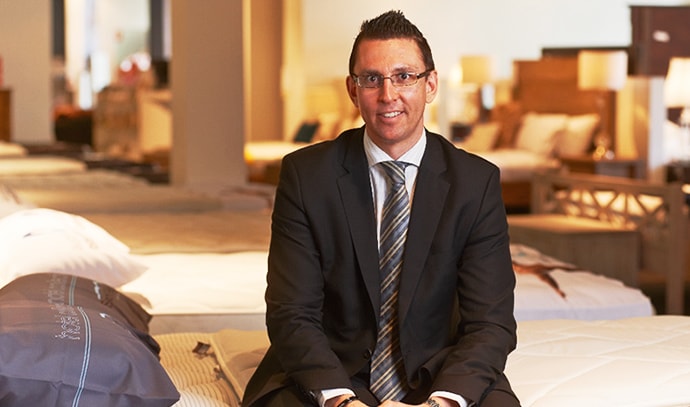 Troy Grzeshcka, Snooze Mattress Buyer
[/caption] Snooze mattress buyer
Troy Grzeschka
shared his top tips to help take the guesswork out of buying a new mattress.
The feel factor 
"Most mattresses offer a comfort layer or pillow-top," Troy says. 'Depending on the fabric and thickness, this comfort layer is considered soft or firm. No one can tell you which one is right for you, as it's a personal choice."
The support factor 
"While all mattresses may look the same they are, in fact, different on the inside," Troy cautions. There is quite a wide range of mattress types available, including pocket spring, coil spring, memory foam, latex and air. Without the right support, a mattress may cause discomfort and you could feel tired and sore in the morning. So it's vital you choose the right mattress for you." [caption id="attachment_2782" align="alignleft" width="690"]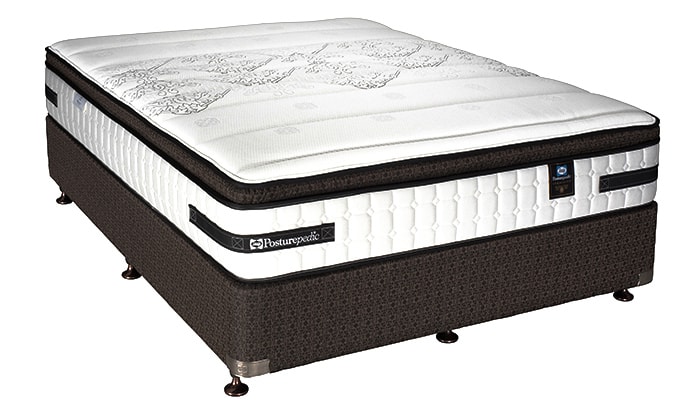 Image courtesy of Sealy
[/caption]
Common mattress types
POCKET COIL
: These mattresses are made from individual springs, which are sealed in separate fabric pockets. This means they generally operate independently from each other. So when one person moves around they are less likely to disturb the springs on the other side of the bed. Pocket coils come in various sizes from micro to standard. Typically, the smaller the coil, the better it conforms to your body shape.
COIL SPRING
: These mattresses feature a single length of wire in each row or lattice. Each wire is shaped into a coil and interlaced to the top and bottom of the spring frame. The coil is made from strong wire that can vary in thickness. If the wire is thicker, the mattress is firmer. If the wire is thinner, the mattress is less firm. This design limits the amount of movement across the mattress so may help reduce partner disturbance.
MEMORY FOAM
: A memory foam mattress is typically made from viscoelastic. Once warmed up, the memory foam contours to your body shape, which may help relieve pressure points (usually in the shoulders and hips). The result is a relaxing, supportive feel. At Snooze, our range of memory foam mattresses includes Tempur and Technogel, in a variety of sizes from single to king size. Troy offers the following tips on how to choose the right mattress for your needs.
The size factor 
"It's amazing how often people call us to say their new mattress is too big (or too small) once it's in the bedroom, so it's a good idea to measure up first," he says. "You may also need to measure up the person, particularly if you're buying for a growing teenager! King single beds are longer than single and double beds, so they're often a better option." [caption id="attachment_2779" align="alignleft" width="690"]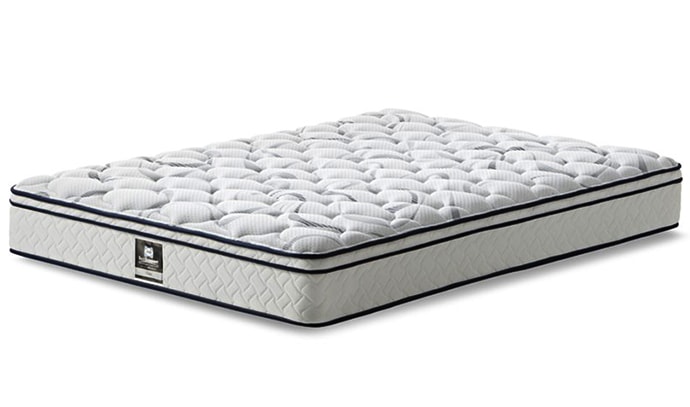 Image courtesy of Sealy
[/caption]
The price factor
"Remember, a bed is not an everyday purchase; therefore try not to let price dictate your decision," Troy advises. "A mattress usually lasts between seven and 10 years, so it's quite an investment and it could be the difference between a great night's sleep and an average night's sleep." [caption id="attachment_2777" align="alignleft" width="690"]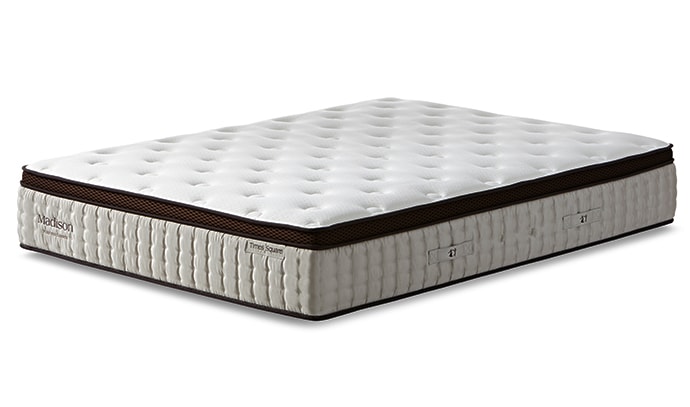 Image courtesy of Snooze
[/caption]
The bedMATCH choice
If you're still unsure which mattress is most appropriate, try the bedMATCH system (only available at Snooze). After answering a few questions, the bedMATCH system takes a number of measurements and prints out a selection of mattresses that may better suit your needs.
Added extras 
Finally, while spending the time investing in a mattress is necessary, Troy adds that it's equally important to consider bedding accessories, such as pillows and mattress protectors. "A mattress protector will also help protect the health and life of your new investment," he says. "If you buy a new mattress then check your sheets are the right fit. If you have a deep mattress then you will need deeper walled sheets."
Mattress maker talks makes and models
Your choice of retailer is important, according to Sealy representative
Briita Gehrmann
. "If you've had a positive mattress shopping experience previously, start there," she says. "Make sure the retailer offers the quality and the selection you desire. Don't be embarrassed to lie on the bed. This is a valuable investment so take your time. Start with a good quality mattress – we suggest start at the Exquisite collection. This will help you determine your comfort preference first. Try an ultra plush, plush, then a medium, then finally firm innerspring. Don't worry about what's in the mattress. Yet."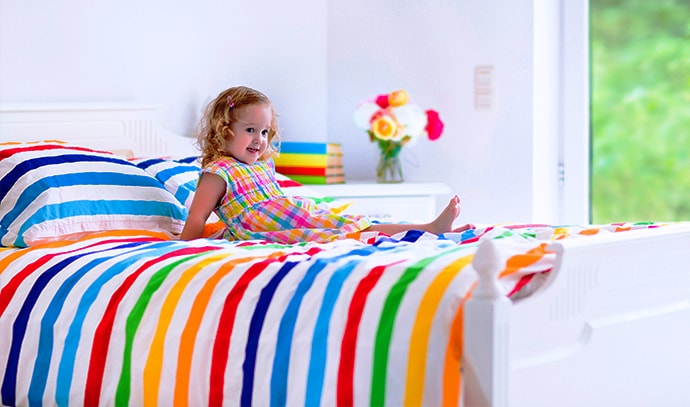 Britta says a good mattress should provide you with the right support at every comfort level.
Ultra Plush – a very soft-feeling surface.
Plush – firmer than the ultra plush, but not as firm as cushion firm.
Cushion Firm/Medium – firmer than a plush, but softer than firm.
Firm – the hardest of the comfort levels.
"When you've found one you really like ask about the product's features and benefits," Britta adds. "Compare it to one of higher and lower price. Learn the difference between like firmness but different prices and buy the best mattress you can – if it passes your comfort test." [caption id="attachment_2780" align="alignleft" width="690"]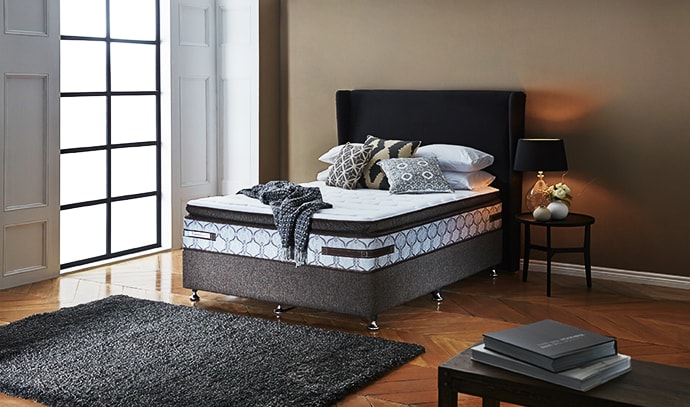 Image courtesy of Sealy
[/caption] Now it's time to consider what's inside, Britta says. "When you've found a mattress you really like, ask questions about it:
What's inside the mattress that offers proper back and body support?
Are there pressure relieving materials to allow for a deeper sleep?
What's inside the mattress that minimises tossing and turning?
Are the coils twice tempered? This helps the coils retain strength and prevent mattress sag.
[caption id="attachment_2781" align="alignleft" width="690"]
Image courtesy of Sealy
[/caption]
A brief history of the mattress
10,000 years ago: People began sleeping on primitive beds.
3400BC: King Tutankahmen slept in a bed made of ebony and gold while common people had to make do with palm fronds heaped in a corner.
Roman Empire: Like everything else associated with this progressive civilisation, the Romans had luxury beds made from gold, silver or bronze and mattresses stuffed with reeds, hay, wool or feathers. They also invented the waterbed. The sleeper would recline in a cradle of warm water until they became drowsy, then be lifted onto another bed with a mattress where they would be rocked to sleep.
Renaissance Period: Mattresses were made of pea shucks, straw or feathers stuffed into coarse fabric then covered with velvet, brocade or silk.
16th and 17th centuries: Louis XIV was the ultimate sleepyhead, often holding court as he lay in bed, of which he had about 413.
Late 18th century: The cast iron bed and cotton mattress were invented. These mattresses were less attractive to bugs than previous styles. Until then, sleeping with bugs was an unavoidable part of life, even for royals.
1865: The first coil spring mattress was patented.
1930s: Innerspring mattresses with upholstered foundations became increasingly popular in households.
1950s: Foam rubber mattresses and pillows appeared on the market.
1960s: Modern waterbeds were invented.
1990s: The queen size mattress replaces the double as the most popular choice for couples.
For more information, visit: 
sealy.com.au
 and 
snooze.com.au
Back to top