modular-wall-systems-estate-wall
The brick wall you have when you're not having a brick wall
Phyllis, October 2015
Looks can be pleasantly deceiving when it comes to the new generation in fencing materials. The front wall is often one of the first features of a home to be noticed. Not only does it provide a feature boundary wall, but it distinguishes the home from others, accentuating the property's character and charm. While a rendered masonry wall can add instant value to a home, bricks are expensive, messy to lay and render can be prone to cracking. But now there's a masonry wall that isn't made of bricks.
Modular Wall Systems
emulate the look of masonry rendered walls, which saves householders from dealing with the high costs and hassles associated with brick construction, and can eliminate the need to apply for council approval. The Australian-made systems create the look of a brick wall but are faster, easier and less expensive to install. They also reduce noise by more than 20 decibels. The modular post and panel system can be installed in a matter of days and requires no strip footings, special skills or heavy machinery. The panel is designed not to rot, dent, warp or corrode and appears so strong that no one would ever guess the fence was engineered from lightweight fibre cement panels.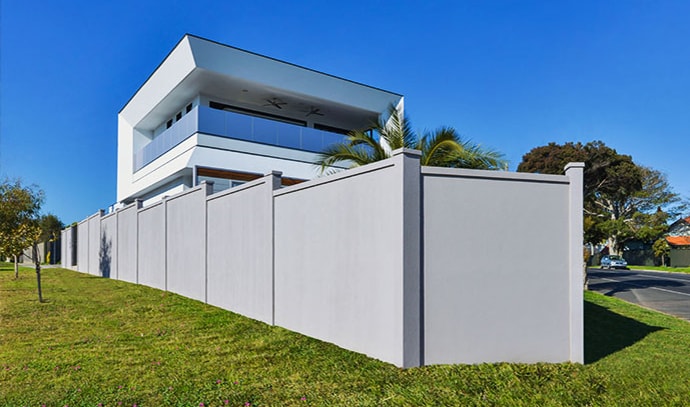 There are several designs available so homeowners can create a look that will suit their home and there are also decorative finishes available including slats, infills, gates and letterboxes. Wiring for lighting, sound and security systems can be easily incorporated. The brick masonry look is created using textured paint, which costs a fraction of traditional cement render. Retaining walls for sloping or stepped sites, planter boxes or for unusual situations where the fence needs to retain its base panel using the TerraFirm integrated and reinforced retaining panel, which maintains the look of the fence on both sides while retaining up to 750mm of soil. This eliminates the need to build an expensive retaining wall, which can look out of place when a fence is mounted on top of it. For more information on the complete range of masonry look fencing and wall solutions at
modularwallsystems.com.au
Back to top