van-middleton-fine-wedding-photographer-couple-kiss
Summer garden romance
Phyllis, December 2016
Hands up everyone who saw the final scene between Edward and Bella in
Twilight
and immediately wanted that fairy-lit rotunda in their back garden? Seriously good-looking vampire dude optional. Nothing says romance like twilight (unless it's
Twilight
) or night – a balmy summer night – in the garden. And it's possible to create a dreamy mood in your backyard for very little outlay and just a little imagination. Edward Cullen optional.
Fairy lights
Rotunda, gazebo, arbour or arch. Any structure will do if you want to recreate that gorgeous looking spot where Bella and Edward retreated to dance during the prom. It also creates a destination that will catch the eye and draw you forward into the garden. Add a small seat to rest on as you gaze about you and take in the wonders of the night garden. If you don't have any made-made garden structures to hang your fairy lights from, consider a few natural alternatives such as trees or shrubs. Most fairy lights need to plug into a power source, but if you don't have an outdoor power point, look for the battery operated alternatives. Remember that any lights you plan to hang outdoors must be designed for that use and ALWAYS check that they're approved for Australian Standards. Electrocution will kill you AND the romance.
White painted love seat
Anything white will reflect the light of the moon, candles or fairylights, so white garden furniture in the form of a bench seat will create another destination point where you can sit and take in the romantic atmosphere around you.
Water
The sound of running water is natural and soothing. It's also a quiet sound that enhances rather than intrudes on the atmosphere. If you have a water feature in your garden, even if it belongs to the pool, turn it on. If not, it's surprising how the silence of the night makes the sound of a small table-top fountain easy to hear.
White and silver plants
When darkness falls, the softer light from the moon and stars causes white and silver plants to reflect the light so that they appear luminous. Many flowers also become fragrant in the darkness in order to attract pollinators such as moths. Their fragrance and subtle glow adds the perfect touch to the romantic atmosphere.
Citronella lamps
Of course nothing will kill the romance faster than slapping yourselves and each other as the mozzies zoom in for a feast. Some strategically placed citronella lamps should do the trick, as well as adding to the ambience with their glow. [caption id="attachment_6505" align="alignleft" width="690"]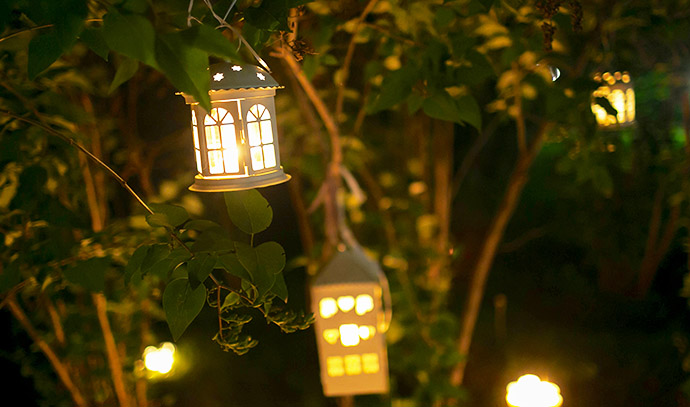 Tealights in trees add to the romantic ambience.[/caption]
Candles
Speaking of glow, nothing says romance like candles. A few strategically placed tea lights or pillar candles will not only add to the ambience of your night garden but help prevent any decidedly unromantic tumbles. Subtlety is the key here. You don't want a thousand candles creating a bushfire effect. (Speaking of which, DO NOT light any candles during a fire ban, and make sure you extinguish them before you head back indoors.) Perhaps hang some tea lights in glass jars from a few tree branches, place a pillar candle on a flat rock where it will illuminate a sculpture, or light the way along a path to the love seat we mentioned earlier, where a bottle of champagne and two glasses are waiting.
Wind chimes
Romance is about whispering sweet nothings – not shouting them over the top of a blaring racket. The sound of crickets and the occasional hoot of an owl flying past is about as much noise as you want in this situation – unless you want to give nature a boost in the form of wind chimes. The breeze whistling through the trees is a soft, innocuous sound, so why not make it a touch more noticeable with some wind chimes. They don't have to be fancy. In fact, the loveliest wind chimes I've ever seen were made by a friend using old forks and spoons strung from crossed over driftwood with fishing line. [caption id="attachment_6504" align="alignnone" width="690"]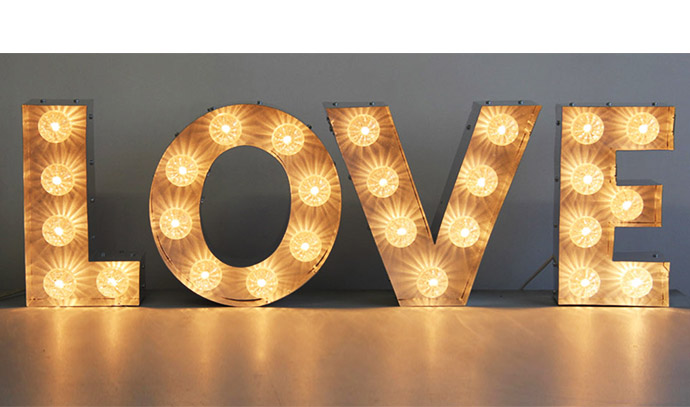 Vintage marquee lights[/caption]
Marquee lights
If you really want to go all-out – or have something special in mind like a proposal or wedding anniversary – then vintage marquee lights will certainly create a lasting impression. Inspired by the bright lights of Broadway and Las Vegas, they add a beautiful, bright glow and look incredible when photographed.
Back to top