patio-mediterranean-villa-french-riviera-wicker-furniture
How to spruce up your garden furniture
Katie Adema, June 2016
Whether you have a vintage style day bed, a modern dining table and chair set or a rustic looking garden bench, the furniture in your garden pulls together the whole style of your backyard. After a seemingly never-ending summer, your garden furniture might be looking a little faded or worn after all those long hot days out in the sun. Fortunately, you can make it look like you own brand new garden furniture without actually purchasing anything new –all you need are the right tools, some enthusiasm and perhaps a little paint or varnish.
Clean
Whether your garden furniture is made of wood, plastic, metal or wicker, every material can be drastically aesthetically improved by a good clean. We aren't talking about a rough once-over with a cloth and a quick swipe to get rid of the cobwebs here – get the hose or pressure washer onto that garden furniture and really clean it (skip this step for wicker furniture)! Use some outdoor furniture suitable handwash and a sponge to scrub away any build up in those hard to reach spots. Wooden and plastic furniture are okay to be left to dry on their own – metal and wicker furniture need excess moisture wiped off and may also require drying with a fan or a hairdryer lest mould or rust result.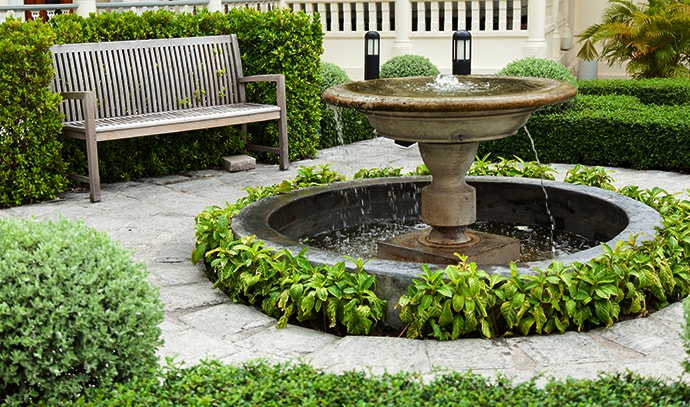 Strip it back
Roll up your sleeves and arm yourself with some sandpaper – its time to strip back that tired looking wooden furniture. Depending on the size and how many pieces of furniture you wish to strip back, this job can take anywhere from a few hours to a few days. After being stripped back, timber furniture can be stained or varnished to create a glossier finish. For an extra boost, add a coat of protective sealer to lengthen the lifespan of your newly refreshed furniture. If you possess metal furniture that is starting to rust through, this can also be taken care of in a similar manner to wooden furniture– use a steel brush to remove rust and loose paint, and then smooth it out with some fine-grit sandpaper.
Paint
Plastic and wooden furniture is particularly easy to refresh using a lick of paint – with a few coats, your outdoor setting will be looking as good as new! Keep things neutral and summery with off-white and creams, or deep charcoal grey, or even echo the colours of your garden with a soft green or an earthy red tone. Or, you could be really bold and select a bright colour for a few pieces – this will create a strong visual focal point in the garden and completely overhaul the look of your furniture. Garden furniture is easy enough to repaint next season if you change your mind, especially if you only pick one piece to be the statement of the backyard. Make sure you wash and dry all furniture before painting to ensure a smoother finish.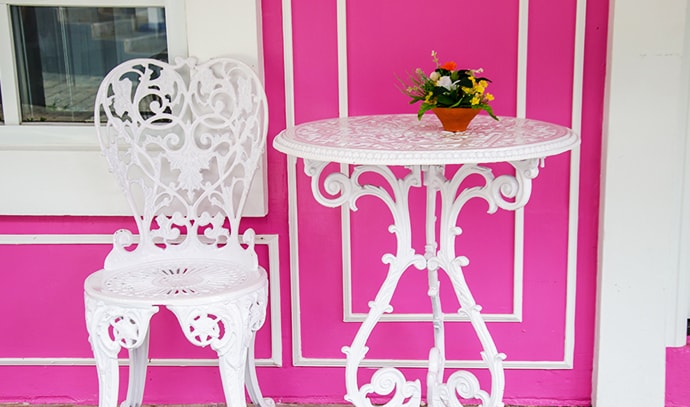 Recover and upholster
Direct sun and exposure to rain can wreak havoc on furniture cushioning and upholstery. After a few seasons, the fabric can become worn through, take on a very faded look or even have holes or mould. Replace the old cover with a similar one, or, if you're feeling like a complete change, rip the old covering off and create your own new ones with some fabric and a staple gun – just ensure when purchasing that the type of fabric you've selected is suitable for outdoor use. Some fabrics may need to be treated to make them more weatherproof or resistant to water. It is also an option to hire a professional to reupholster your garden furniture if you don't have the time or don't feel confident that you could replace the upholstery properly.
Back to top