designbx-interior-living-room-white-walls
How to make a small home look and feel bigger
Jane Ryder, July 2017
Are you tired of your small home looking and feeling cramped and pokey? The good news is that making it more spacious is more about decorating and design techniques and less about the amount of floor space or size of the budget. And there's more good news: Making your home light, airy and spacious will not only improve its look and livability, but may help achieve a higher resale price. So whether you're building a new home, about to embark on a major renovation, or up for a bit of redecorating, these doable tips will make any room in your home look and feel more spacious. [caption id="" align="alignnone" width="690"]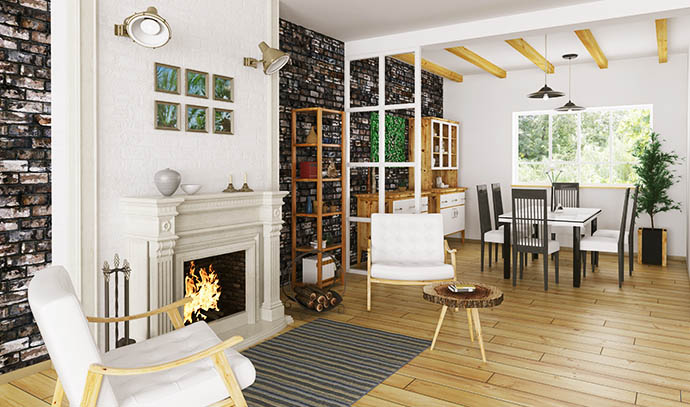 Furnishings in white and light colours – think pale grey, ivory, cream, beige and pale timber finishes –  instantly make any room look and feel bigger.[/caption]
Decorating tips to make your small home look and feel big
Try these clever decorating tips to create a fresh, more spacious look and ambience in your small home.
Choose light coloured furnishings with holes and legs
Before we talk style and colour, keep in mind that less furniture is best for achieving a spacious look. Perhaps there are a few pieces that you could remove to make more space? Many designers recommend for living areas two couches, or one couch and one or two chairs – and no more than two coffee tables.
Furnishings in white and light colours – think pale grey, ivory, cream, beige and pale timber finishes –  instantly make any room look and feel bigger and coordinate well with other colours, making decorating easier.
You can still have some colour, added as an accent; decorative pieces and cushions in red and navy give a nautical or French look while rose quartz, gold and black create a sophisticated look when matched with a light grey palette. Refrain from adding too many colours and patterns as it will create a busy, crowded look which makes any room look smaller.
In addition to light coloured furniture, choose designs that aren't bulky and have legs – this means there's space below each piece which gives a look and feel of spaciousness. Likewise, open cabinets and bookcases – those without doors or backs – don't fill in a room and 'steal' precious space. Open shelves also provide handy display space for your decorative pieces.
Re-position your furniture
Now for furniture placement: Instead of pushing your couches and coffee table together or jamming them up against a wall or two, which creates a crammed, tight-for-space look, bring them into the centre of the room. The distance between them and the wall will create a sense of space.
We can't discuss furniture repositioning without talking about hallways. If you would like your hall to look and feel larger, remove all furniture, including umbrella and hat stands; aside from making them easier to navigate, nothing says cluttered and pokey like passageway obstacles.
Multi-functional furniture
Multi-functional pieces free up limited floor space: extension dining tables and those with drop-down sides, coffee tables, ottomans and ensemble beds with built-in storage, and any pieces that fold out or away are great space-savers. Clear glass-topped coffee tables also make a space look bigger as they let you see the floor below and don't break up the flow of the room. Built-in book cases and benches, if you have the right spot, are also a way to free up floor space.
[caption id="" align="alignnone" width="690"]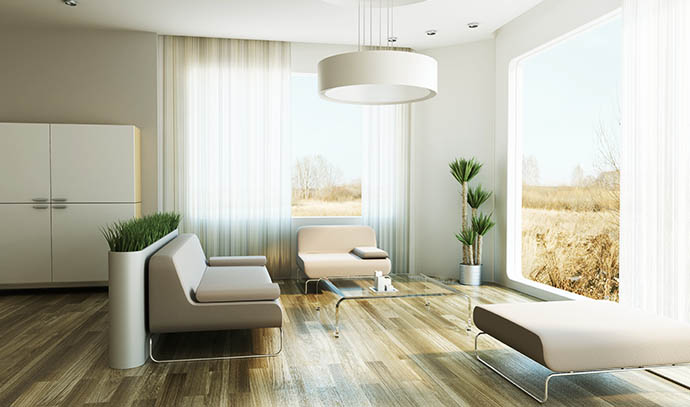 Sheer white or light-coloured curtains will seamlessly blend in with the walls.[/caption]
Space-saving and height enhancing window treatments
Bulky curtains rob an interior of valuable space and reduce the amount of natural light, which is essential for creating an airy, spacious interior. Sheer white or light-coloured curtains or slim line roller blinds will seamlessly blend in with surrounding white and pale coloured walls and not intrude into the room.
Hanging curtains between just below the cornice and at least half a metre above the window frame, and then letting the drop almost touch the floor will make your ceiling appear higher and your interior more spacious.
A room that is free of clutter and has limited decorative pieces looks more spacious so edit each room with a keen eye. If you love to fill every available surface with your cherished decorative pieces and art work you may need a friend or family member to help you cull. You don't have to give them away - simply store them and rotate your pieces regularly to instantly refresh your interiors.
Large, solid pendant lights can overwhelm and dominate a small room; instead, install small ones, preferably in clear glass and open designs that let light through. To free up floor space, fit wall mounted lighting instead of standard lamps.
[embed]https://vimeo.com/144342058[/embed]
Tips from the interior design experts at DesignBx
Kerena Berry from
DesignBx
says one of the conundrums of interior design is making small spaces feel larger, or at most a space that feels inviting. While she says "there are no fast rules", Kerena does share a few basic principles that can be applied to any style and space to achieve great results.
Using the same material across your entire floor to create a seamless flow from one space to another is a great way to make a space feel open. Opt for wide floorboards to avoid too many join lines, and larger tiles to keep grout lines to a minimal (makes cleaning easier as well).
When considering rugs, use tones that blend with your floor so you're not breaking the space up into small sections. Focus on texture or shape rather than colour to create a feel or style.
Lighter tones make a room feel larger and brighter, so pairing your wall and ceiling colours maximises this effect brilliantly. Opting for lighter tones on the ceiling, framework and doors will create a receding effect, which further promotes the sense of space.
Where possible keep window and doors oversized, and opt for a slim framework. A clear, visual path from indoors to the great outdoors is ideal. Bi-fold and concertina windows or doors dramatically open a space up. If you keep similar flooring from indoors to outside (or at least a similar tone) you can create the illusion that your home is twice as large.
When considering window treatments, use colours similar to your wall to ensure they're not a focal point. You don't want to divide your space with overpowering vertical lines. Use softer flowing fabrics like cottons, linens and polyester blends to assist with that light, breezy feel.
It's the oldest trick in the book, but never fails. Nothing opens up a room like mirrors. They reflect natural light and give the illusion of space. Scale and placement is key. If you're using mirrors above a lounge, opt for a design as wide as the lounge, whether it's one single mirror or three hanging side by side.
Hang mirrors where they reflect the outdoors, or a space that is exposed to streams of natural light. Full standing mirrors are also a great way to give the effect of higher ceilings. For a truly dramatic effect, opt for full mirror walls. These are especially effective in alcoves where light can be limited.
In general, less is more is the safest approach. De-clutter your home and use storage pieces that conceal your knick knacks. It doesn't matter whether they're treasures or unsightly functional items, nothing ruins the minimalist look like stray objects. Keep surfaces clean, so focal elements can shine - items like plants, a single stack of your favourite books or feature lamps to express your personality and style.
Divide and conquer does not work here!  Keep artwork oversized and singular, or bring your smaller artwork pieces together to create a stunning single gallery wall. Leave the adjacent walls relatively plain to allow the room to breathe.
For more Designbx tips, check out these stories about
decorating a small kids bedroom
,
creating space in a small bathroom,
and
using colour to boost your mood
.
Back to top