house-side-passage-pink-wall-flowers-pebbled-walkway
Side passages: a forgotten paradise
Phyllis, July 2015
Images courtesy of Arthur Lathouris.
The side passage is probably the most neglected part of the yard: a mere means to get from the front yard to the back. But in these days of shrinking building blocks, it offers the chance to not only expand the outdoor living area but also create a secret garden for the whole family to enjoy. It doesn't need to take a lot of work either. Landscape and garden designer
Arthur Lathouris
says while side passages are generally the forgotten part of the garden because they are often limited in space or used as storage areas for bins or other unsightly items, they have untapped potential. "Even the narrowest side garden can be transformed into an interesting thoroughfare or a feature from certain windows of the house," he says. "A side passage can become a peaceful secluded space away from the activity of the main parts of the garden. This might take the form of a special vista from a room of the house or somewhere to actually go to 'get away' from the busier part of the house and garden." Arthur says there several potential uses for a side passage. "Depending on its width and aspect, a side passage can be planted to create an interesting pathway or even a small secluded sitting area if it's close to a door into the house or, for that matter, even it's inaccessible from a nearby door," he says. "An appealing outlook can be created outside windows with plants, pots, water, ornaments or structures. If it's the main thoroughfare from front to back gardens, care must be taken to maintain easy access. This is particularly important for narrow spaces."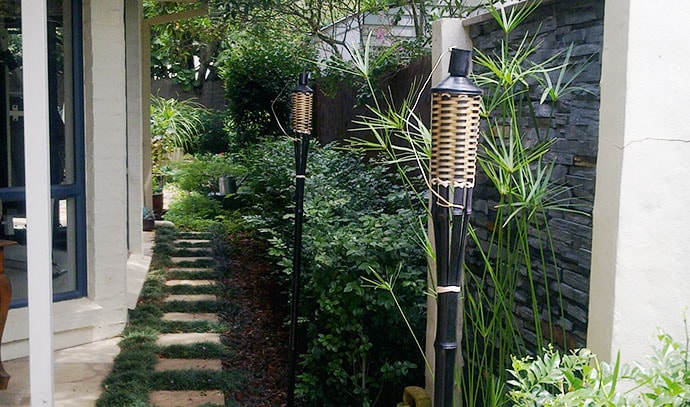 There are some relatively simple ways to transform a side passage into a pretty destination according to Arthur.
Planting to suit the aspect. This simply means the direction your garden faces. The aspect of the side passage will determine the type of plants you can grow there. A north or west facing passage will need plants that can tolerate heat and sun, while a south or east-facing passage will need shade tolerant plants.
A combination of interesting paving materials for pathways or decking will create interest.
Pergolas attached to the house over windows can provide an interesting light and shade experience along the path as well as privacy and protection for exposed windows. Climbing plants on the pergolas will create a softening effect if the space is too narrow for other plants.
Painting the fence/wall can reduce its impact and adding simple ornamentation or potted plants can also provide some softening greenery in a narrow space.
Adding another structural material or panel to the fence can provide interest. For example, timber slats, ornamental screens or strained wire with climbers. Green walls or water features are not as simple but can be very effective.
Veggie gardens, if space and sun allow, are another good use of a narrow space.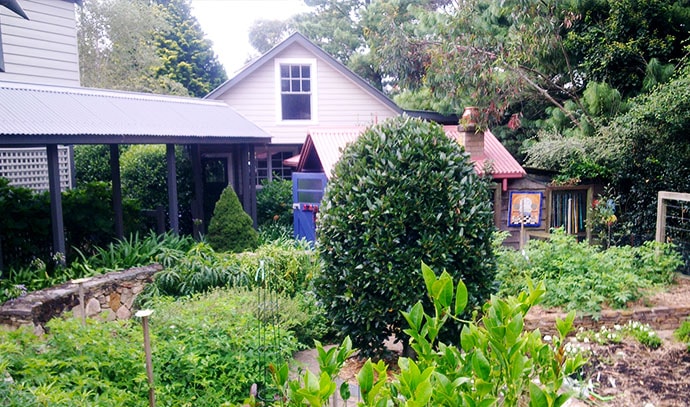 Of course there are also opportunities to think outside the square (or rectangle as it were). One of Arthur's design solutions for a small garden saw the swimming pool wrapped around the house into the side passage. But he warns against doing something merely to create a look. "Be careful that the result is meaningful and not just done for a 'look'. But think anything's possible once the space is assessed." Arthur's overall message is that all side passages can be transformed. "Assess the options by firstly considering access, available space, aspect (for example, sun and wind) and budget," he says. "What's next door? A lovely tree perhaps or neighbour's windows overlooking your space? Don't make the result too busy. The 'less is more' principal is always more satisfying and relaxing."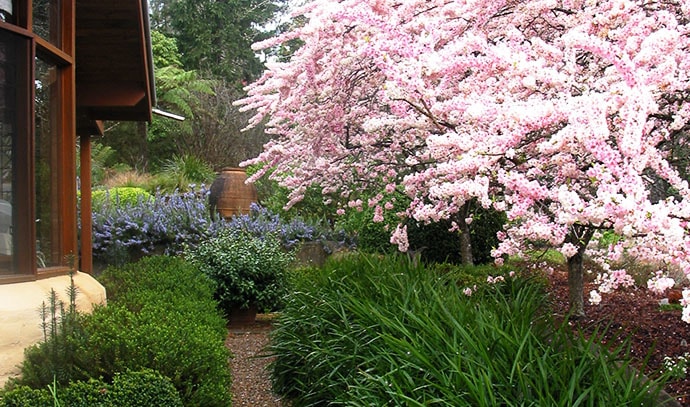 If the side of the house has a concrete path, it can be a simple matter of installing some potted trees, shrubs and flowers to create shade and privacy as well as disguise the fence and house wall. Don't create a gun barrel by placing the pots in straight lines. Instead, arrange the pots to make gentle curves add a sense of mystery as you meander from one end to the other. A passage that is bare dirt, grass or gravel offers the opportunity to make a natural oasis by adding stepping stones or sleepers interspersed with gravel, grass or even low growing creeping perennials like dichondra, baby's tears or dwarf mondo grass. You could place a narrow stone or timber bench along the way and it could prove a tempting place to stop and enjoy some solitude. A sunny side passage can provide a great opportunity to make a veggie garden. Some wire on the fence allows peas and beans to climb, while the house can be disguised by tomato plants. Veggies can go straight into the ground (after it's suitably prepared) but it's probably better to make raised beds from sleepers or pre-fab corrugated containers. On the other hand, a shady walkway is ideal to create a cool summer oasis lined with ferns of various heights. More information and inspiration:
arthurlathouris.com
See what other people are doing by visiting our
Pinterest
page: 
pinterest.com/homeloansltd/
Back to top