solahart-powerstore-innovation-home-technology
Save money with these solar-smart energy solutions
Veda Dante, October 2018
Aussie homeowners are increasingly taking up renewable energy, battery storage and energy efficient technologies in a bid to reduce their household energy bills. This uptake is not only inspiring companies to design solar-friendly solutions but also leading to a more decentralised grid. We look at two ways you can reduce those ever-increasing energy bills by harnessing the natural power of the sun. [caption id="" align="alignnone" width="690"]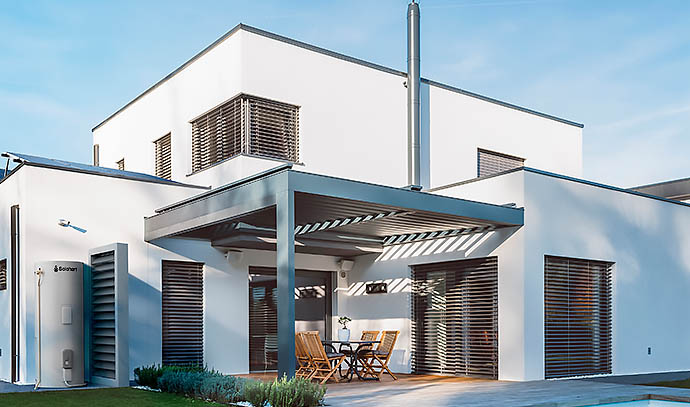 Solahart PowerStore
®
system delivers hot water when you need it and uses your excess solar power to improve your solar investment.[/caption]
Australia's first solar-smart electric water heater dramatically reduces energy bills
Solahart, Australia's original solar brand, launched the country's first solar-smart electric water heater –
Solahart PowerStore®
. The company says it has a dual aim: to offer a more affordable energy storage solution for solar power systems and to reduce energy bills. More than a standalone water heater, it is designed to work with your solar power system, providing a more cost-effective storage solution than a battery. The smart system monitors your solar power production and identifies when excess solar energy is available. It then diverts this energy to heat water, rather than allowing it to be fed back into the grid.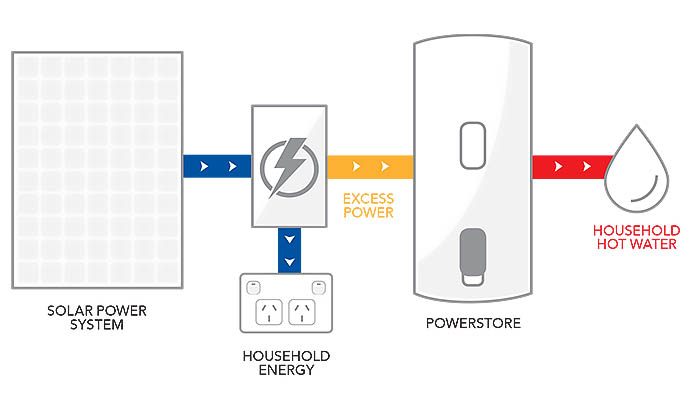 "Put simply, Solahart PowerStore
®
is like a battery, in that it stores excess power – only it's in the form of hot water," says Stephen Cranch, General Manager - Solahart. "It is estimated that 1.8m Aussie families have already installed solar power systems to save money on their energy bills. Many households today fill their available roof space with panels to generate as much power as possible. However, these larger systems can produce more power than the household needs (especially during the weekdays), and this excess power is then fed back to the grid often for little financial return. "That's why we have gone one step further and developed the Solahart PowerStore
®
system. It delivers hot water when you need it and uses your excess solar power to improve your solar investment. With a much lower up-front cost compared to a solar battery, it makes energy storage more affordable for Aussie families." As an example, a family of four in Sydney using 25kWh of power each day with a 5.2kW solar power system could export up to 50 per cent of its generation back to the electricity network. To overcome this, they could install PowerStore
®
and divert much of this excess power to heat water. If they had replaced an electric water heater on off-peak tariff 2, the combined solar power and energy storage system could save this family up to $1,700 per year on their energy bills. The Mair family from Frenchs Forest in Sydney are the first Solahart customer in Australia – and the world – to install a Solahart PowerStore
®
system. A family of five, the Mairs have combined it with an 8.7kW solar power system and are expected to save $3,500 on their annual power bill. "Our last quarterly energy bill was around $1,600," explains Patrick Mair. "We have a pool which we also heat in the cooler months and an air conditioner which is expensive to run, so we felt that something had to be done to reduce our high energy bills. We decided to install solar power together with Solahart PowerStore
®
and disconnect our old water heater. Now we can make use of our energy when the sun is at its peak. We believe the combination of solar power and Solahart PowerStore
®
is a real game-changer."
Here's how to interpret the information on your power bill.
[caption id="" align="alignnone" width="690"]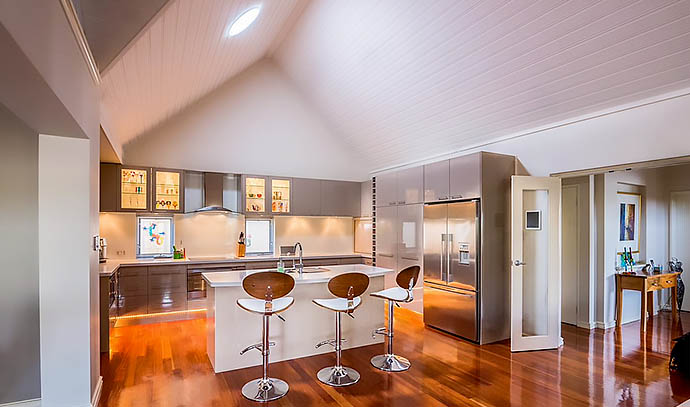 Solatube Daylighting Systems are engineered to efficiently capture the sun's rays and pipe them into your home – with installation typically taking two hours without structural changes.[/caption]
Enhance your home (and boost your health) with natural light
Natural light can improve your health and well-being by releasing serotonin that boosts energy levels and your overall mood. But it's not always practical to spend time outside, which is where the
Solatube Daylighting System
comes in. "Exposure to adequate amounts of natural light has been proven to encourage people to exercise more and to help them maintain regular circadian rhythms, which influence daily sleep and waking patterns," says Solatube's Brett Dickson. By effectively capturing and bringing daylight into your interiors from the early morning until late afternoon, Solatube's solutions can improve your health while reducing your need to rely on other traditional sources of lighting. How often have you seen a property promoted with the words: "light-filled interiors"? Real estate agent John Smyth of The Madison Agency in Sydney's north, says skylights add value to a home: "The amount of natural light a home receives can influence its appeal, the length of time it's on the market and its sale price," he explains. "A skylight enhances a room even on overcast days."
Harness the sun with a well-positioned skylight
Bringing workable and usable natural light to replace electric lighting that the family can enjoy all year round, can be achieved at a reasonable price, and the best example of this is through a tube skylight. With extremely reflective tubing and high levels of technology, these products are able to bring more natural light than other much larger systems, with substantial less heat gain. While tubes are the most effective way to bring large amounts of light into the home, round and square finishing options at ceiling level, can still be matched to complement your décor and style. One of the most challenging areas of the home is the central/mid-section, as it is often the furthest section for natural light to reach. Tubular systems in such situations benefit from the higher position on the roof and will bring in light over longer distance without loss of intensity. The specific design of the ceiling fixture will also spread or diffuse the light much more evenly throughout the space at all times of the day. [alert dismissible="false" style="alert-finance-property-inverse"]
Small-scale Renewable Energy Scheme
Households across the country that install a small-scale renewable energy system (solar, wind or hydro) or eligible hot water system may be able to receive a benefit under the Small-scale Renewable Energy Scheme (SRES) to help with the purchase cost.
Check your eligibility and apply here
. [/alert] [embed]https://www.youtube.com/watch?v=x2HmFsxyqfI[/embed]
Back to top