brosa-furniture-bedside-table-leo-lifestyle
Give your room an easy makeover with a trendy bedside table
Phyllis, June 2016
Try as I may, my bedside table always ends up a gathering place for the all miscellaneous junk I don't know where to store – or simply can't be bothered putting away as I fall into bed. Hands up all those whose bedside table is covered in half-read books, assorted bobby pins and hair accessories, jewellery, receipts you "really need to file for tax time" and a tonne of dust! It's depressing, it's bad for our health (you're breathing in that dust all night), and it's inefficient. Yet our bedside table is the first thing we see as we open our eyes in the morning and the last thing we see as we turn out the lamp at night. Hardly a good way to start or finish the day if we're looking at a mess! If you don't have a bedside table (or you're in the market for a new one) then buying an on-trend piece will not only lift the mood of your bedroom with one simple purchase, it'll make a huge change to how you face the day and drift peacefully off to dreamland. I spoke to John Rosato of Brosa Furniture about what's on trend for bedsides – and how to choose the right one. "All too often
the bedside table
is a piece of furniture used to pop your phone on and to cover with books, jewellery, clocks and perhaps a small vase with flowers if you're lucky," John said. (Who told him about my room?) "In other words, bedside tables are often the understated staple of your bedroom. You need one, although you may not appreciate it enough while it's around. "But this isn't to say that bedside tables lack style, or that they haven't changed over the years," John reassured me. "Far from it. There are some stunning new bedside table trends to prove this point."
Consider the old styles influencing new trends
"Each era has been defined by
a certain style,
from art nouveau to art deco, modernist to minimalist, and bedside tables are no exception," John said. "This era may well be remembered as the flatpack era, or the IKEA era, but these definitions focus more on the process than the actual style. Because even these designs take inspiration from somewhere, sometime. "The Scandinavian era of the 1950s, for example, is still prevalent with its minimal lines, functionality and simple legs (see the picture above)." [caption id="attachment_4900" align="alignleft" width="690"]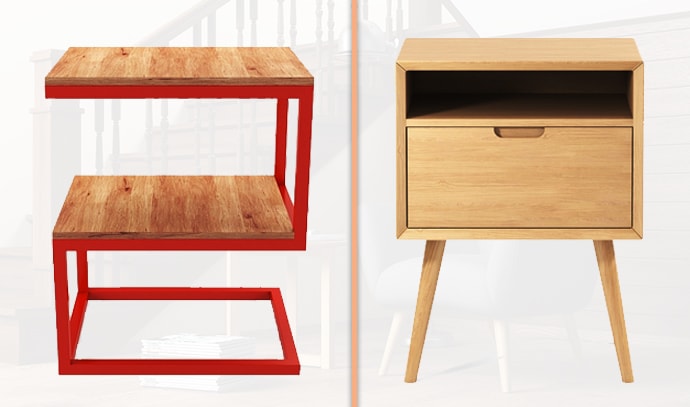 (L) Neville Blonde Red; (R) Square Ethan Oak[/caption]
Work through colour combinations and materials
John said one trend in bedside tables was the colour. "People are experimenting more with flamboyant bedside table colours, turning their tables into an icon piece. Take this
wonderful Neville side table
, which is a wonderful mix of a bright metallic structure with blonde or teak wood to place your belongings." All you need to do is match (or purposefully mismatch if that's your thing) your table to the other furnishings in your bedroom and the main colour schemes. Try buying a natural wood that won't fade or change colour too rapidly as well.
Choosing the bedside table
At the end of the day, choosing the right bedside table is about finding that balance between style and substance. "Make sure you can reach the light and your phone without falling out of bed every time," John said. "Ensure your desired table has adequate storage space; if you seem to gather clutter there, think about a larger model with some drawers. And definitely don't invest in a table you'll kick whenever you want to go to the bathroom. "As such, it comes down to commonsense. If you're going for a minimalist look then buy your tables accordingly … a classic French table will look pretty strange in such a surrounding."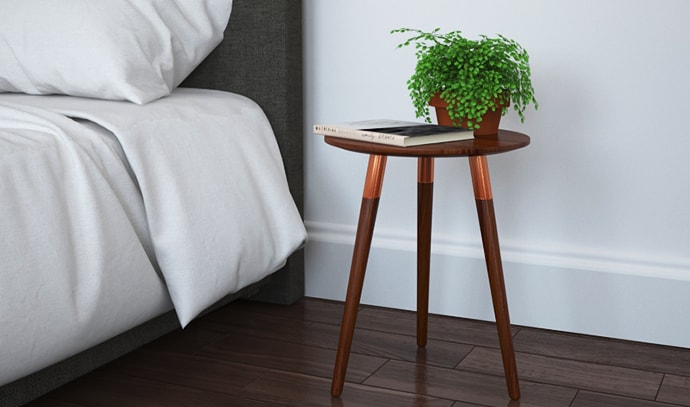 Styling your bedside table
No matter the type of table you end up with, you'll have ways to boost its appeal and make it look even better. Here are a few ideas from John to get you started:
Retro lampshade
Small quirky vase
Picture frame
Keepsake
Lacquered jewellery box
"Of course the options are endless; check out
Houzz
or
Brit.co
which provide some more great styling ideas," John added. "Otherwise, be sure to check out our other posts, like
tips to preparing your home for winter
or
how to colour your house happy

.
"
Above images courtesy of

Brosa Furniture
| For more information,
visit: www.brosa.com.au
Back to top