peter-glass-associates-swimming-pool-lawn-garden
The perfect plants for your pool deck
Jane Ryder, January 2018
Plants enhance any pool area by bringing colour, texture, shade and privacy, and softening hard surfaces like concrete pavers and timber decks. However, exposure to long hours of sunlight, heat-intensifying surroundings, water treatment chemicals and salt that come with a poolside habitat can be tough on many species. Here's how to create a thriving poolside garden with hardy plants that can cope with lots of sun, heat and occasional sprays of chlorine and salt. [caption id="" align="alignnone" width="690"]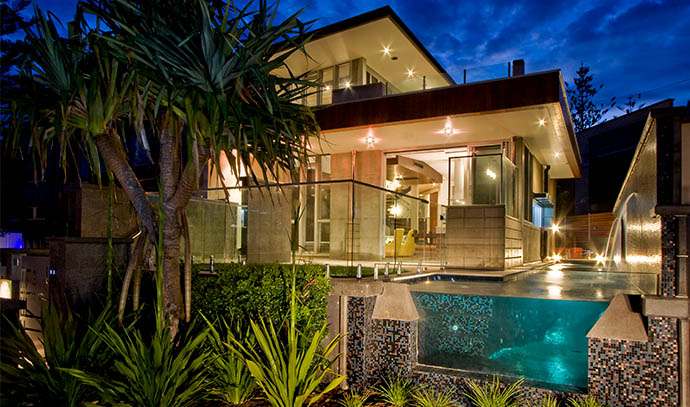 A large Pandanus helps create a tropical ambiance for this swimming pool in Queensland. Image courtesy
Majestic Pools and Landscapes
.[/caption]
A lush, tropical poolside garden
With their dense, rich-green foliage and large flowers, tropical plants create a cool, inviting and private garden while their good tolerance to heat and humidity makes them well suited to the poolside habitat. As many tropical plants that hail from the tropics, they don't survive in cool, dry and frost-prone regions. "For tropical plants to thrive in your poolside garden, you need to live on or near the coast where there's a moderate, subtropical or tropical climate," says horticulturist Colin Green of
Colin Green Landscaping
on Sydney's Northern Beaches. Another consideration when creating a tropical poolside garden is the amount of sunlight your pool area receives as this determines whether you buy sun hardy or shade-loving tropical species. "Sun hardy tropical plant varieties include Strelitzia, also known as Bird of Paradise, Hibiscus and Canna Lily, which have red and orange flowers, and New Zealand Flax, which has green and purple-red leaves," says Colin. According to the
ABC's Gardening Australia
, Frangipanis also like plenty of sun and cope well in fertile, sandy soils. "Shade loving varieties include Ferns, Cordylines and Rhoeo, which both have green and hot pink leaves, Alterantha which has delicate purple-green leaves, Clivea which produces clusters of orange flowers, Agapanthus, and the smaller varieties of palm including Parlour Kentia and Golden Cane," says Colin. "Before making any final decisions on plant species however, ask your local nursery which ones will thrive in your area." To create a tropical poolside garden:
Use the plants' differing heights, foliage colours and shapes to create depth and through variety, an interplay of dark and light
Create shade with taller species, such as Palms and Frangipani, but plant them a distance away from the pool and check with your local council regulations relating to plant positioning near pools. If tall plants are too close to the fence, children can use them to climb into the pool area
Complete your garden with a tropical-look edging that will help keep the soil out of the pool and pool wash out of the garden beds such as natural Bamboo Edging from Bunnings, as well as glazed and carved pots, a Balinese style teak bench and UV-resistant wicker sun lounges or day bed
[caption id="" align="alignnone" width="690"]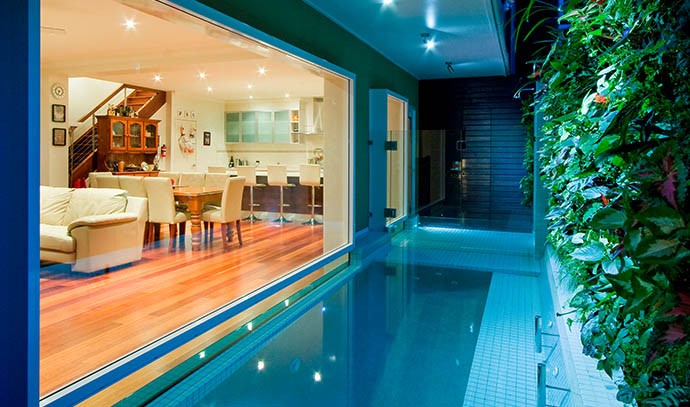 Vertical gardens are a great solution for pools located in snug, tight or narrow spaces. Image by photographer Glenn Weiss courtesy of
Argo
.[/caption]
Native poolside gardens
Many native species cope well in the poolside habitat as they are hardy, low shedding, evergreen and attract native birds. "Natives cope with lots of sun and heat and require little watering and care," Colin explains. As with planning any garden, Colin recommends asking your local nursery for advice on natives that will thrive in your area. "Depending on where you live, hardy natives suitable for poolside planting include grasses
Philotheca myoporoides
, also called Long-leaf Waxflower which has small white flowers; Acacia Fimbriata Dwarf, which has clusters of yellow blooms;
Westringia fruiticosa
or native rosemary which has delicate white flowers; Kangaroo Paw; and small varieties of Banksia and Grevillea such as
Grevillea speciose
and
Grevillea sericea
." To create a native poolside garden:
Position smaller varieties such as native grasses in the front of your garden and taller species such as Banksia, Waratah and Bottlebrush behind
Combine different leaf hues, colours and shapes within the garden to create texture and visual interest
Add colour with flowering species such as Kangaroo Paw, Banksia and Grevillea speciose and Grevillea sericea, which has delicate spider-like flowers
Some non-native species that can cope well in poolside gardens include Lamb's Ears, which creates good ground cover with its silvery leaves that are literally as soft as a lamb's ear, Conebush which has red/orange leaves,
Pittosporus golfball
and
Raphiolepis indica
, also known as Indian Hawthorn, which grow into thick hedges. And to help keep soil and fallen foliage contained and pool wash water out, add a natural durable timber edging such as
Rola Pak Ezy Edge Garden Edging
from Bunnings, which is made from rot-resistant treated pine. [caption id="" align="alignnone" width="690"]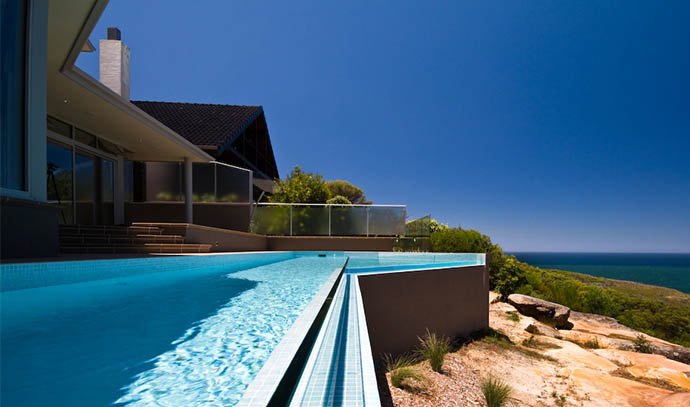 Hardy species that can withstand chlorine splash and salt spray were chosen for this modern coastal swimming pool. Image courtesy of
Crystal Pools
.[/caption]
A modern formal garden
Get your clippers and tape measure ready because balance, order, straight lines, hedges and topiary plants are key signatures of the modern formal garden. Colin advises to visit your local nursery to discover species that will suit this look and thrive in your area. "For those who live in coastal regions with a moderate climate, your plant list can include: Gardenia;
Camellia sasanqua
; Clivia; Liriope; Agapanthus; Buxus; Lilly Pilly; Dwarf Conifer; New Zealand Flax; Yucca; hardy, quick growing Hawthorns such as Raphiolepis Apple Blossom and Raphiolepis Snow Maidens and succulents like Agave," says Colin. Regardless of where you live and the species of plants that suit your region's climate, it's their positioning and clipping that are key to creating the modern formal look. Frame your pool with a modern formal garden by:
Positioning plants in structured straight lines, with small varieties at the front of the garden, medium in the middle and tall at the back
Creating repetitive patterns of plants by alternating one species with two or three different species
Defining areas with hedges. Hedges typically border garden beds and paths which you can create with Buxus, Lilly Pilly, Native Rosemary and Viburnum
Whatever poolside garden style you choose, keep it healthy with regular watering and enjoy its beauty at night-time too with the addition of some soft
pool and garden lights
.
Extract courtesy of Swimart
Back to top