suncrowd-australia-staff-happy-together
People powered energy
Veda Dante, March 2017
Using batteries to store excess electricity to use later on is no longer considered a new or unattainable concept. In fact, technological advancements have not only resulted in substantial cost reductions but also a range of energy storage solutions offered by companies like
Inhouse Energy
,
360Energy
and
OffGrid Energy
, to name a few. In a 2016 survey of 2500 energy consumers by
Energy Consumers Australia
- the largest ever conducted in this country - a growing disappointment and disillusionment with the outcomes they see from the energy market was clearly evident. "The overwhelming majority of consumers told us they were not getting good value for money for their electricity services, indeed they believe they get better value for money from services such as mobile phones, internet, insurance and banking," Rosemary Sinclair said at the time. "Consumers are craving control and options to manage their energy use, [which] is why we see one in five consumers already adopting solar photovoltaic (one in three in some states) and it's why our survey shows another one in three looking to do so in the future," she explained. "These people are not extremists. They are consumers from all walks of life looking for a way out, an alternative to passively accepting continuing price increases." This was reiterated by Australian Solar Council CEO John Grimes, who
last year
told HomeHub that Aussies would "run not walk" towards home battery providers. "The power companies have treated their customers badly and I see real anger towards them across the Australian community," he said. [caption id="attachment_7269" align="alignnone" width="690"]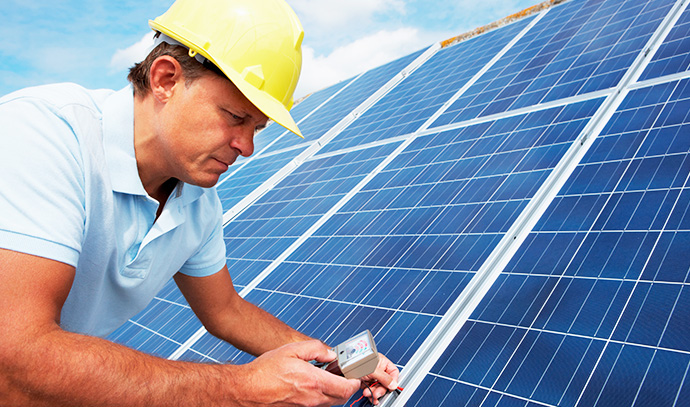 Solar photovoltaic (PV) systems with added battery storage are predicted to become the most economical solution to provide electricity.[/caption]
Reducing electricity costs with battery storage
According to
this Climate Council report
, solar panels with home battery storage could be the cheapest way to get electricity within three years. Battery storage capacity, which it predicts will grow 50-fold in less than a decade, can reduce electricity costs for residents and business owners in a number of significant ways, including:
Home battery systems can allow a household to store electricity from the grid when prices are lowest (during off-peak periods) and then rely on their battery for power (rather than the grid) during the most expensive peak time, thereby reducing their overall electricity costs.
A battery storage system can almost double a household's self-consumption of solar PV. Adding a 4 kWh battery to a 5 kWh solar system can increase the amount of self-generated solar electricity a household consumes from 30 to 60 per cent.
By 2018, going off-grid by installing battery storage could be cost-competitive with staying connected as the price of battery storage falls and grid electricity remains expensive.
As feed-in tariffs are phased out and households receive far less for the solar electricity they put into the grid and electricity prices remain high (particularly at peak times), solar PV systems with added battery storage will become the most economical solution to provide electricity.
Battery storage will reduce energy costs and boost reliance on renewable energy for the vast areas of Australia that are not connected to the grid and therefore rely on expensive imported fuels.
[embed]https://www.youtube.com/watch?v=xWz76UsAdNM[/embed]
People powered energy
Dr Rob Passey, who works at the University of NSW as well as the consultancy
ITP Renewables
, believes that community-owned renewable energy is a "way to achieve change because such projects provide a focus for the community to rally around, as well being as a valuable source of education". "
COREM
, which stands for 'Community-Owned Renewable Energy Mullumbimby' has come up with some great initiatives and the response by the local community has been absolutely amazing," says Rob, who volunteers with the NSW Northern Rivers group. "This makes a huge difference because it makes you feel like what you're doing will be strongly supported by the community, which is what we need to succeed." To date, COREM has installed solar photovoltaic systems for the Mullum Drill Hall (12 kWh), Mullumbimby Showgrounds (10 kWh), Brunswick Valley Volunteer Rescue Association (5 kWh) and Brunswick Valley Historical Society (6 kWh). "All these have been funded through community donations and grants, and they reduce the community group's electricity bills, with some of the savings going into our Revolving Community Energy Fund - which is then used to fund more solar systems. We are also about to organise 25kW on Byron Bay High School, but they are paying for it. "In addition, we are currently looking into ways that businesses can install solar even when they don't own the premises, as well as ways that renters can have solar installed, and share the benefits with landlords." [embed]https://www.youtube.com/watch?v=sIUxJVZcIzE[/embed]
Renewable Energy Target
In order to reduce greenhouse gas emissions in the electricity sector, the Australian Government has a goal that it hopes will see roughly 20 per cent of Australia's power generated from renewable sources by 2020. Part of this
Renewable Energy Target (RET)
revolves around the
Small-scale Renewable Energy Scheme
, which provides financial incentives for individuals and small businesses to install eligible small-scale renewable energy systems such as solar panel systems, small-scale wind systems, small-scale hydro systems, solar water heaters and air source heat pumps. COREM has partnered with
Enova Energy
, who has joined with social-enterprise organisation
Suncrowd
, to offer the NSW Northern Rivers community an opportunity to bulk buy photovoltaic solar systems and batteries. If you live in the Tweed, Byron, Ballina or Richmond Valley area,
learn more about this great opportunity
. To join the people's revolution and take the power back, 
find an accredited installer near you
.
Infographic via Climate Council 
[alert style="alert-lifestyle" dismissible="false"]
Are you Carbon Conscious?
At Homeloans, we aim to conduct our business in an environmentally responsible fashion. To help us achieve this, we have teamed up with Carbon Conscious, an Australian company that produces carbon credits through carbon farming. For each new Homeloans loan settled, we offset greenhouse gases in our atmosphere by planting a Mallee Eucalypt tree. This activity is not something that is factored into the pricing of our home loans and it does not result in any additional expense for our customers. Rather, it is our way of contributing to a more sustainable environment and exercising our corporate social responsibility, something which is important to us at Homeloans.
Back to top