garden-shed-exterior-door-open-tools-flowers-plant-pots
Six great outdoor storage solutions
Katie Adema, June 2016
Unused garden pots, various tools, mix and match garden furniture, pool toys and towels… Just like the inside of our homes, the outside can get a bit cluttered with everyday objects too. The answer is simple – it's just a matter of setting up a few smart storage solutions around your outdoor space. Try one of these simple ideas at your place this weekend.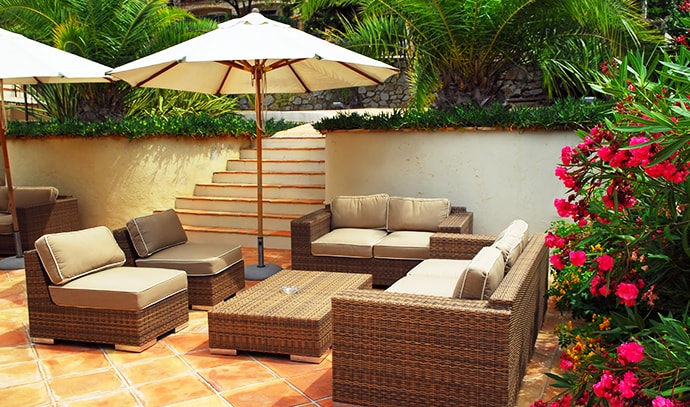 Seating with a secret
Wooden bench seating, or daybeds, can be a perfect storage solution for your back verandah – these usually have a hollow underside to them, which may be open or closed. Closed designs can simply have a flip-up seat that acts as a lid, or a set of cupboard doors along the side. These are very neat and easily hide away that jumble of pool toys or pile of extra outdoor furnishing cushions and blankets. Open designs can also be just as tidy, as they can easily have buckets, baskets or boxes slipped underneath them – there are plenty of cheap and funky designs that can also be labelled for easy organisation.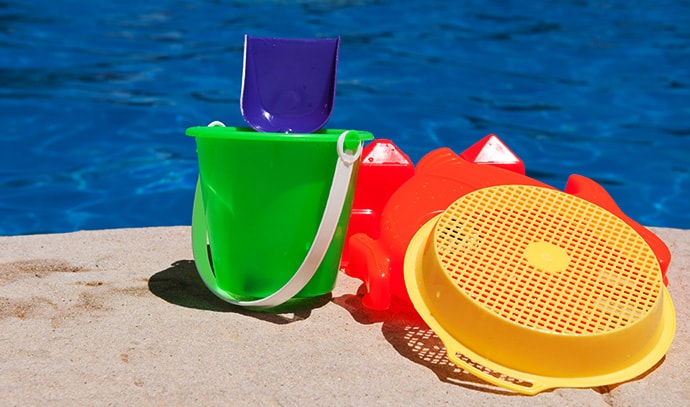 Plastic or metal bucket storage
Outdoor storage can prove a bit tricky given the exposure to all of the elements – but your problem can be solved by using materials that are able to withstand these conditions. Metal or plastic buckets are an inexpensive item that are available in all sizes, and can be filled with children's toys, garden tools and hoses and even sports equipment. They can be stacked (if they have lids), placed on shelves or put into corners out of the way, or made into an interesting feature when hung on the wall.
Hanging or standing ladders
Ladders are a very useful backyard object – especially the old ones that you wouldn't trust to stand on anymore, which can be turned into an aesthetically pleasing storage solution. The good news is, the older the better – rustic aesthetics are very chic right now in outdoor design! Coat with a layer of off-white paint and sand back in parts. Hanging your ladders can maximise the floor space available to you, while also creating an easy shelf to store pots of herbs, mosquito lamps or children's toys.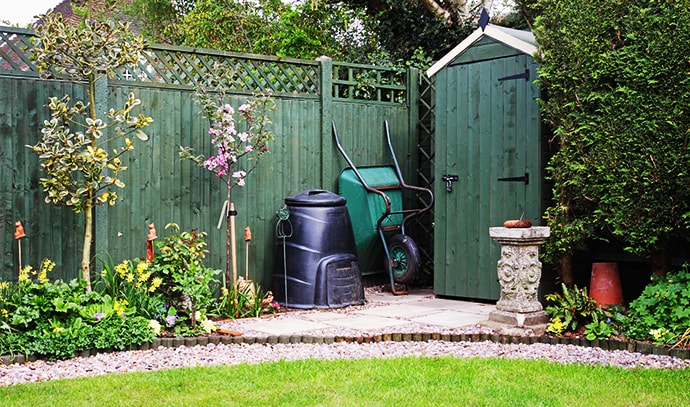 Smart garden storage
Outdoor storage doesn't have to be complicated – sometimes you just have to take an idea from the inside and adjust it slightly for an outside purpose. For instance, hanging shoe organisers can become a home for all those odd bits and bobs around the garden, such as garden gloves, hose extensions, tools, bottles of weed killer or pest control. And built in storage cupboard space doesn't have to be regulated to the inside either – a properly constructed cupboard can be a way to hide messy recycling and garbage bins out of sight, or store pool equipment and furniture.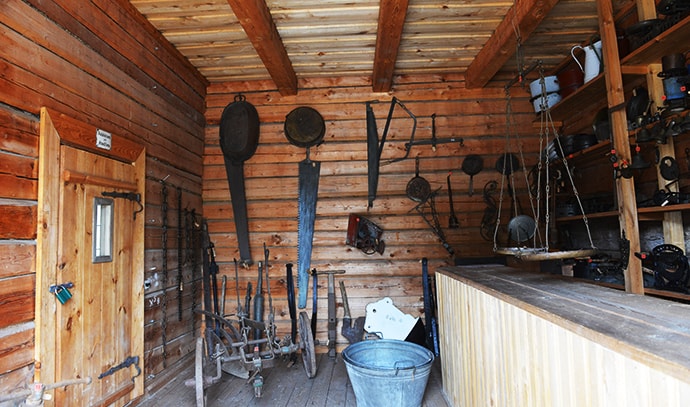 Think vertical
The space above our heads is often forgotten about, whether it's inside or outside the house. The main difference is, when it comes to maximising your outdoor space as opposed to the indoor space, the sky is literally the limit! String up some wire or thick string like a clothesline, and hang little cloth bags or baskets from it to create a quirky storage solution for things like clothing pegs or herb pots. Another option is to install high shelving on the inner or outer walls of garden sheds, or even on the outside walls of the house – these can be used for storing garden pots and potting mixes, pool chemicals, watering cans, or even outdoor furniture cushions and blankets if it is under cover.
Going down
While you are thinking about the space above you, what about the space below you as well? Some homes have space between the foundations and floorboards that can be used as a handy stowaway for extra furniture. And don't forget things like surfboards, bikes or skateboards or – these things are perfect to be stored away in this kind of environment. Just try to remember that you have them there!
Back to top