blue-poppy-photography-outdoor-living-room-lawn
Outdoor living made easy
Lisa Shearon, November 2016
With the average block size in Australia ever-shrinking, outdoor living areas are becoming more important than ever. It makes sense: we have the perfect climate to eat outside, drink outside, relax and play outside pretty much all year round. Outdoor living areas are seen as an extension of the indoors, considerably increasing the available living area of the home. Alfresco areas are now built as part of the initial building construction, and older homes are retro-fitting shaded decks and paved areas for the purpose. The trend now is to treat the outdoor living area with the same importance as the indoors, creating comfortable, warm and aesthetically valuable spaces. [caption id="attachment_6397" align="aligncenter" width="690"]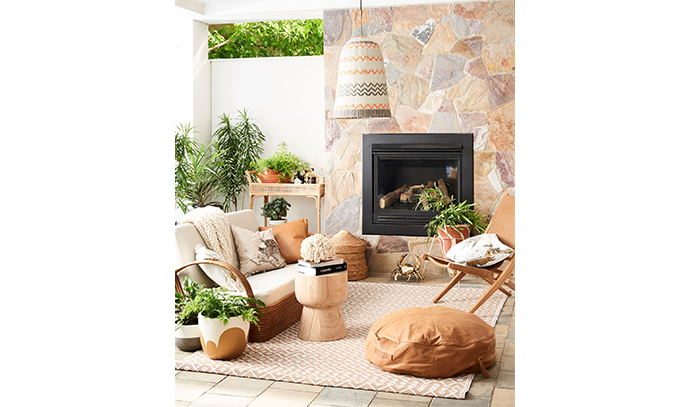 Fenton and Fenton
's summer 2016-17 collection is all about bringing the indoors outside.[/caption]
Bringing the outdoor in
To create a seamless transition from indoors to outdoors, bifold doors are becoming commonplace, as they can be fully opened to link the two areas and create one big living area. For added effect, many homeowners are extending their indoor flooring to the outside, maximising the feeling of living space. [caption id="attachment_6402" align="aligncenter" width="690"]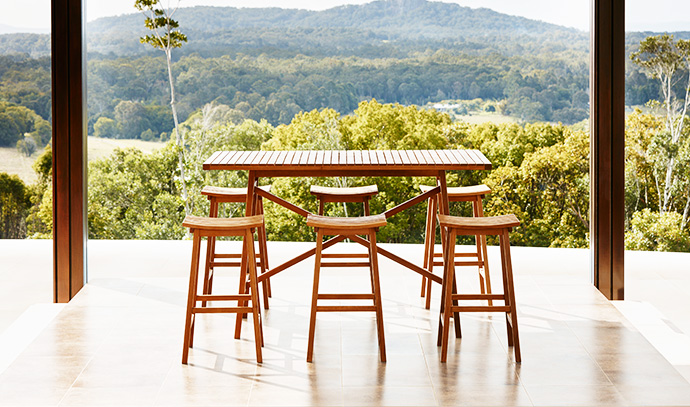 Made from FSC eucalyptus hardwood,
Bunnings
' Mimosa Mareeba Bar Setting has a natural oil finish.[/caption]
Take the floor
Australian homeowners love decking, especially if it helps create that transition from indoors to out. Increasingly, however, natural stone flooring and polished concrete are popular alfresco flooring options, for their practicality, longevity, and timeless good looks. [caption id="attachment_6405" align="aligncenter" width="690"]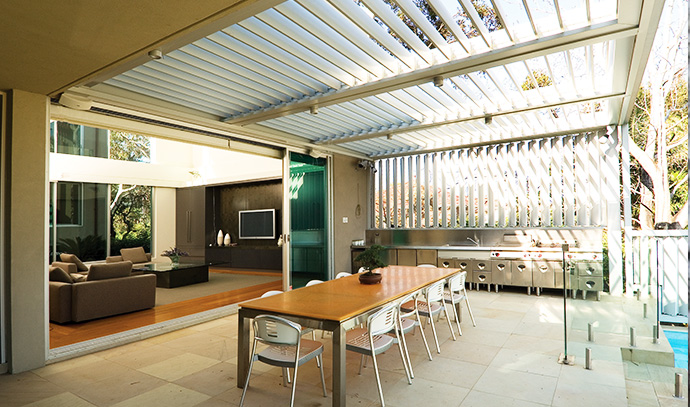 Vergola
's energy-efficient roof system adds versatility and functionality to your home year-round.[/caption]
Cover up
To make your outdoor space more enjoyable – no matter what the conditions – Bunnings outdoor buyer Ben Shanley suggests installing protective shades and screens. "Outdoor blinds such as roller, retractable and roll-up blinds come in a range of styles to suit your existing look and can be custom made to suit the size and shape of your window," he says. "Bistro blinds are also a great option if you want to cover a larger area and can be installed to an existing pergola or gazebo to keep the weather and insects out. For an easy but portable option, consider a market umbrella or cantilever umbrella, allowing you to change the position of the umbrella at any time of the day." [caption id="attachment_6396" align="aligncenter" width="690"]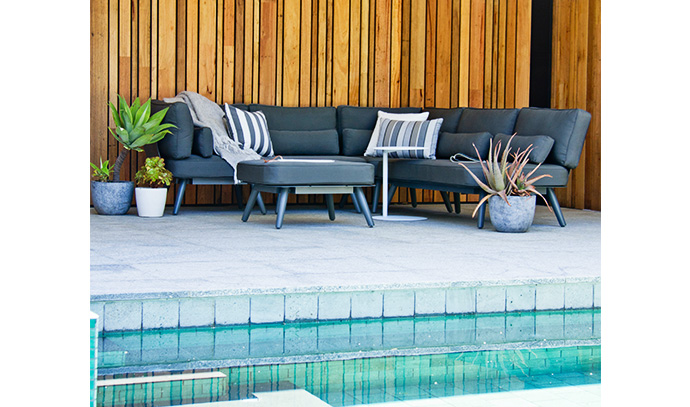 Contemporary styling, materials and colours characterise
Satara
's new Vian outdoor furniture collection.[/caption]
Finishing touches
A well-designed garden is one where people want to relax and spend time, and furniture is a big part of this, according to Ben. "The right furniture can transform your outdoor area to suit its function," he says. "If you want to entertain, flexibility is key. "Portable and lightweight furniture such as polycarbonate chairs can be moved easily to create more space if unexpected guests arrive. On the other hand, you can transform your outdoor space into a relaxing sanctuary with the addition of an egg chair, swing lounge or hammock. If you want to freshen up your existing furniture, use mix-and-match cushions to dress up your space or install fairy lights, creating ambience for those warm summer nights. [caption id="attachment_6404" align="aligncenter" width="690"]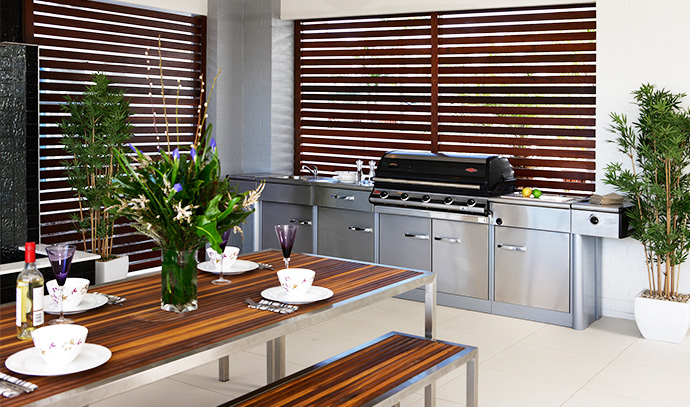 The
Beefeater
range of outdoor kitchens feature rust-free cooktops and commercial grade appliances.[/caption]
Alfresco dining
No Aussie outdoor room would be complete without somewhere to cook. "When space is limited, free-standing pizza ovens, two- or three-burner barbecues or portable barbecues are compact alternatives that won't see you compromise on quality or features," Ben says. "For those with a dedicated barbecue area, an outdoor kitchen is a focal point for any outdoor entertaining area and is fitted out for the ultimate barbecue experience – including the kitchen sink." Top image: Created by
Fluid Design
. Photography by 
Blue Poppy Photography
.
Back to top