ecosmart-fire-mini-avalon-new-south-wales-outdoor-fire-place
Outdoor ambience one step away
Katie Adema, December 2015
Summer has well and truly set in and that means one thing for many Australians – the beginning of long warm evenings spent entertaining friends and family. Whether it's a few casual drinks with mates, or the full spread laid out for your extended family, now is the time to make the most of the extended daylight hours and t-shirt temperatures. If your outdoor areas aren't quite up to scratch and looking presentable, don't feel the need to do anything super drastic right now – you simply need a feature piece that will give your entertainment space the spark it needs. Maybe for your backyard, that spark is literal and comes in the form of a statement outdoor fire. Besides the obvious fact that these pieces are absolutely stunning, they also provide warmth, lighting and ambience in your entertainment area. [caption id="attachment_3563" align="alignleft" width="690"]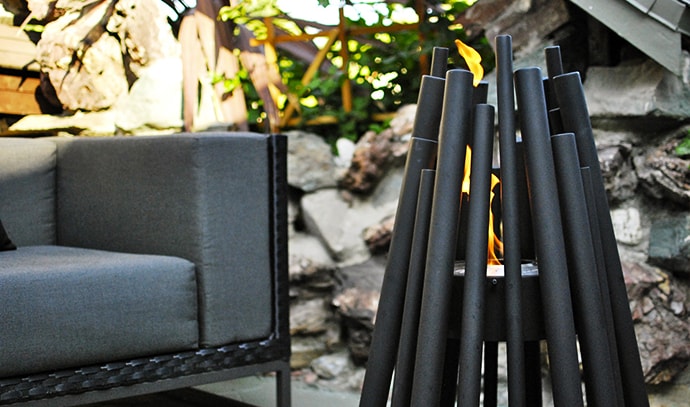 Image courtesy of EcoSmart Fire
[/caption] "Outdoor living is such an integral part of Australian culture, with entertainment areas being used all year round," says
Stephane Thomas
, director of
The Fire Company
, which designs and creates
EcoSmart
bioethanol fireplaces for both indoor and outdoor use. "Outdoor fireplaces are becoming very popular. They are not only for the cooler months – in addition to providing warmth, they bring a stylish element to any outdoor area by creating a focal point and a cosy ambience." 
EcoSmart Fires
are environmentally friendly bioethanol fires designed with modern and streamlined aesthetics in mind – a perfect fit for any Aussie backyard! [caption id="attachment_3559" align="alignleft" width="690"]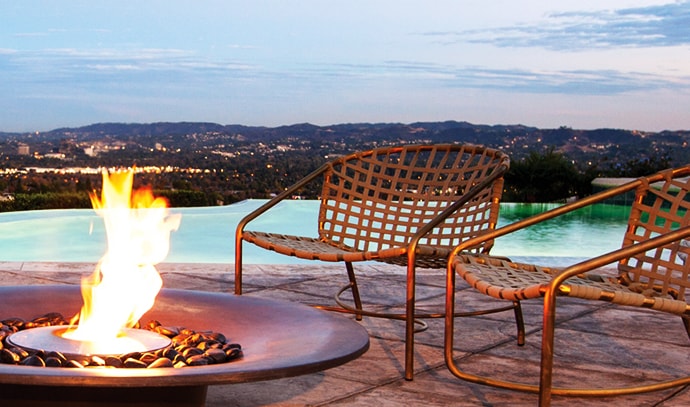 Image courtesy of Brown Jordan Fires
[/caption]
Creating a gathering space
There is something about the element of fire that just draws people towards it; whether it's the light or the warmth or the flickering and crackling, we will never know. "When it comes to setting a scene and drawing people into outdoor areas, 
EcoSmart
outdoor fire provides a solution that's smart, easy to use, and really makes a statement," explains Stephane. This quality will prove particularly useful if you are hosting an event that involves people from different social groups. Placing a fire as a focal point in your entertainment area can provide the ambient atmosphere needed to encourage mingling. [caption id="attachment_3552" align="alignleft" width="690"]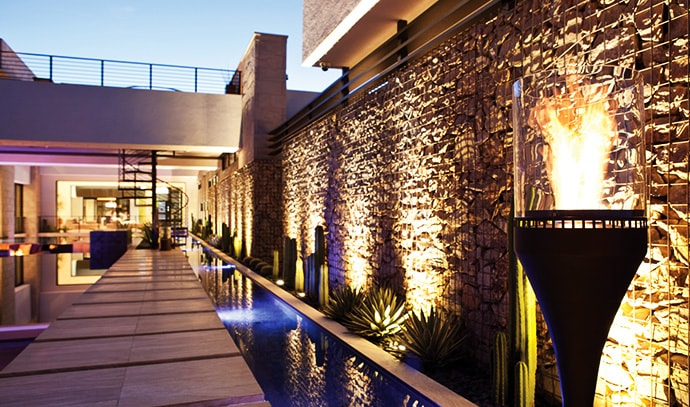 Image courtesy of EcoSmart Fire
[/caption]
Generating light
Forget setting up multiple candles or lights around the garden (which could be easily tripped over and cause a hazard to guests), why not illuminate your entire entertainment area with an outdoor fire setting? Plus, you don't have to worry about any electrical cords!
EcoSmart Fires
and
Brown Jordan Fires
(see breakout section below) are designed with safety in mind, so despite the larger flame, these are often safer and provide a great deal more light than smaller alternatives. [caption id="attachment_3561" align="alignleft" width="690"]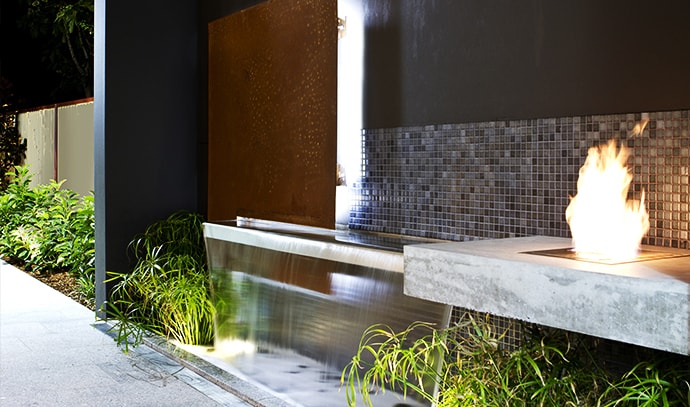 Image courtesy of EcoSmart Fire
[/caption]
Providing warmth
While it is summer time and the mercury isn't dropping too far in the southern direction, it can still get a little chilly after dark on a clear evening. An outdoor fireplace will keep your guests warm even when the sun sets, and enables them to adjust their level of warmth – guests who feel the chill can move closer while those who don't need the additional heat can hang back. A win-win for everyone! "A fireplace adds a huge comfort factor to the outdoors, much in the way plush cushions and soft throw rugs and furnishings do indoors," says Stephane. [caption id="attachment_3562" align="alignleft" width="690"]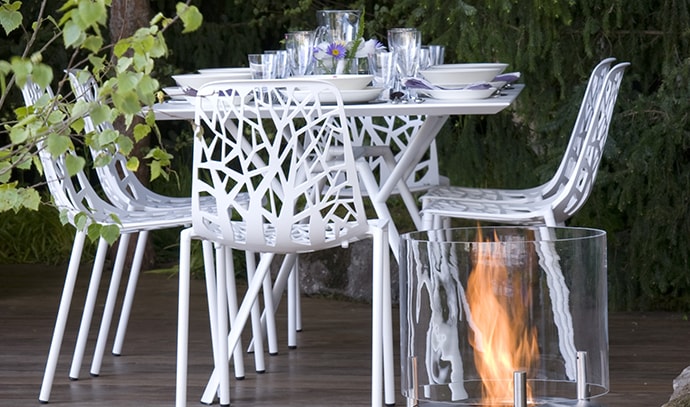 Image courtesy of

EcoSmart Fire
[/caption]
Producing additional ambience
By giving your guests light, warmth and a central gathering place, a fireplace creates a cosy atmosphere that invites everyone to get comfortable and enjoy themselves. For a fireplace that will really pop, combine the piece with the element of water, which will reflect the light of the fire and enhance the flickering quality. The ambience created by an outdoor fire setting is perfect for social gatherings all year round.
"

EcoSmart Fire
's signature clean lines are designed to fit with a contemporary space to enhance the aesthetics of a modern Australian home," adds Stephane. [caption id="attachment_3553" align="alignleft" width="690"]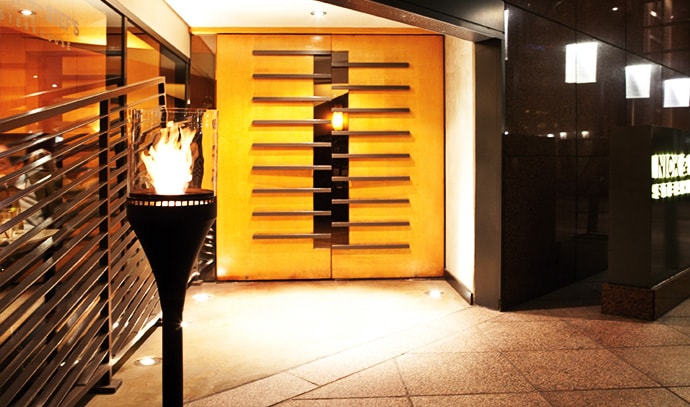 Image courtesy of EcoSmart Fire
[/caption] [alert style="alert-info" dismissible="false"]
Outdoor fire design at its best 
Brown Jordan Fires
are a result of a collaboration between outdoor furniture designer
Brown Jordan
and
EcoSmart Fire
– designed for practicality and aesthetic appeal, being both durable against the elements and beautiful in their construction. Fuelled by eco-friendly bioethanol,
Brown Jordan Fires
can be topped up to burn for a specific amount of time so that you don't have to worry about the fire going out midway through your evening. "They are also easy to keep clean, because of their efficient and clean burning fuel - which means they stay looking great for many years," says Stephane. These models of fireplace offer the added benefit of being able to be used in an indoor setting as well – so if those mozzies start to become troublesome for you and your guests, the party can be moved indoors without having to sacrifice the lovely glow of the fire. [/alert]
Images courtesy of

EcoSmart Fire

and

Brown Jordan Fires

For more information, visit EcoSmart Fire – www.ecosmartfire.com, and Brown Jordan Fires – www.brownjordanfires.com.au 
Back to top