workers-installing-alternative-energy-photovoltaic-solar-panels-roof
The "Off-Grid Guy" – living the dream
Phyllis, June 2016
I have a dream. It's a recurring one that usually surfaces quarterly when the power and water bills arrive. In my dream I tell said utility companies where to go, install solar panels on my house and a water tank in my yard that supplies all my needs, including drinking. I also grow my own fruit and veggies, raise chooks, sell the car and – best of all – drive the kids to school in a horse and cart. (This has the added bonus of being both annoying AND embarrassing – parenting's Holy Grail.) I'm working towards these goals - although my spoil-sport husband refuses to allow me to buy the horse or embarrass the children. (Note to self: Find new husband.) However, one person who has successfully lived the dream for more than 20 years is Michael Mobbs – aka The Off-Grid Guy. [caption id="attachment_5008" align="alignleft" width="690"]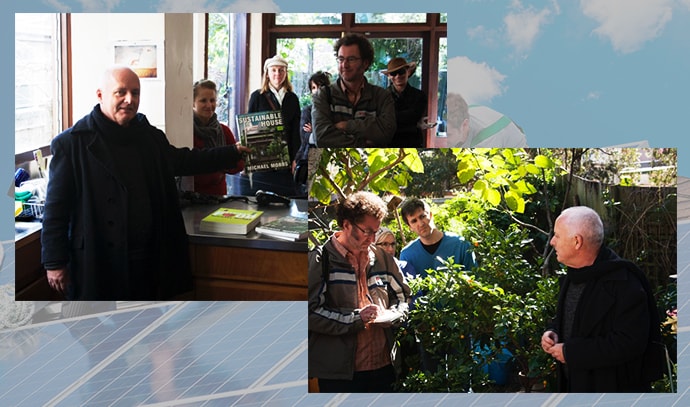 Images courtesy of Meredith Cohen
[/caption] Michael set out in 1996 to renovate his inner-city Sydney terrace and make it almost entirely self-sufficient in terms of energy, water and waste disposal. "It was a journey few other Australians had attempted but I've shown it can be achieved and that it's possible for almost anyone," he says. "Then I realised that although my house had become sustainable, I still wasn't. While my home saves 100,000 litres of dam water a year, the same amount of water is used to produce ten days' worth of food for the average Australian. So, I turned my attention to reducing the pollution and resource use associated with growing, processing, transporting, selling and disposing of food." In March 2015, Michael disconnected his house from the poles and wires that linked it to Sydney's mainstream electricity supply system. Now all the electricity used on his property comes from the sun. "We have our own system that uses solar panels, batteries and an inverter," he explains.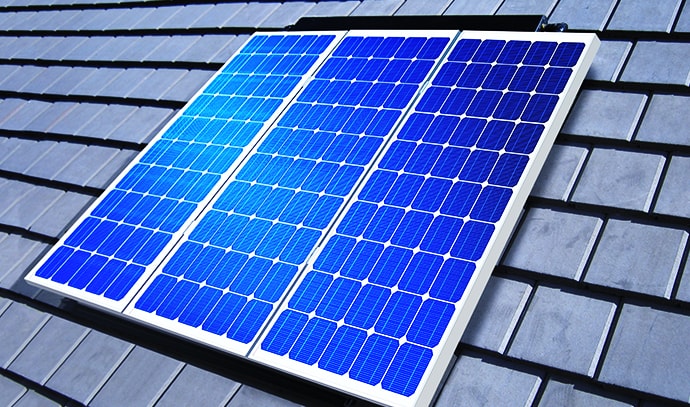 Michael has documented his experiences in two books:
Sustainable House
and
Sustainable Food
. "These have become in-demand sources of practical advice on building and living sustainably," he says. They include details on establishing community and backyard vegetable gardens, keeping urban chooks and bees, and reducing water usage, along with insights into dealing with councils, sidelining supermarkets and what we eat and why. "Even if you're not in a position to go off-grid, you can still do a lot to reduce your impact on the planet and improve your personal sustainability status by making a few simple shifts in the way you buy and consume food," Michael adds.

Here are Michael's tips for living more sustainably:
Buy local and buy in season

. A massive component of our ecological footprint from food is transport. Put simply: the less distance food has to travel to make its way onto your plate, the less energy is required to transport it and the less greenhouse gases are produced. So the simple answer is, wherever possible, buy food that's come from as close as possible to where you live.

Grow your own

. This, of course, is a guaranteed way to know where your fresh products are coming from and of course there's no packaging – see point 5. But, for those of us living in the city that's not often practical. There is, however, a growing network of community gardens springing up across Australia now.

Reduce waste

. Each year, Australians throw away billions of dollars' worth of food. Keep an eye on the use-by dates of the food you buy. Buy only what you need. And compost whatever you can.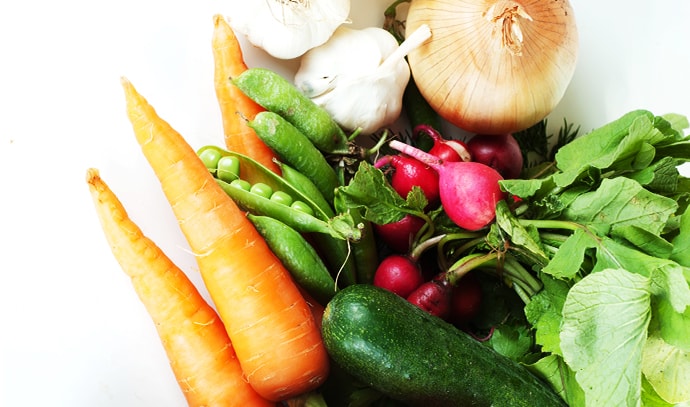 Buy less-processed foods

. Generally, the more processed a food is the more energy and materials have been used to produce, package and transport it. And then, of course, there's the issue of disposing of the packaging to deal with once you consumed the food. So wherever possible opt for fresh fruit and vegetables in preference to canned or frozen – another reason to by seasonally.

Opt for low levels of packaging

. It takes a lot of resources firstly to produce packaging and then to use it to package food products and it's either not always needed or could be reduced. And then, of course, there's the issue of disposing of packing after you've consumed the product inside. So, choose foods with no or minimal packaging.
Many thanks to Michael for his help to produce this article and for providing some images used here. For more information, visit
www.sustainablehouse.com.au.
Back to top