builder-fitting-insulation-roof-new-home-construction
The low down on carbon zero homes
Katie Adema, August 2016
Carbon zero, zero emission, zero energy, carbon neutral – no matter what term you use, the concept is the same: to create more energy than you use to reduce or entirely remove reliance on energy off the main grid. Sustainable home design is a major, and some say crucial, step towards seriously reducing the environmental impact our lifestyles have on the planet. According to the University of Melbourne's Energy Institute, it is realistic for all homes to reach carbon zero status within the next ten years. Having a carbon zero home doesn't even have to greatly change the way you live your everyday life – you just need to include some smart and sustainable technology in your home. But what exactly needs to be done to join the movement? [caption id="attachment_5521" align="alignnone" width="690"]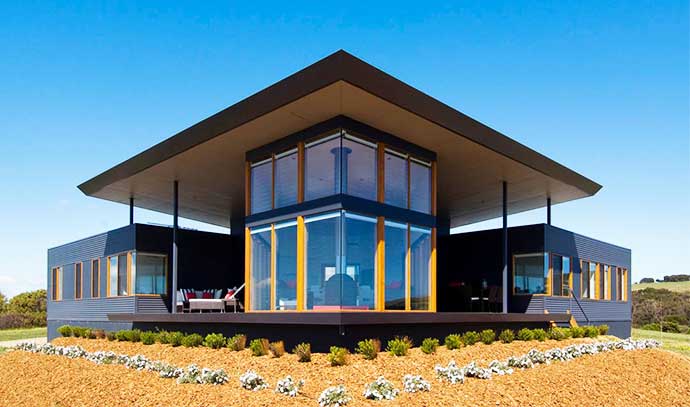 Above photo courtesy of  Sam Noona

n

;

M

ax Pritchard Architect Sustainable design features of this home on Kangaroo Island in South Australia features timber decked terraces either side of the living area to provide outdoor seating options for different wind directions
.[/caption]
Energy reducing features
Not many of us have the money to completely overhaul all the systems currently operating in our homes – but we can all start small and reduce our overall energy use. Slowly reduce your home's energy consumption by incorporating these energy saving features in your home:
Increased insulation – using more insulation than you think you will need is the cheapest and easiest way to reduce your thermal load and decrease your need for heating and cooling
Window glazing – helps keep heat inside in winter, and outside in summer
Draft proofing – sealing off draughts also reduces your thermal load
Using energy efficient appliances – look for four star rating or above
Installing alternative energy sources, such as solar panels or high efficiency gas or pump heating – connecting these to your home's heating system can reduce your energy use by a third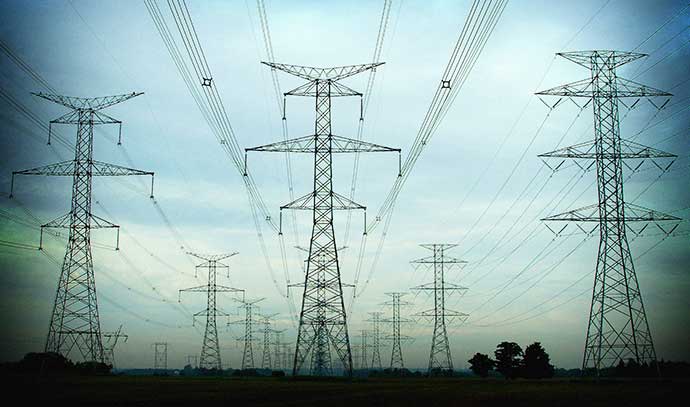 [alert style="alert-at-home" dismissible="false"]
Go one step further with carbon plus
As technology improves and energy efficient solutions get cheaper each year, it is possible for your home to not only produce enough energy to run itself, but even feed excess energy back onto the grid. Achieving this within your home can assist greatly in meeting emission reduction targets, and helps reduce impact of high carbon output from past practises. Check out
www.yourhome.gov.au
for more information on carbon positive housing.
[/alert]
[caption id="attachment_5518" align="alignnone" width="690"]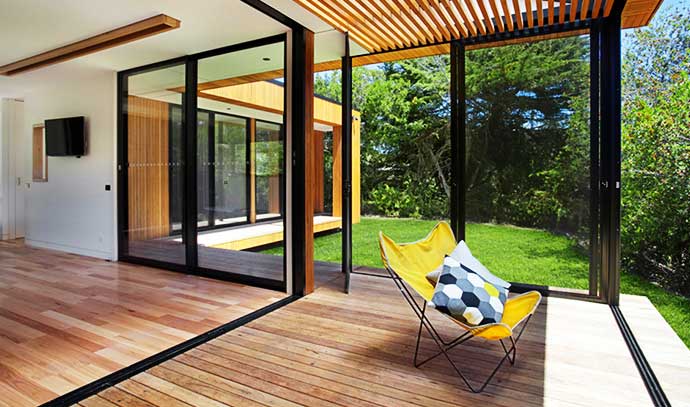 Photo courtesy of

ArchiBlox

Delivered Australia wide and complete in 12-28 weeks, ArchiBlox's architect-designed prefabricated modular homes can be configured to suit your site, environment, and lifestyle.
[/caption]
Start from scratch
There are a few companies now addressing the growing demand for carbon neutral housing and offering a range of services in this area, from assistance with design and architecture, to providing a complete 'kit' home.
ArchiBlox
produced the world's first prefabricated carbon positive home and installed it in Melbourne's City Square in Febuary 2015 – giving Australians everywhere an example of how these sorts of homes work. These prefabricated homes are available in a range of designs, and are built and delivered within 12-28 weeks. Of course, if you would prefer to design and create your carbon neutral home yourself, you can always work with an architect like Sam Noonan and builder of your choice to uncover all the possibilities for your home's design.
[alert style="alert-at-home" dismissible="false"]
Baby steps
If installing new technologies like the ones suggested here are beyond your reach at the moment, you can still make a contribution to offsetting your home's carbon emissions by purchasing carbon offsets or subscribing to
GreenPower
. [/alert]
Back to top