paperock-black-kitchen-benchtop-stove-flowers-display
Looking for a sustainable kitchen benchtop? Here it is
Veda Dante, April 2016
[vc_row][vc_column][vc_column_text]Strong, sustainable, versatile and affordable – welcome to the new world of green building materials. Sourced from 60 per cent recycled or renewable sources,
Paperock
is being used by award-winning architects like
Drew Heath
to create striking design features that not only add aesthetic value to a space but also stand the test of time. A blend of paper and phenolic resin, this composite building material is heat resistant to 180 degrees Celcius, free from volatile organic compound emissions, and completely recyclable.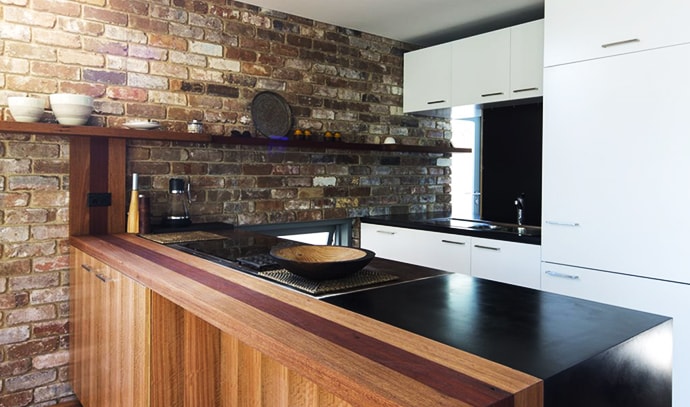 Paperock
is manufactured in Australia by an Australian-owned company, and provides incredible design freedom for homeowners, builders and architects due to its impact resistance, excellent strength-to-weight ratio, high chemical resistance and positive thermal properties. In fact, a 20mm thick benchtop can be cantilevered to 460mm, which is significantly further than natural or stone composite products. Not only does it cost considerably less than its concrete, metal or stone counterparts,
Paperock
's sleek, non-porous surface also provides a lifetime of stain resistance while absorbing virtually no water. This makes it an ideal building material for residential kitchens, commercial food preparation areas, bathrooms, boats, and all types of outdoor uses.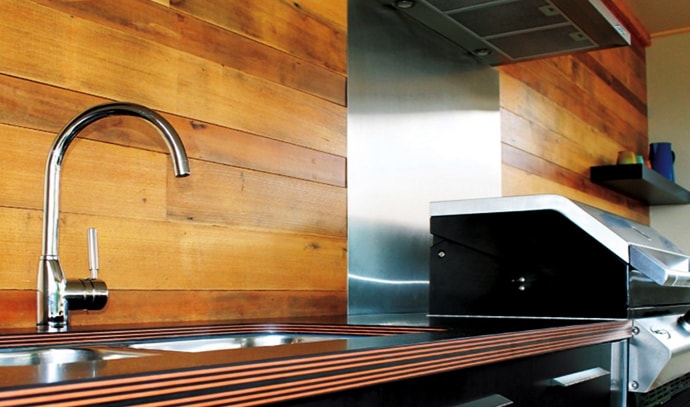 This revolutionary product is available in a range of warm, earthy tones including sand, green, brown and black, and can be layered to create a striking plywood effect. The sheets are available in a variety of thicknesses and sizes though dimensions can be customised to suit your design brief.[/vc_column_text][vc_video link="https://www.youtube.com/watch?v=jGQt9pyG52k"][vc_column_text]Want to know more? Watch this
video
or visit 
www.paperock.com.au
Images courtesy of Paperock
[/vc_column_text][/vc_column][/vc_row]
Back to top