laundry-white-washing-machine-dirty-clothes-white-coloured
Less is more in the art of washing
Phyllis, October 2015
Many of us learn the hard way about washing. My godson's first job out of uni required him to work on a mining site in WA for three weeks at a time. Before he flew the nest for the first time (apart from holidays) his mum tried to give him a few lessons with the washing machine. His response was that he wouldn't need to wash as he planned to pack 21 pairs of undies and bring them all home so she wouldn't feel as though he didn't need her any more. (So sweet and considerate!) Fast forward a week and he quickly found that his clothes AND undies became putrid with red dust and headed off to the site's laundry. Flummoxed by the machine (and not wanting to hear a well-earned "I told you so" from his mum) our intrepid young man called his sister and begged her to explain how to work the washer via phone. Needless to say it wasn't helping when, thankfully, a fellow worker came in and, taking pity of him, proceeded to explain how to master the machine. (It's a particularly delicious irony that he has a first class degree in engineering - robotics. Boy did we have a giggle about that one!) But the fact is that even those of us with way too many years of washing under our belts can make mistakes. We'll assume a basic working knowledge of how to turn the machine on, but following are eight common mistakes when it comes to doing the laundry.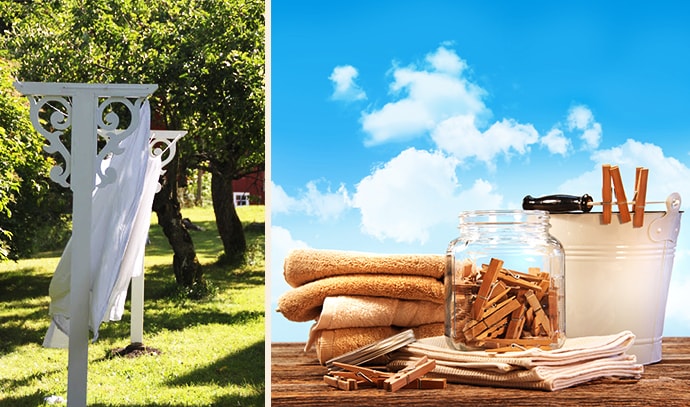 Too much detergent
More soap does not make for cleaner clothes. Quite the opposite in fact, as the soap residue fades colour and attracts more dirt, can lead to bacteria build-up in the machine and on clothes and even encourages odour.
Washing "dry clean only" garments
That label is there for a reason folks! Never wash leather, suede, anything with embellishments or structured pieces (like jackets). Fabrics such as linens and most silks can be gently hand washed and air dried.
Leaving wet clothes in the machine
This not only leads to stinky clothes and a smelly machine but also promotes the growth of mildew.
Overloading the machine
Don't clean your basket of clothes in one fell swoop just to save to time. Clothes have to be able to move around inside the drum so water and detergent distribute evenly.
Rubbing stains too vigorously
When it comes to stain removal, this approach can actually make the stain worse and may also wear away the fabric. Instead, treat stains as quickly as possible, dab rather than rub, and work in from the edges.
Zips and buttons
Left undone, zippers can snag on delicate clothes and catch on the drum of the machine. Conversely, doing up your buttons can result on the button and hole being pulled loose during the cycle.
Powder problems
Using top loader powder in a front loader machine or vice versa may not seem like much of a crime but it can cause a lot of damage to the machine. Top loader detergents produce more foam, so they can leave a front loader overflowing with foam. The other down side is your clothes will stay soapy.
Bleach blunders
The occasional use of bleach can bring the pop back to whites, but using it too often can turn the fabric yellow.
Back to top