plants-in-can-in-basket-gardening-planting
Indoor and outdoor gardening jobs
Angie Thomas, September 2015
There's plenty of plants to repot, veggies to sow and odds jobs to do around the garden as we head into the second week of spring.
Orchid Care
As cymbidium orchids finish flowering, they can be divided and repotted. Although crowded plants bloom happily for years, flower and foliage production gradually tapers off, so remove cymbidiums from their containers, divide into large clumps using a sharp knife (Tip: Be generous, the smaller the clump, the longer they'll take to re-flower), discard old withered bulbs, trim back any damaged roots and repot into fresh quality coarse orchid potting mix. Place the newly potted plants in a dappled shade position, protected from hot afternoon sun during spring and summer and water in well.
Yates Thrive Orchid Liquid Plant Food
is ideal for spring orchid feeding.
Repot tired indoor plants
Spring is an ideal time to freshen up your indoor plants. Repot any which have been in the same container for over two years.  Remove the plant from the original container, shake off some of the old potting mix and repot into the same or a slightly larger container using good quality potting mix. Blend a spoonful of
Yates Acticote Pots & Planters
through the mix for an instant release of nutrients, then controlled feeding over 12 months. Water the plant thoroughly, allow the water to drain away, then return the plant to its position indoors. Tip: Keep indoor plants dust free by placing them in the shower for a quick rinse off every four weeks.
Lilly pillies  
Lilly pillies are popular garden plants and there are many different types and many new varieties. These lush foliage plants have glossy leaves, produce colourful flushes of new growth, pretty flowers and brightly coloured fruit. One downside however, is some varieties are susceptible to attack by psyllids, which cause swelling (galls) or pimples on the leaves and deform new growth. If your lilly pilly is usually attacked by psyllids, control in early spring using
Yates Confidor
systemic insecticide. Yates Confidor is available in a handy tablet form, ready to use spray or concentrate. Two sprays during early spring are recommended while the plant puts on fresh growth. A systemic insecticide like Confidor is ideal for controlling psyllids as they are sap sucking insect pests which absorb Confidor as they ingest the sap.
Tidy trim backs   
Geraniums, pelargoniums, fuchsia and hibiscus can be trimmed back and tidied up now. Use secateurs or hedge shears to remove around a third of the old woody growth, to encourage fresh new growth and lots of summer flowers. Follow pruning with an application of
Yates Dynamic Lifter Plus Flower Food
which encourages plenty of new growth and prolific flowering, then a layer of organic mulch for garden plants. Top up potted plants with additional fresh potting mix if the original mix has slumped. It's not too late to tidy up ornamental grasses which flower profusely or turn bronze in winter such as purple pennisetum, miscanthus and carex. These can be pruned back any time from early winter to early spring.  The simplest method here is to bunch the grass into a 'pony tail' using some stretchy tape, pulled in tightly around the base and then lop the tops off almost to ground level, using shears, a sharp knife or even a chain saw. Sprinkle a couple of handfuls of
Yates Dynamic Lifter Organic Plant Food
around the base and water thoroughly. The grass responds well, reshooting from the cut leaf blades, and new shoots arise from the base of the plant. The tops can be shredded with the lawn mower and added to the compost, or spread on the ground as hay mulch. [caption id="attachment_2487" align="alignleft" width="690"]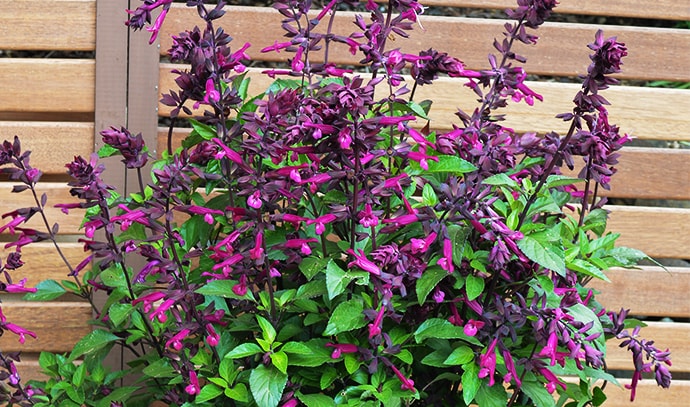 Image courtesy of

PGA
[/caption]
Award Winning Aussie Salvia
Each year at the Chelsea Flower Show, London UK, the Royal Horticultural Society announces its plant of the year. In 2015 first place was Viburnum plicatum f. tomentosum
Kilimanjaro Sunrise
with Australian Bred
Salvia Love and Wishes
winning third place. Salvia
Love and Wishes
was bred by
John Fisher from Orange in NSW
, and is a sport of the very successful
Salvia Wendy's Wish
. It's a low growing 80cm x 80 cm, very long flowering salvia with purple flowers held within a deeper purple calyx, and has very dark stems. It will grow in a wide range of climates, and is available from spring to autumn. Part of the proceeds is donated to
Make- A –Wish Australia
, which grants wishes to children with life threatening illnesses. Salvias will benefit from a spring feed with
Yates Thrive Roses
&
Flowers Liquid Plant Food
, which will encourage healthy foliage growth and is fortified with extra potassium to promote lots of flowers. Plenty of spring sunshine, enriched well drained soil, regular water and fertiliser combined with successive plantings are the best recipe for a steady supply of healthy home grown produce.
Handy herbs
Dual purpose herbs provide long lasting harvests for the kitchen and also flower over a long period, attracting bees and beneficial insects which help pollinate summer vegetables. They also look great among garden beds and borders, so don't confine these just to the veggie patch.  These herbs are easily grown from seeds sown in spring, and they'll grow happily in either full sun or part shade and suit pots too.
Sweet Basil
Grows best during spring and autumn (basil can bolt to seed in the hotter months). It has lush leafy growth with a spicy flavour is followed by white flowers.
Basil Gourmet Mix
A blend of long flowering Thai basil with mauve / purple flowers, lemon basil, delicate flavoured cinnamon basil and attractive purple basil. Look great in the garden and on the plate!
Chives
Fine cylindrical foliage with purple domed blooms, germinates in 14-21 days and are ready to harvest in around 8 weeks.
Garlic chives
Have long flattened leaves with a mild garlic flavor. Heads of white flowers are popular forage for both honey and native bees.
Borage
Pretty blue flowers attract bees and beneficial insects. Flowers can be used to garnish summer drinks or decorate desserts and cakes.
Rocket
As the name suggests it's a quick grower, so regular harvesting keeps leaves tender and delays flowering. When the weather warms up it can bolt to flower and seed, so enjoy the spring harvest.
Velicious veggies
Lettuce, silver beet, radish, spring onions, beans and Asian greens can be sown in most zones. Direct sow beetroot, carrots and parsnip into garden beds or pots as they resent transplanting. Tomatoes, capsicum, chillies, eggplant, cucumber and zucchini like warm conditions, so sow outdoors in warm areas, and seedlings raised indoors can go into the garden or pots as the soil warms. To get summer vegies off to a great start, incorporate a few handfuls of Yates Dynamic Lifter Organic Plant Food into the soil or potting mix before sowing or planting out seedlings. Protect young seedlings with
Yates Blitzem Snail and Slug
pellets.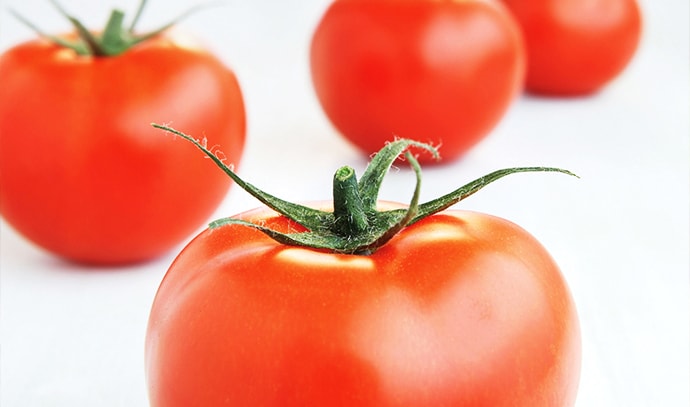 Yates Tomato Improved Apollo
A prolific tomato for home gardens, producing medium sized tasty fruit over a long period. This popular variety is a sturdy strong grower and needs staking to support the upright vine.
Yates Tomato Black Krim Organic
This heirloom variety has flattened dark purple red fruit with green shoulders. The juicy flesh has a green tinge and is a delicious in salads and sliced for sandwiches. It's a vigorous vine which requires staking. Yates Organic seeds are grown just as nature intended, under strictly controlled organic, chemical free conditions.
Yates Tomato Small Fry
An award winning variety, producing masses of sweet bite sized fruit. Ideal for summer salads, kebabs and a favourite in lunchboxes. Although the fruit is small, the vine is vigorous so needs either staking or a trellis for support.
Yates Tomato Tiny Tim
A cherry sized tomato, bearing heavy crops of sweet, cherry sized fruit. The plant is a compact dwarf, so Tiny Tim is ideal for growing in pots, troughs or raised beds.
Broad beans
Sometimes it seems like broad beans have been flowering for ages, but no pods are setting. As the weather warms up and the bees are active, the pods will begin to form. So just keep watering and liquid feeding with
Thrive Easy Pods All Purpose Soluble Fertiliser
.  Young shoots can be harvested to add to salads and stir fries, and young pods may be harvested to eat whole, but if you like your beans big, broad and full flavoured, be patient.
Sensational seeds
In tropical and sub tropical zones start sowing seed of rockmelons, watermelons and pumpkins. These big rampant vines need plenty of space, sow two or three seeds on a mound of improved soil and watch them take off!  In temperate and cooler zones, delay planting until the weather warms in late September or early October. Don't forget to protect young seedling from snails and slugs with Yates Blitzem Snail & Slug Pellets and give young plants a great start by feeding them regularly with fast acting
Yates Thrive All Purpose Liquid Plant Food
.
Back to top