man-sitting-couch-office-workplace
Improving office energy and waste efficiency
Gabi Selwyn, December 2017
Future tech, next generation Building Internet of Things! (BIoT), artificial intelligence (AI), emerging digital trends, automated efficiencies, the latest energy saving initiatives in the built environment and state-of-the-art ergonomics will be on show at
Total Facilities 2018
.
It will bring together professionals and innovative businesses over two days, with a focus on exploring strategies to optimise facility and workplace performance and improve the places in which we work and live. [caption id="" align="alignnone" width="690"]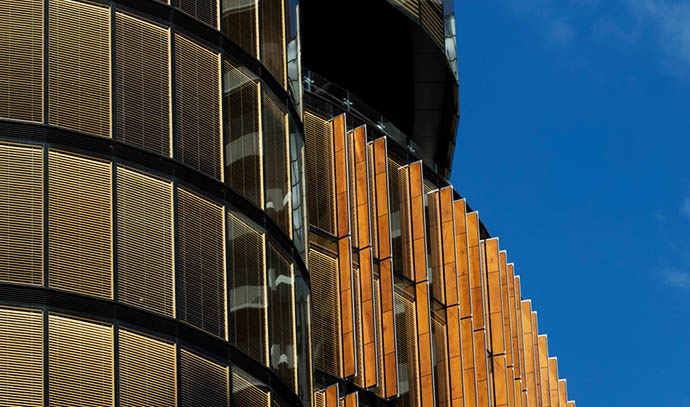 Sustainability features including a triple gazed façade and automated timber blinds allow workers at Sydney's
EY Centre at 200 George Street
enjoy fresh air and natural sunlight. Photo by Brent Boardman[/caption]
Better manage time, money and resources
Renowned experts, academics and thought leaders will share practical insight into the industry's top challenges and opportunities, and more than 150 brands including
Dyson
,
Karcher
,
Schindler
and
Nuflow Technologies
will unveil the latest and most innovative FM products and services on the exhibition floor. Attendees at next year's event – which will be held at the Melbourne Exhibition Convention & Exhibition Centre from April 18-19, 2018 – should expect to see exciting innovations and product launches that will help FMs save and better manage time, money and resources.
Metra
is set to unveil its new mobile app for remote and mobile management of electronic lockers and New Zealand's
Method Recycling
will launch its own line of certified compostable bin liners.
Hochiki
, one of the world's leading manufacturers of commercial and industrial fire detection, will also showcase its latest product, FIREscape – Australia's first extra low voltage intelligent LED emergency lighting system. Key partners for this year's
Total Facilities
event include:
CitySwitch – an initiative supporting commercial office tenants to improve office energy and waste efficiency
NABERS – the national rating system that measures the environmental performance of Australian buildings, tenancies and homes
CoreNet Global Australia Chapter – the world's leading professional association for corporate real estate (CRE) executives
[embed]https://vimeo.com/217102234[/embed]
Best Bathrooms
Rentokil Initial
, Australia's largest and most trusted pest controller is stepping in to sponsor the annual
Best Bathroom Facility competition
, which will be searching the nation for the finest facility in design, innovation and technology. "FM professionals need to stay ahead of the latest insights, trends and innovations in order to best understand the industry's challenges and opportunities," says Andrew Lawson, Total Facilities Event Manager. "We are thrilled to have a great line up of sponsors and exhibitors already on board for
Total Facilities 2018
. Once again, it's set to be one of key events for industry this year." [alert dismissible="false" style="alert-small-business-inverse"]
Don't miss out on Australia's biggest Facilities Management event
Registrations are now open for Total Facilities 2018
, which will be held at the Melbourne Exhibition Convention & Exhibition Centre from April 18-19, 2018. You can also subscribe to receive future updates about the event
here
. [/alert]
Back to top