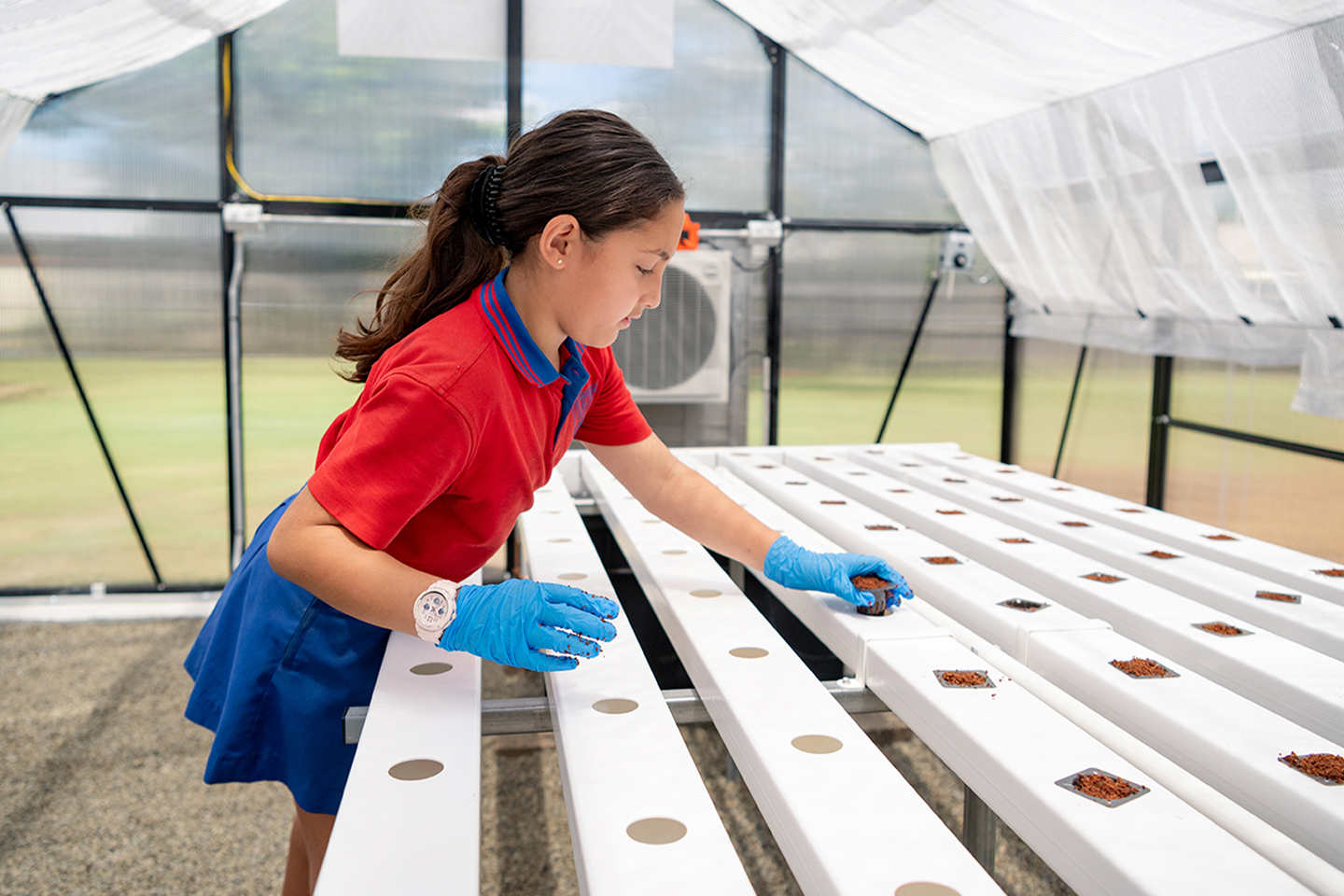 Waterford West student planting seeds in the hydroponic pods.
Bringing horticulture, food security and nutritional education to schools in remote, regional and disadvantaged communities
By staff writers, March 2022
homeloans.com.au's parent company Resimac Group has partnered with Food Ladder to roll-out a multi-school fresh food sustainability initiative throughout Australia. The project will initially see Food Ladder's greenhouse systems installed in three schools over the next 12 months. Towards the end of last year, the first greenhouse was installed in Waterford West State School.

(1) Janelle Packman (Resimac BDM), Susan Hansen (Resimac Board member) and Tate Brammer (Head of Operations at Food Ladder) in front of Waterford West greenhouse. (2, 3) Students at Waterford West plant lettuce, rocket, bok choy and mint seeds in their hydroponic greenhouse.
We're delighted to give you an update on Waterford West. The installation was a huge success, with an initial cohort of 30 students helping to plant a variety of lettuce species, rocket, bok choy, and mint. The proximity of the harvest to the end of the school year meant lots of lucky families of the students and staff had an abundance of fresh and locally grown produce to cook over the Christmas break.
The next batch of seeds is being planted this month by 115 students in Year 5 as part of their Natural Sciences subject. This harvest will be distributed through the tuckshop at the school, enabling the students to enjoy an authentic 'paddock to plate' experience.
Check out the video below, which goes into the full story of our Food Ladder installation in Waterford West.
This information is of a general nature and does not comprise professional advice or product recommendations. Before making any decision about any investments, financial products and services, you should consult with your own independent legal, taxation and financial advisors, who can provide advice which takes into account your own personal circumstances, goals and objectives.
Back to top