Home storage solutions
Home storage solutions
Katie Adema, August 2013
Stow it, don't throw it!
Living in a material world is fast catching up to us. Indeed, the rapid rise in the number of de-clutter services across the country in the past few years tells us we are in desperate need of some new ways to combat lack of storage space. Fortunately for those creating their home from scratch, there are a myriad of clever storage options that can be built into the design from the get go, saving you plenty of time and effort when it comes to finding space for possessions. However, others working with an existing home (that may or may not have many clever built in storage solutions) need to be a bit more creative and utilise the space they do have to the best of their ability. Here's our wrap up of potential storage solutions for every room in your house, whether it be old or new, big or small.
Bedroom storage solutions
The place where you should be the most relaxed can often be in a constant state of chaos; closet in disarray and packed to bursting point – not to mention other personal possessions scattered about. The most practical way to approach the bedroom is to be aware of storage from the outset; purchasing a bed with built in drawers under the bed or at the foot of the bed will put you miles ahead of the game. Under the bed is particularly great for maximising wardrobe space; at the beginning of each season, pack your summer/winter clothes into these drawers so you can keep only the items you need in the closet. If you have a big budget, nothing beats a walk in wardrobe hidden behind sliding doors; for those with a smaller budget, some smart investments, such as hanging shoe storage, can make a huge difference. Extra hanging space can also be created with nifty bars placed on back of doors. If you like your knick-knacks, its best to invest in decent bedside tables and/or dressing tables with plenty of drawers so you can stow away these items from view.
Bathroom storage solutions
The bathroom can easily get out of control; it's no wonder this room is often the cause of clashes between siblings. Keep everyone's possessions separate with labelled hanging pockets, or, if there are enough to go around, a drawer allocated to each family member. Baskets and/or high shelving can provide a home for extra towels, while extra hooks on the back of doors can be used to hang a number of things, from wet towels, extra clothes to a bag of toiletries.
Kitchen storage solutions
The great thing about kitchens in terms of storage is that they are normally built with plenty of drawers and cupboard space; however, there never seems to be enough space! Fortunately there are some very smart storage solutions available that can be easily integrated into your existing kitchen. Drawer dividers are handy for utilising the space effectively, with the added bonus of being able to find things easily. Carousel style shelving is another fantastic option for those sick of reaching in to get dishes that have been buried deep at the back of a cupboard. Kitchen appliances that are not used very often can be found a spot possibly in other areas of the home. To really maximise your kitchen storage space, it's a good idea to start with a big clean out, so old and unnecessary kitchen gadgets, utensils and crockery don't get in the way of you and an organised kitchen. Once you're de-cluttered, don't be afraid to think about moving things like the microwave to maximise your bench top space.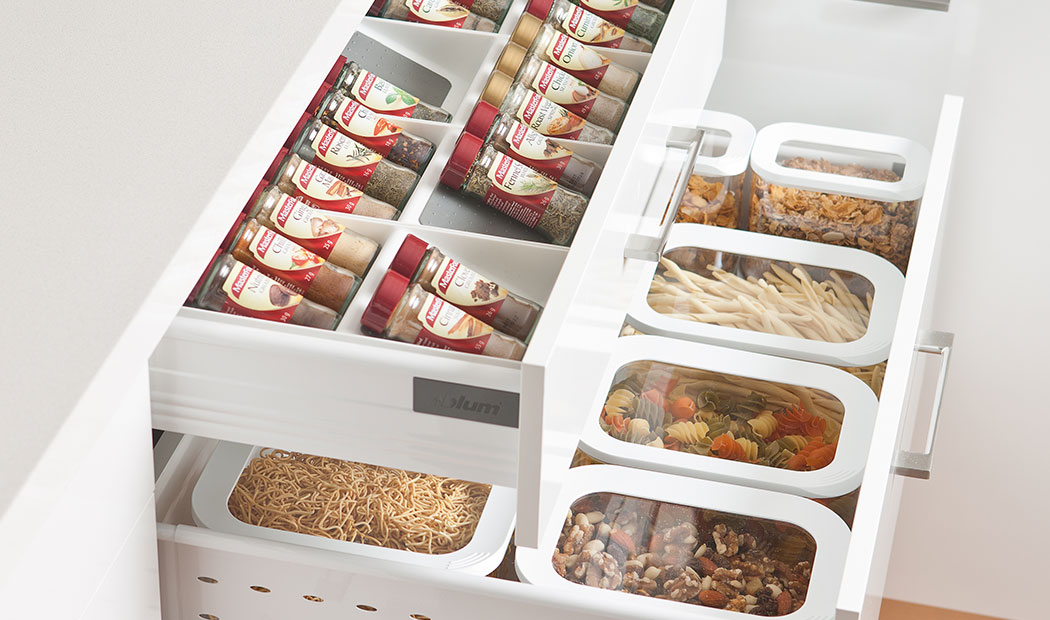 [alert style="alert-success" dismissable="false"]
Handy Tip
Sick of the jumble of pots and pans in the bottom drawer? Look up! Hanging is an often overlooked way of organising kitchen equipment; plus it frees up some serious drawer space! [/alert]
Living room storage solutions
The living room is where every household member's possessions and needs collide; one night it could be a children's playground or study room, a space to relax and read or watch TV, or a place to entertain guests before dinner. However you use your living room, it needs to be clutter free and organised in a manner suited to its multitude of purposes. Also consider how you would like things to be stored; do you want everything hidden away in cupboards and drawers, or would you prefer open shelving so all objects are on display? Investing in a good set of shelves and/or entertainment unit with enough room for all your technology, books/magazines and keepsakes is the most crucial building block for an organised living space. For those willing to splurge, a custom-made entertainment unit can solve all your storage problems, as it can be made to perfectly fit the space and made to the size you require. If you've got them, alcoves are fantastic storage options for books, firewood, or even linen or other miscellaneous objects when arranged on staggered shelving. [alert style="alert-info" dismissable="false"]
Think outside the box
Although our first instinct is to shove that pile of random objects you can't seem to find a place for into a drawer or box, it's also a good idea to think about the unused space above your head, lest the floor space become littered with numerous boxes. Things like pin boards and shelving can be very helpful when it comes to finding a home for those loose sheets of paper you know you mustn't misplace, while high shelving creates space for books and magazines. If you are worried about wide shelves jutting into your living space, consider recessed shelving. Alternatively, things that you may not use very often like travel bags can be stowed away in those hard to reach spaces above cabinets and cupboards. You might surprise yourself with the amount of space you actually have![/alert]
Home office storage solutions
The home office is an area that is most in danger of becoming buried in paper. Start with going through everything; be ruthless about what is and isn't needed. Invest in some handy little baskets or boxes to sort paperwork into appropriate categories, and set up a space for new bills/paperwork that need to be addressed so it does not get lost amongst the older ones. A label maker is the ultimate organiser's best friend; if you are feeling very dedicated to keeping this space neat and tidy, put labels on boxes according to their contents – that way everything can be found easily when needed. A filing system is also an essential part of any effective office space; ensure yours is big enough to fit all the relevant paper work inside. Dividing systems and magazine holders are some other options available to help you sort everything. A good desk with plenty of drawers, filing space and shelving above can help a great deal with this process also.
[alert style="alert-success" dismissable="false"]
Handy Tip
Many companies now offer paper-less billing; opting for electronic statements instead of paper can decrease your need for extra storage space a great deal. You'll also save a tree in the process! [/alert]
Kids rooms
One of the most important thing here is to think about the room from a child's perspective as well as your own; what can and can't be reached by your child? What objects need to be out of reach? Toys are often the biggest problem in a child's room; combat this with a number of colourful boxes or baskets that can be easily placed under the bed or on a shelf. Make cleaning up easier with a box for soft toys and another for more solid toys like Lego or building blocks; there are plenty of colourful, kid-friendly options on the market suited to this purpose. A built in chest that doubles as a window seat is the perfect storage solution when it comes to bigger toys that cannot be placed in smaller boxes on shelves; this also places the toys out of sight when kiddies aren't playing with them, which hopefully discourages them from pulling them out after playtime. Clothes storage needs to cater to the child's age and height; if they are starting to dress themselves, clothes need to be placed a good height. Having labels for each shelf may also help your child stay organised. [alert style="alert-info" dismissable="false"]
Five top tips from Howards Storage World
Short on time? Get organised with these 5 five-minute mess busters you can complete while the kettle boils. We all want an organised home, but when to squeeze in all the little jobs that need doing? The answer is as simple as embracing the five minutes it takes for the kettle to boil. Next time you're standing around in the kitchen, why not think about tackling one of these tasks?
Sink to new levels A messy sink can be instantly organised with a Simple Human Sink Caddy. Four suction cups provide a secure grip to your sink while removable plastic dividers store and organise sponges separately for faster drying. It's quick, it's easy and it's so neat.
Quick on the drawer The kitchen drawers are a great little project – try to do one a day for a week, starting from the top and working down. The bottom drawer tends to be the most difficult, so once you get to this drawer, be ruthless. Think about what actually belongs in there and stick to your plan as you sort and store. The rest can be redistributed or thrown out – after all, who really needs 500 twisty ties?
Frozen assets The freezer is a surprisingly quick project. Get rid of anything that's out of date, unsealed or not properly labelled. Invest in a couple of Linus Fridge Binz and group like items together.
Nail the mail Create a mini distribution centre for incoming mail and have a bin on hand for instant recycling of junk mail.
Basket cases Tackling the cupboard under the sink makes a huge difference. Baskets are the key to making this one really easy: simply put all your cleaning products in one basket and your sink items in another.
[/alert] Products shown in the images available at
Howards Storage World
Store Locater
: 1300 479 479
Website
:
hsw.com.au
Back to top