ecosmart-flueless-fire-fireplace-modern-interior-living-room-glass-walls-lighting
Heating solutions for your home
Hedgie Gundry, June 2017
With the onset of winter, it's time to pull out your trusty slippers and replace the cotton bed sheets with a flannel set. But if your home is feeling decidedly chilly already, it might be time to invest in a new heating solution. There's a wealth of options available, including electric heaters, gas heaters, wood fires, ethanol burners and reverse-cycle air conditioners. But the type of heater you choose will be dependent on your climate, the size of the space you need to heat, your design preferences and your budget – while it's good to be warm over winter, the last thing you need is a huge energy bill landing on your doormat come springtime. Here at HomeHub, we take a look at the variety of heating options to keep your home warm and cosy this winter. [caption id="" align="alignnone" width="690"]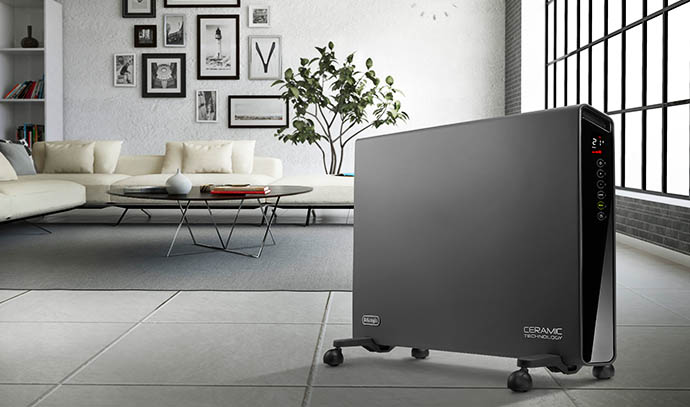 The De'Longhi 2300W Ceramic Panel Heater features an ECO function that optimises heating settings to maintain an ideal temperature while reducing energy consumption.[/caption]
Electric heaters
Portable electric heaters come in various shapes and sizes, from radiant heaters, oil-filled column heaters, panel and convector heaters to ceramic and fan heaters. Often the cheapest heating option, electric heaters are good if you need a quick fix to take the edge off a cold night. They're also great for small spaces, if you're sitting reasonably close to the heater or if you're not using them for long periods of time. Electric heater design has come on leaps and bounds in the last decade, and Dyson's
Hot+Cool fan heater
would have to be the most innovative. Not only is it great for heating in winter, but it'll also cool you down in summer.
Ideal for:
Small spaces or individual people
Cost:
$20 to $700 [caption id="" align="alignnone" width="690"]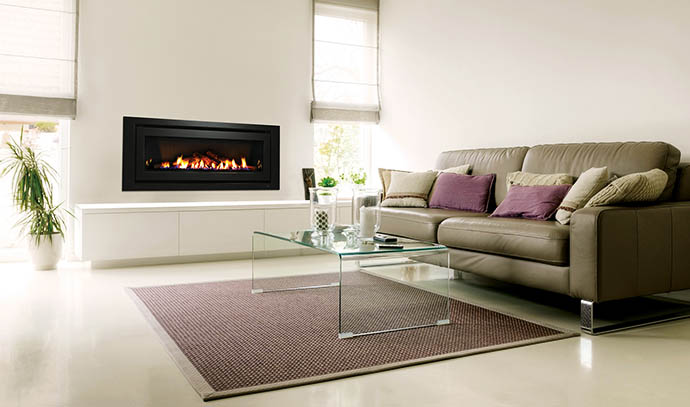 More than just a design feature, Rinnai's 1250 gas heater is equipped with high performance heat exchanger technology and features an energy efficiency star rating up to 5.5 stars.[/caption]
Gas heaters
If you have mains gas or the option to use LPG, gas heaters can be very efficient and good value for money. There are two main types of gas heaters – flued heaters which direct fumes through a flue or pipe, or portable un-flued heaters. Your room size and local climate will determine what size gas heater will effectively heat your home. If you have a medium to large-sized room to heat, gas is very effective. And if you're going to leave your gas heater on all day, the running costs may be cheaper than a portable electric heater. The design of flued gas heaters has advanced considerably over the years. The flames of the latest models housed within fireplaces or stoves look very similar to real wood fire flames. And are also super cosy.
Rinnai
has some great energy efficient real flame models to choose from, including the 1250 which is ideal for large spaces.
Ideal for:
Medium to large spaces
Cost:
Flued $1200 to $5000 plus installation costs, un-flued $400 to $1400 [caption id="" align="alignnone" width="690"]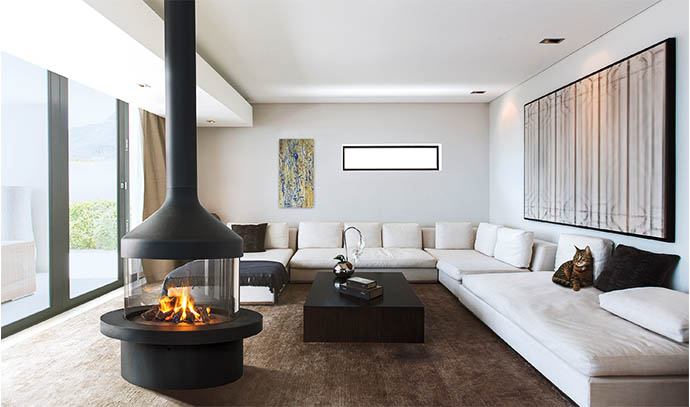 With its sliding glass panels, the Meijifocus from Focus Fireplaces allows the flames to be viewed in complete security, bringing it within reach of our living spaces.[/caption]
Wood burning stoves and fireplaces
For many people, you can't beat a real wood fire to warm your living room on a cold winter's night. Although more time consuming than simply flicking a switch on an electric or gas heater, open fires – the more efficient slow-combustion wood stoves – are an excellent source of heat that can easily be complemented with additional portable heaters. Combustion wood stoves are ideal for medium-sized spaces and start at around $700 for a new model, going upwards to thousands of dollars for the latest designer ranges.
Kent wood heaters
offers great budget combustion stoves and their clean burn technology means that virtually no smoke or other gasses are released when the fire is in use. At the other end of the wood fire spectrum, the designer range of wood fireplaces from
Focus Fireplaces
are considered an architectural statement more than anything else. Their incredible
Ergo Focus
models are suspended from the ceiling and rotate as necessary.
Ideal for:
Medium spaces
Cost:
$700 - $15,000 plus installation costs [caption id="" align="alignnone" width="690"]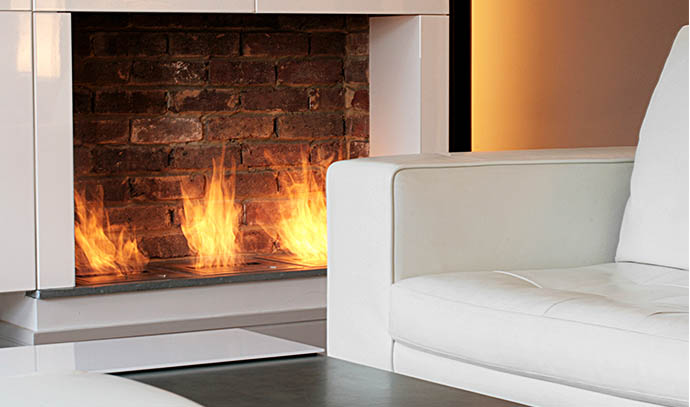 Ecosmart's BK5 stainless steel burner is fuelled by environmentally-friendly bioethanol, so you don't need to flue out any harmful emissions or install costly ventilation systems.[/caption]
Ethanol burners
Another alternative to an open fire is an ethanol (methylated spirits) standalone fireplace or ethanol stainless steel burner that can be installed into new and existing fireplaces - even old hearths that have been closed off. Ethanol burners produce a lively golden flame and don't give off dangerous fumes such as carbon monoxide when burned. This means they don't need vents or flues, or any type of utility connection. Heat wise, they are comparable in heating and efficiency to an un-flued gas heater. Australia's
EcoSmart Fire
is now recognised as the pioneer of environmentally friendly ethanol fireplaces around the world. Its range of
wall-mounted firebox inserts
allows you to revive an old-fashioned wood fireplace, or build a fire feature into a feature wall or directly under a wall-mounted television due to their zero-clearance construction. EcoSmart fireboxes are completely self-contained, which makes them much simpler to install than gas or wood burning fireplaces. No flashing, roof work or plumbing is required and, once assembled, they switch on in seconds.
Ideal for:
Small to medium spaces
Cost:
$700 - $8,000 [caption id="" align="alignnone" width="690"]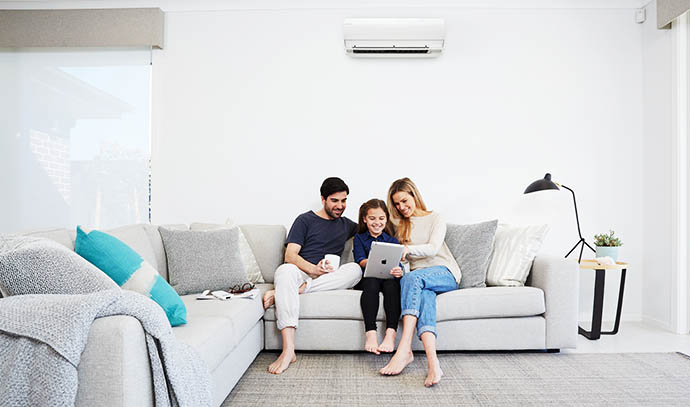 Daikin's US7 is Australia's most energy efficient split system with a 7-star super efficiency rating.[/caption]
Reverse cycle air conditioners
Most contemporary homes now have open plan living spaces which whilst functional, can often be a challenge to heat. Reverse cycle air conditioners are a great option as they can also be used in summer to keep your home cool. Even though they're more expensive than electric heaters, they're very effective in terms of the power they use compared to the heat they generate. Most models today are extremely energy efficient, such as the wall-mounted
Daikin US7
, Australia's only 7-star rated split system, which has also been approved by the National Asthma Council of Australia.
Ideal for:
Larger spaces such as an open plan living area
Cost:
$700 - $3000 [embed]https://www.youtube.com/watch?v=Lv_kUolt810[/embed]
CHOICE'S top cost-saving heating tips
Don't heat rooms to tropical temperatures. For example, try 20 degrees instead of 23 degrees. Each degree less will save about 10 per cent on your energy use
Only heat the rooms you're actually using
Hot air rises to the ceiling, so if you have a ceiling fan with a reverse-direction option, consider using it at a low speed to help circulate hot air more evenly through the room without creating a downward breeze
[alert dismissible="false" style="alert-at-home"]
How to choose an energy efficient heater
By choosing the right sized system for your home, you can avoid paying for energy you don't need. There are numerous factors to consider, but in general, a high efficiency gas heater or high efficiency reverse cycle air conditioner will cost less to run than other heating options. Always check the energy rating labels to gauge energy efficiency. For more detailed information, Sustainability Victoria has an excellent guide to choosing an energy efficient heater on its website, which you can check out
here
. [/alert]
Back to top