father-carrying-baby-daughter-swimming-pool
Is it healthy to swim at your local pool?
Jane Ryder, February 2018
While public pools are required to be maintained and operated to strict state government health codes and regulations, disease-causing bacteria and parasites can enter the water, most often from swimmers. When a contamination incidence, sometimes called a 'Code Brown', occurs, the pool is closed while the water is sanitised. Or "partially closed", as one friend's friend posted on social media after her local pool in Perth "just moved the lessons to the other side of the pool… poured something in the water after scooping the poop and then kept testing the water". And that's by no means an isolated case. Just this weekend the Daily Telegraph reported that a number of Sydney's public pools including Olympic Park Aquatic Centre and Prince Alfred Park Pool
failed bacteria tests
. "Your local public swimming pool may appear sparkling clean but looks can be deceiving," says
Swimart
Australasian manager Chris Fitzmaurice. "Public pools' high number of users increases their incidence of water-borne infectious diseases, which are invisible to the naked eye and can make swimmers ill by swallowing just a small amount of water." [caption id="" align="alignnone" width="690"]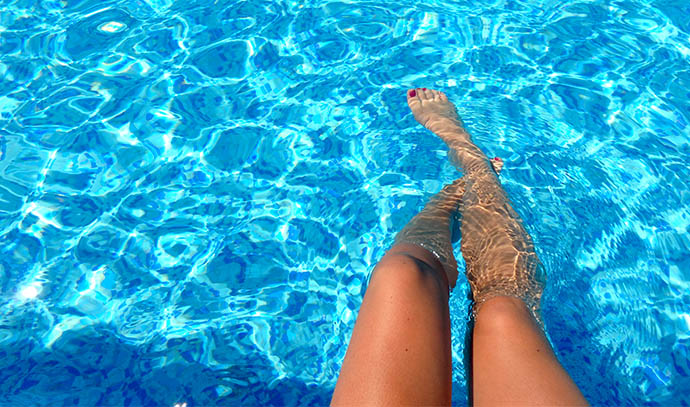 While public pools, with their higher swimmer load, are more susceptible to contaminations, water in private pools quality can also be compromised.[/caption]
Simple pool safety tips
NSW Health
advises not to swim when ill or with an open wound, to wash with soap before you enter the pool, to wash your hands after going to the toilet and changing nappies, to take your children for regular toilet breaks and ensure children who are not toilet trained wear waterproof, tight-fitting pants. In fact, the local council in Northern Victoria's Craigieburn is helping reduce future incidences of infection at the Splash Aqua Park and Leisure Centre by
providing free aqua nappies for its youngest swimmers
. "While public pools, with their higher swimmer load, are more susceptible to contaminations by diarrhea-causing bacteria and parasites, water in private pools quality can also be compromised," Chris explains. "To help ensure healthy water in your swimming pool, maintain the correct balance of water treatment chemicals and pH levels, particularly during summer when your pool gets more use and the weather is warm," he says. "Warm water, low chlorine or bromine levels and a pH level that is too high or too low creates an environment in which water-borne bacteria and parasites thrive. Our
test kits
make it quick and easy to regularly check your pool water." [caption id="" align="alignnone" width="690"]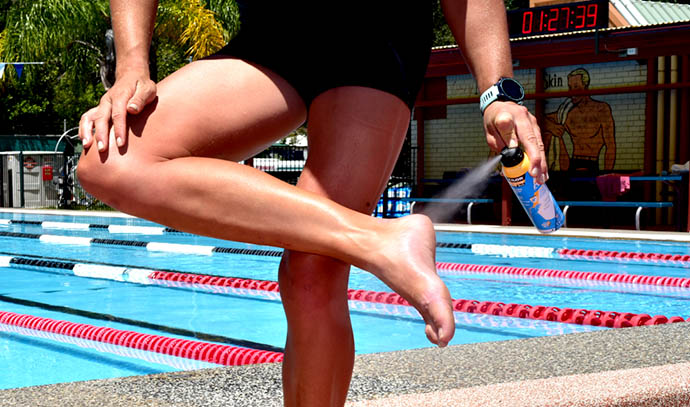 Invest in a preventative spray that acts as a shield against foot infections. Image courtesy
Excilor
.[/caption]
Protecting your feet when going barefoot
Experts are warning Aussies of the risks of summer pursuits, such as swimming at the local pool and showering at camping sites, after a new survey conducted by
Excilor
reveals that nearly two in three (62 per cent) Aussies who use communal areas, admit to going barefoot. This is leaving Australians vulnerable to nasty foot infections such as athlete's foot (Tinea), warts or fungal nail infections – leaving parents out of pocket, and both kids and adults in pain, experts say. Sports podiatrist Muhammad (Mo) Maarj has urged Australians to take foot health seriously, as infections are easy to pick up, especially in the hotter months. "Moist areas including swimming pools, showers, change rooms, toilet blocks and even pavements around the beach create the perfect breeding ground for these infections. Although it may seem harmless, you could be putting your health – and the health of your family – at risk by walking around barefoot," Mo explains. "With February here, which is traditionally a humid month in many parts of the country, it's important to be vigilant with foot health. And with kids going back to school and spending more time in shoes and socks, it's important for parents to keep an eye on their feet habits too."
5 tips for healthy feet: 
Always keep your feet dry. If feet are wet, fungal and bacterial infections can easily spread
Give your feet a break. Take your shoes and socks off when you get home to give your feet a break from the moist environment
Keep it to yourself. If a family member has a fungal infection or wart, ensure they are taking measures to reduce the possibility of infecting others. Wear thongs in communal showers, and ensure feet are completely dry before walking on the carpet
Pack your thongs. Always wear thongs in communal environments such as public pools and change rooms
Take action. Invest in a preventative spray that acts as a shield against foot infections – or if you do get infected, act fast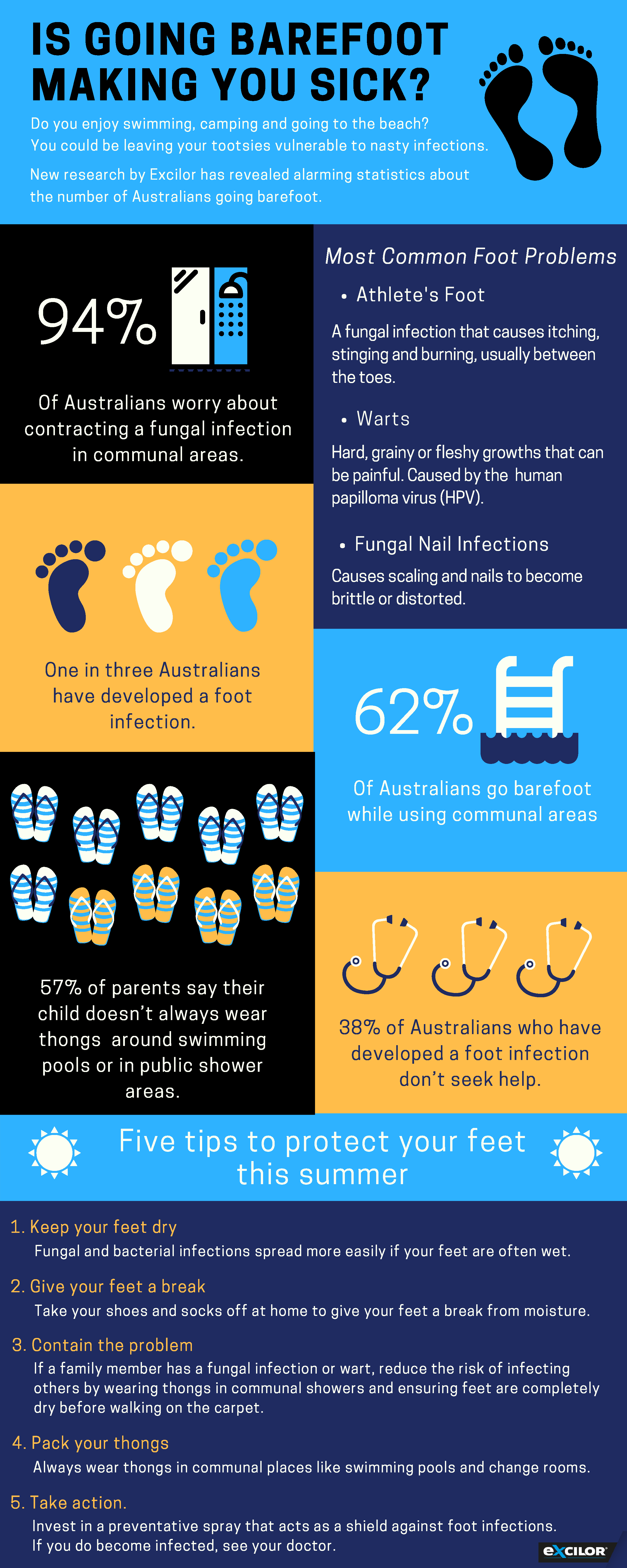 Back to top