ecosmart-flex-fireplace-interiors-home-living-room
How to get the best out of your heater this winter
Hedgie Gundry, June 2018
Winter is finally here and it's time to dust off the electric radiator, get your gas heater serviced or order that long overdue log delivery to last you 'til spring. But no matter what type of
home heating solution
you have, now's also the time to check if it's safe to use and operating at maximum efficiency. With home heating a leading cause of house fires each winter, here are some top tips to keep your home safe and warm during the cooler months. We also look at some practical and energy-efficient ways to keep your heating bills in check. [caption id="" align="alignnone" width="690"]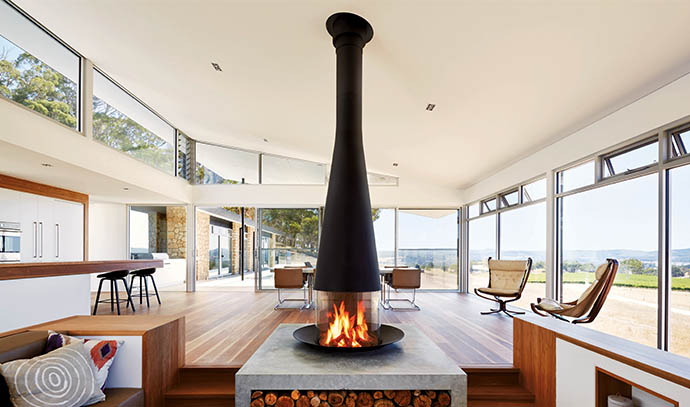 This central fireplace from
Focus
can be positioned at three different heights: built into the floor, placed above the floor, or attached to a steel or constructed base.[/caption]
Keep warm safely
Winter is the worst season for house fires across Australia with an increase of at least 10 per cent in New South Wales alone. Not surprisingly, these fires are most common in bedrooms and lounge rooms due to the improper use of heaters. This year, FRNSW community safety and research chief superintendent Mick Morris is warning homeowners to always turn off heaters, and also electric blankets, before leaving home or getting into bed. "Don't put yourself or your family at risk. We want to remind people to be careful when using heaters and to keep everything in the house
a metre from the heater
," he says. When it comes to
electric heater
safety, check for obvious damage such as rust and power cord wear and tear. An electrician or service technician should carry out any repairs. And never use a power board for your electric heater to prevent possible appliance overload. Always check your
gas heater
is working correctly before the temperatures drop. And have it serviced by a licensed gas fitter according to the manufacturer's instructions, not only to prevent fire but also poisoning. Signs that something is wrong include difficulty lighting the heater, yellow flames, unusual smells or noisy or inoperable fans. [embed]https://www.youtube.com/watch?time_continue=33&v=JjTPnBPwpnY[/embed] If you have a
fireplace
in your home, then make sure the chimney is clean and not blocked. The
Australian Home Heating Association
recommends
wood heaters
should be serviced once a year and your flue should be cleaned regularly by your local chimney sweep. This is because creosote and resin build-up formed by solid fuel combustion can cause fires. And always place a screen in front of a fireplace when it's being used. The regulation of the
ethanol fireplace
industry in 2017 has provided Australian consumers with greater clarity and confidence in selecting a product after a spate of injuries. This was followed by a nationwide Australian Competition and Consumer Commission (ACCC) ban on table top and certain freestanding devices. "To comply under the ACCC Mandate, the
decorative alcohol fuelled device
 must require installation in a fixed position or have a dry weight of at least 8kgs, and come with a fuel container that incorporates a flame arrester or an automatic fuel pump system for the device – among other things," says Stephane Thomas, creator of EcoSmart Fire. [embed]https://www.youtube.com/watch?v=BmQlVX7JSf4[/embed]
Keep warm cost-effectively
With electricity and gas costs now at a premium, there are many practical ways to make sure your home is cosy and warm cost-effectively. All it takes is a little bit of planning and maintenance before the cold weather sets in to avoid bill shock come spring time. Here are 7 low-cost, energy efficient ideas for keeping warm this winter.
 1.  Use heavy curtains over windows
According to Environment Victoria, up to 40 per cent of heat escaping from your home in winter is from uncovered windows. Thick curtains that drop below the window frame will insulate your windows and help keep the warmth in.
2.  Insulate
In addition, double glazed windows, wall and ceiling insulation and fitted carpets will not only keep your home warm in winter, but also cooler in the hot summer months.
3.  Seal all cracks and gaps
Seal up cracks and gaps around doors and windows, and even buy one or two simple door snakes to prevent draughts. Blocking unnecessary vents is also another way of preventing heat escaping.
4.  Control the temperature
Don't heat your rooms to tropical temperatures. So rather than 23 degrees, try 20 instead. According to CHOICE'S Home Heating Guide, each degree will save about 10 per cent of your energy use. And if you want your home to be warm by the time you come home, consider purchasing a heater with an intelligent timer or purchase a timer at your local hardware.
5.  Install or switch on reversible ceiling fans
Hot air rises to the ceiling, so a reversible ceiling fan is another way to push heat down into the room where you need it most. CHOICE recommends using a fan at a low speed to help circulate hot air more evenly through the room without creating a downward breeze.
6.  Use the correct sized heater
Make sure your heater is the right size for the room you're heating. Over-heating can waste precious energy and smaller heaters on a maximum setting will struggle to heat the space.
7.  Close off any rooms that aren't in use
And finally, this may sound obvious, but only heat rooms you're using. Be mindful of open doors draining heat into rooms that aren't in use.
[alert style="alert-at-home-inverse" dismissible="false"]
Energy efficiency
How to choose an energy efficient heater
By choosing the right sized system for your home, you can avoid paying for energy you don't need. There are numerous factors to consider, but in general, a high efficiency gas heater or high efficiency reverse cycle air conditioner will cost less to run than other heating options. Always check the energy rating labels to gauge energy efficiency. Visit the Australian government's
Your Energy Savings
website for the most up-to-date information on how best to heat your home. [/alert]
Back to top