ab-courtyard-backyard-landscapre-outdoor-furniture-bench-blocks-grill
Make built-in furniture part of your backyard landscape
Jason Hodges, June 2016
The backyard is always a hive of activity. If we're not mucking in around the garden, we're usually putting the tools down and our feet up, or entertaining friends and family. According to Adbri Masonry's Great Australian Backyard Survey, almost a third of Australians spend more than seven hours a week in their backyards, with relaxation, gardening and entertaining being the top three pastimes in Aussie households. One thing these all have in common is the use of furniture, and when the dusty sun lounger, old garden bench or plastic chairs aren't cutting it, look to functional built-in furniture as the perfect solution. Built-in furniture can add structure, dimension and aesthetics to the backyard, while maximizing your space. You can achieve this via walls that double as seats or seats that double as storage under benches. I recommend using a product such as AB Courtyard by Adbri Masonry, which allows you to easily construct custom, free standing creations for your home.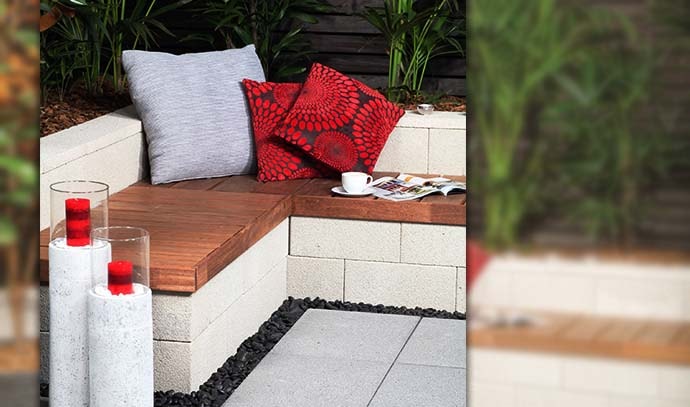 DIY friendly
Built-in furniture is easy and affordable using AB Courtyard. The DIY walling system allows you to build directly atop of existing paved or concrete surfaces that are flat. This means you bypass the labour intensive excavation process usually associated with walls. You don't need to glue or cement the blocks together or onto an existing surface as the weight of the blocks will hold the wall in place.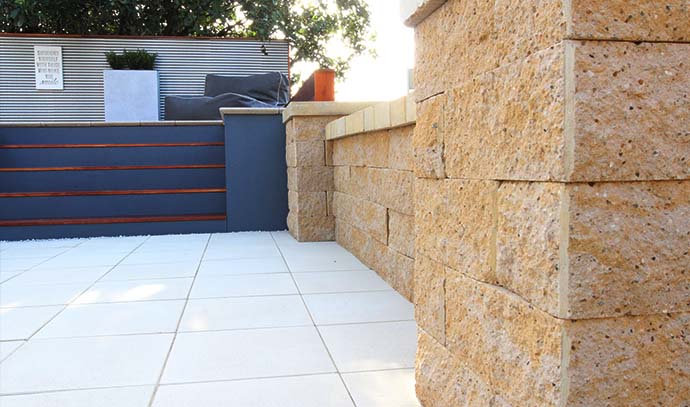 Multipurpose and space saving
Not only are the AB Courtyard blocks great for building built-in seats and barbecue benchtops, they can be used in other areas of the backyard to create patio walls, fences, fire pits and much more. The modular element of the AB Courtyard blocks means no structure is ever permanent. The beauty of this is that you can dramatically change the way your backyard looks with little effort and because the blocks have the finished texture on both sides, your creations will look great from all angles. If you have limited space in your backyard, built-in furniture is the perfect space saver. Central areas can be kept clear while still having plenty of room to sit and relax, while freestanding or block garden walls can double as informal seating. Plus, the area under built-in seats can be used for storage.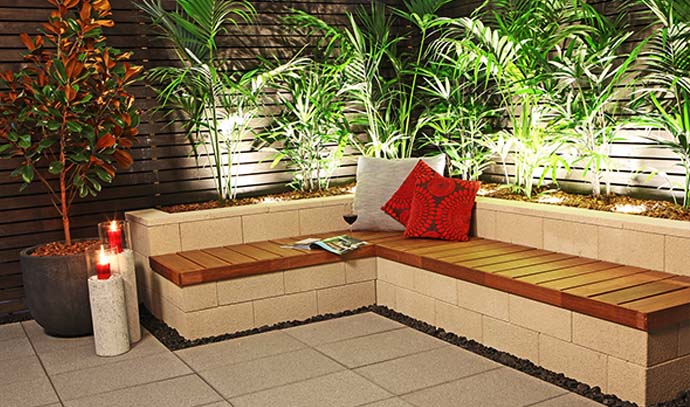 Built-in furniture a key feature
Seat walls and circular concrete block fire pits are great focal points in the backyard. They're easy to build and can create a natural gathering place for friends and family which is sure to be a hit.
Stand the test of time
If you are tired of replacing your expensive backyard furniture year after year because of rust, sun and rain damage, consider built-in furniture using concrete blocks. The hardwearing masonry will last much longer. For more information on backyard DIY projects, visit
www.adbrimasonry.com.au
Back to top