luxury-table-setting-strawberries-china-glass-porcelain
French table settings
Phyllis, October 2016
No-one does style and elegance like the French – especially when it comes to entertaining. With the party season fast approaching, we thought we'd take a look at not only the formal French table setting style, but also how to set up for a more casual event or buffet. [caption id="attachment_6180" align="alignnone" width="690"]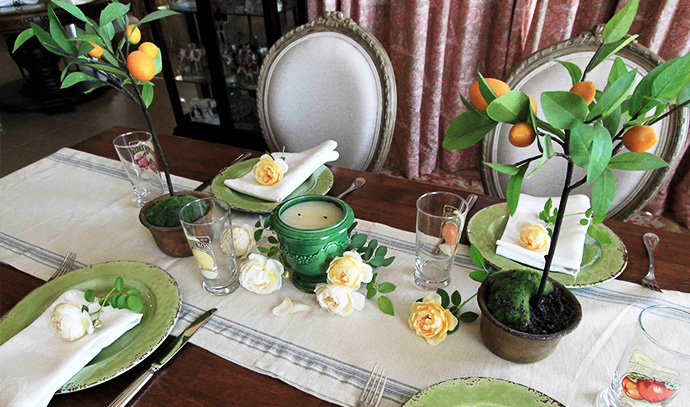 Fabric typically used for kitchen towels makes for a great table runner. Image via peoniesandorangeblossom.
[/caption]
Formal French
In French table setting, eating utensils are placed in the order in which they are to be used. The utensils furthest from the plate are the ones you will use first. The forks are placed to the left of the plate but here's the trick, point the tines down for a French setting. If the tines point up, it's an English style setting. Place the knives on the right of the plate with the blades facing inward. Spoons, like forks, indicate what type of setting you're using, (facing up for English or down for French). Where do you place them? It depends on the formality of the meal. Place the dessert spoon above the plate for an informal setting, but since we're going for a formal French look, bring the spoons to the table with the dessert. If the menu is also French, you may need some extra utensils. Place oyster and fondue forks next to the knife and snail tongs next to the fork. [caption id="attachment_6181" align="aligncenter" width="690" class=" "]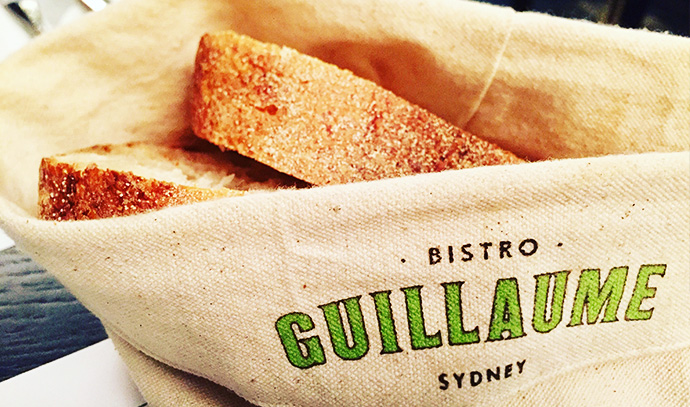 Who says bread has to be served in a basket? Photo of Sydney's

Bistro Guillaume

by

Veda Dante

.
[/caption]
Plates, napkins and fabrics
Whether it is an elegant chateau in the Dordogne region, or a quaint cottage near Provence, you're likely to find a decorating style known as 'French Country' that captures the look and feel of rural France. A big component involves using lightly coloured linens, either plain or toile, delicate lace, florals and vintage tapestries. In regards to the table setting, napkins are placed on the left or on the plate itself, often folded in a triangle. At a formal French dinner, there will be numerous courses, which means an abundance of plates and cutlery. Sometimes there will be a bread plate, to the left, and a salad plate, to the right, already on the table at the start of the meal.
Glassware
The largest wine glass on the table is used for water, and is usually placed on the left. The other glasses are placed to the right of it, in descending order of size. The second largest glass will be for red wine, the third largest for white as well as a small glass for liqueur and a Champagne flute. [caption id="attachment_6178" align="aligncenter" width="690" class=" "]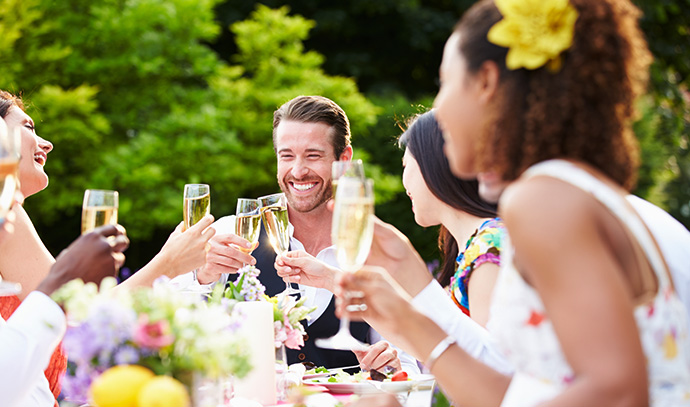 If there is a hosting couple, one will be seated at each end of the table.
[/caption]
Seating etiquette
The host and hostess should sit at either end of the table. The most honoured male guests typically sit at the right and left hand of the hostess, while the most honoured female guests are seated to the right and left hand of the host. If you go with this arrangement, be prepared for people to feel offended. Don't sit husbands and wives together and avoid sitting them across from each other either. (This prevents legs being kicked under the table!) Newlyweds are the exception to the rule as they're hopefully still starry eyed and in love. Ditto for engaged couples. Engaged couples are always seated together. Want to see how it's done? Watch this YouTube video: [embed width="" height=""]https://www.youtube.com/watch?v=6Kr6jQ9rS24[/embed]
Back to top