smiling-real-estate-agent-giving-consultation-couple
How to find a real estate agent
Veda Dante, September 2017
For most people a home is the biggest asset they own, so when it comes time to sell getting the most money you can makes good financial sense. But why do so many people end up settling for less? One reason could be the real estate agent chosen to do the job. Rushing into securing a real estate agent without doing your due diligence can cost you down the track. If the agent you use is only after a quick sale, rather than working hard to get you the best price possible, then it's
you
who will miss out, not the agent, as they'll still receive their commission. Remember too that the money you receive in your bank account won't be the sale price of the house. There are lots of hidden (and plenty of obvious) costs of selling a home, notwithstanding the agent's commission. There are marketing fees, conveyancing fees, bank fees if you break your mortgage, council/body corporate fees and more. With all that to take into account, you really want to make sure you get a tidy profit on the sale of your home. But where to start? Real estate expert Dan Mitroi shares his top three tips for finding a reputable real estate agent who will focus on getting you the best price possible – not lining their own pockets. [caption id="" align="alignnone" width="690"]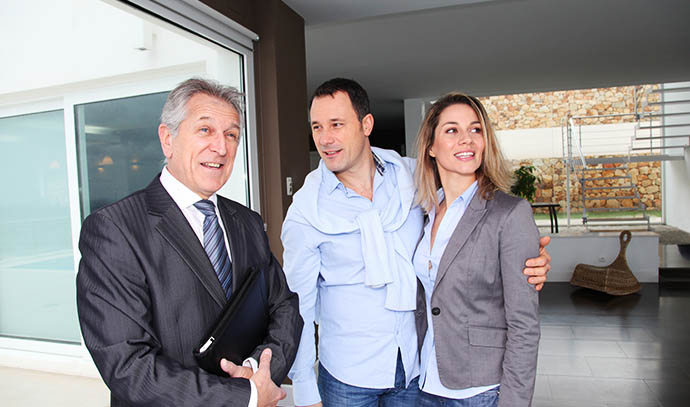 Check out potential agents by visiting their open for inspections to observe their behaviour, selling method, and their advertising platforms.[/caption]
1.  Compare and contrast
Researching a couple of real estate agents is good – researching half a dozen is better. Don't feel the need to rush into listing with someone just because they're dropping flyers into your mailbox or cold calling you.
Check out potential agents by visiting their open for inspections to observe their behaviour, selling method and their advertising platforms. Find out about their commission structure - signing up an agent with a low commission is not always the best policy, so you need to weigh up what you're getting for your money with multiple agents.
2.  Go local
Using an agent with local expertise is always recommended. Ideally they'll have their finger on the pulse of the market and be able to give you stats about homes they've sold recently in the surrounding area, as well as general market trends. You want an agent that communicates well and who has an open and honest manner.
3.  Use technology
Technology makes selling your home and sourcing a good real estate agent much easier. New property apps like Bricks+Agent can help you find quality real estate agents easily in your area, without receiving annoying cold calls and junk mail. Keeping your search to one platform saves you time and energy, and you get to peruse bids when you're ready, at your own pace.
Keep these tips in mind when you're selling and you'll be in a much better position for getting the price for your home you deserve!
Back to top