big-ass-fans-haiku-luxe-series-ceiling-fan-indoor-living-room-oriental-design
The fifth wall: the latest in fan design
Katie Adema, August 2016
We can spend a great deal of time, energy and money on choosing all the elements that make up the interior design of each room in our homes – sofas, cushions, tables, chairs, curtains, wall paint, artwork, even crockery. Ceiling fans are often an afterthought in this process, but in fact, their design can make or break the look of your interiors with the right or wrong colour, shape, finish or material. We check in with Ginna Dombroskas, Interior Design Consultant for
Big Ass Fans
America to get the low down on the rise of fan customisation and the concept of the 'fifth wall'.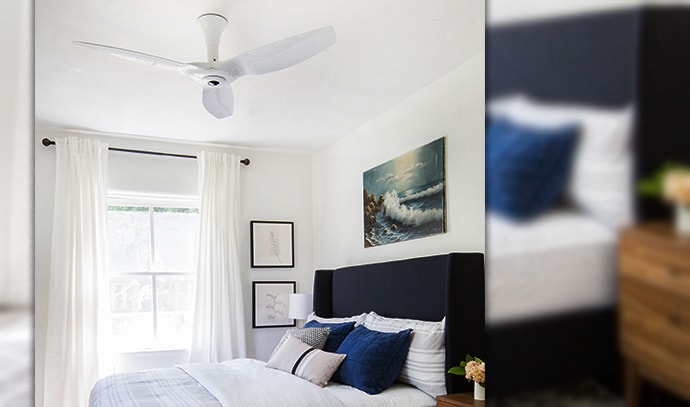 What's trending now
Much like any other interior furnishing, fans are subject to design trends - and who better to speak to about stylish fans than the fastest growing fan company in the world with a name to remember: Big Ass Fans? According to Ginna, matte finishes, simplicity, light colours, metal accents, shades of grey and industrial influences are just some of the interior trends we are seeing across all kinds of furnishings and accessories, including fans. "Matte finishes are growing popular with homeowners and designers as a subtle alternative to standard, shiny fixtures," explains Ginna. "In exchange for less luster, matte finishes better show off the form of the object itself. "Metals are also hot right now – particularly mixing metals," she continues. "Our Haiku Luxe Series fans are available in a range of metal finishes that add a touch of elegance to any space. And our commercial models like
Essence
wear their industrial inspiration well. These copper stills and the aluminum fan also happen to be a great example of mixing metals in a commercial space."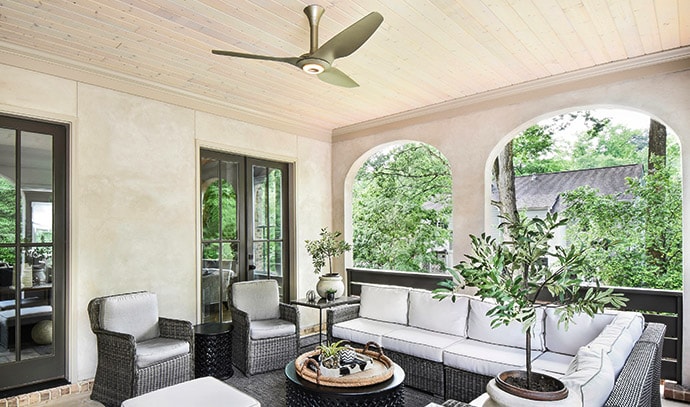 Customisation is king
While interior trends can influence choices to some extent, selecting your own colours, shapes, size, finish and material can be your most logical step forward. "Big Ass Fans and Haiku fans address the desire for complete personalisation, which is a trend that never goes out of style!" says Ginna. "On top of a wide range of standard finishes and customization options, the company will create totally unique fans upon customer request that match any décor." "One recent, notable example was the installation of
Haiku
H Series fans in American design personality Martha Stewart's studio. The fan's airfoils were custom painted to coordinate with Bedford Gray, the color Martha uses on all the buildings and outdoor furniture on her property." And what are the most important elements for homeowners to consider when customising their fan designs? "Scale and finish," says Ginna. "Choose finishes that complement the architectural details of your home, such as hardware, furniture and moldings.
"
Plus, our Haiku experts can make recommendations to ensure the proper model, diameter, and mount length for ideal airflow. "For large, open rooms, our commercial fans – which range from 2.5 to 4.3 metres in diameter – can also be installed in residential spaces."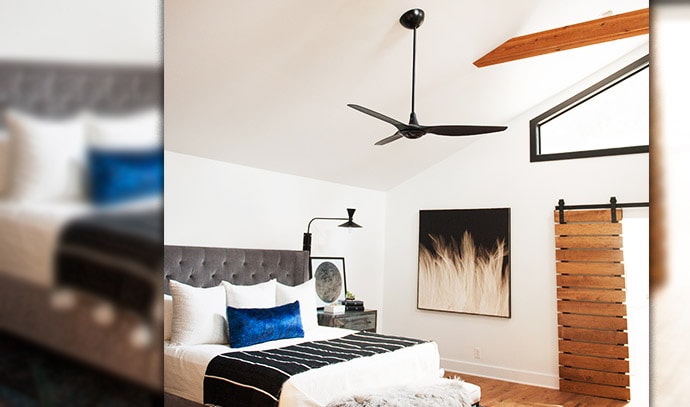 The 'fifth wall'
"We place an incredibly high value on the aesthetics of each product we design, which extends beyond fans," explains Ginna. This is clear in Big Ass Fans' Haiku Home collections, which are designed to help customers maximise the decorative space in their homes – which means using all available wall surfaces, including the roof. "Our goal with the Artisan Collection is to encourage designers and homeowners to reconsider the role the ceiling plays in interior design – to think about the ceiling as the fifth wall, because art doesn't always fit in a frame," Ginna says. "We noticed people spend many hours and a lot of money creating the perfect space only to finish it off with a standard, unremarkable ceiling fan from a big box store. "With the help of a growing group of artists, the Artisan Collection flips the script, creating eye-catching luxury ceiling fans that are design centerpiece rather than simply a cooling tool or a design afterthought."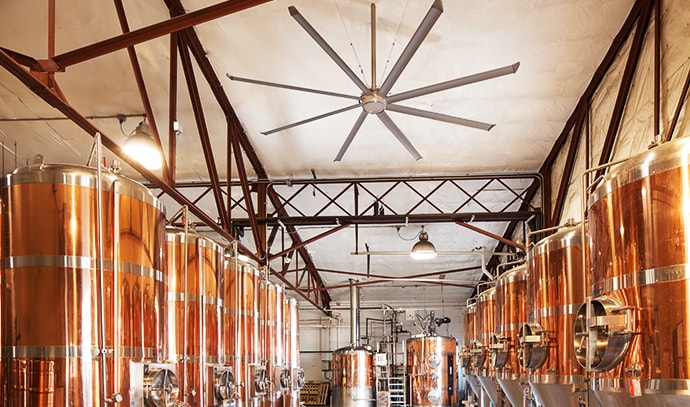 [alert style="alert-at-home" dismissible="false"]
Industrial and commercial applications
Big Ass Fans started out as an industrial fan company in 1999, mainly constructing fans for warehouses, factories and livestock barns. The business has evolved to encompass high quality fans for all kinds of applications while still remaining true to their industrial background.
"
With heavy-duty construction and lots of exposed metal, our commercial fan line is best described as industrial chic – they add a sense of quality to any space they're installed," explains Ginna. "However, just like with our residential line, we offer complete customisation for our commercial and industrial ceiling fans, as well as a wide range of standard colours on some models." Big Ass Fans employs over 150 engineers – and so, they are constantly working to adjust the aesthetic or functional properties of their fans in response to customer requests. "Our commercial customers had to choose between noisy industrial fans or ineffective residential fans," recounts Ginna. "So Big Ass Fans' engineers invented an entirely new type of completely silent, direct-drive motor to power large, commercial fans comfortably and efficiently. "Also, we created the world's first smart fan, which was completely automated based on temperature, humidity and room occupancy, to reflect customer needs. "Haiku fans have only gotten smarter throughout the years and now feature integrations with Nest and ecobee smart thermostats, as well as Amazon Echo for voice controls." [/alert]
Back to top