lyn-whitfield-king-photography-luxurious-linen-white-bedroom-interior
Earn money by renting out your room, home or investment property
Veda Dante, June 2017
Whether you're looking for an
inner city apartment
for the night,
a country B&B in Tasmania
for the weekend, or a
Byron Bay beach house for the summer
,
Airbnb
has accommodation to suit any price point and personal style – and that's just in Australia. Worldwide it has listings in more than 65,000 cities and 191 countries, which has not only made its founders rich but it's also making plenty of money for its hosts too. While you might not be able to make revenue in the five or six figures like its elite
Superhosts
, you could be earning extra income from your spare room, investment property, or entire house. In fact, I have friends whose annual holiday to Europe is funded entirely from the money they earn from renting their house while they're away. While there are lots of things to consider before
becoming a responsible host
, here are a few tips to get you started – or at least get you thinking. [caption id="" align="alignnone" width="690"]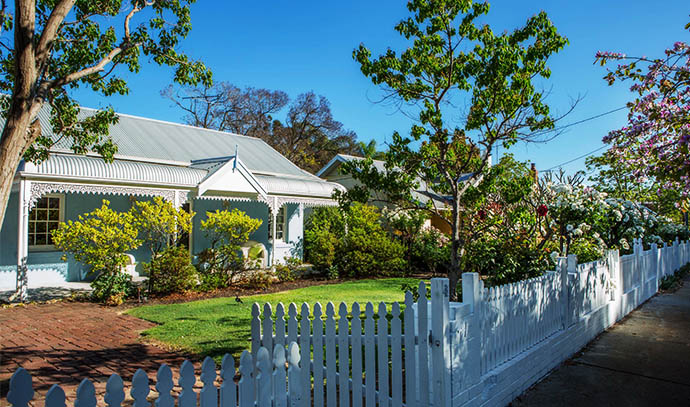 Armagh On The Park
is a former photographic studio and gallery in Perth that has been beautifully renovated into a charming cottage that you can rent. Photo courtesy
Lyn Whitfield-King Photography
.[/caption]
Listing your property
Airbnb
,
Stayz
,
Flipkey
and
Travelling Frogs
are just some of the online accommodation listing sites that allow you to create an account and list your space or property within minutes. Each one has its own booking requirements, and each one takes its own cut. Before you list your space or property,
ask yourself these 10 questions
to determine whether you have the time, money, and motivation to get into the accommodation business. There's no point investing in a new bed or buying new linen if you're not ready for the commitment. Have a think about what kind of host you want to be –
The Opportunist, The Stable Extra Income Seeker, or The Full Time Rentrepreneur
– and understand that the more income potential you hope for, the more time, effort, capital, and financial risk you'll be taking on.
Sell the destination, not just the space
Whether your guests live in the same suburb or have flown in from overseas, consider yourself a local tour guide who can give great advice on what to do and see, and where to go. Better than a hotel concierge, you know where to get the best coffee, which shop has the freshest fruit, and where to take the kids on a rainy day. [caption id="" align="alignnone" width="690"]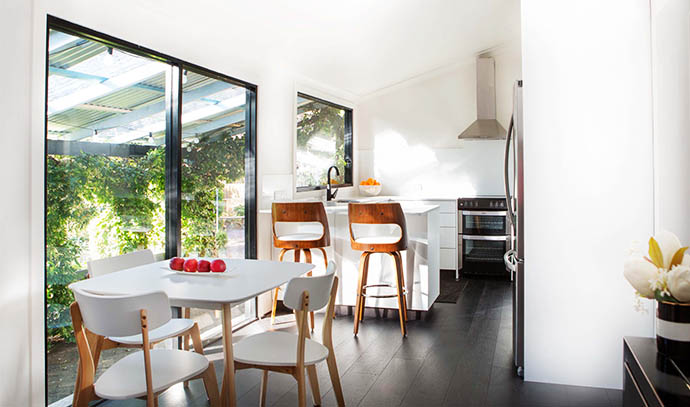 Engaging the services of a professional photographer who has the right equipment is one of the best investments you will ever make if you want to translate enquiries into bookings. Photo courtesy
Lyn Whitfield-King Photography
.[/caption]
Photography and social media
When it comes to marketing your property on accommodation sites or social media platforms like Instagram and Facebook, the same rule applies as if you're selling your home: First impressions count. While most of us are capable of taking great pictures with our smartphones, nothing compares to the photographs taken by a professional who knows how to make rooms look bigger, brighter, and generally more inviting. Get some quotes and commit to a professional shoot – you won't regret it.
Communicate with guests
Once you've listed the available space, respond quickly to booking enquiries and reservation requests to show potential guests that you'll be an attentive, welcoming host. You can edit your calendar settings to control when and for how long your space is available and, once a guest has made a booking, you'll receive a notification of their impending stay. [caption id="" align="alignnone" width="690"]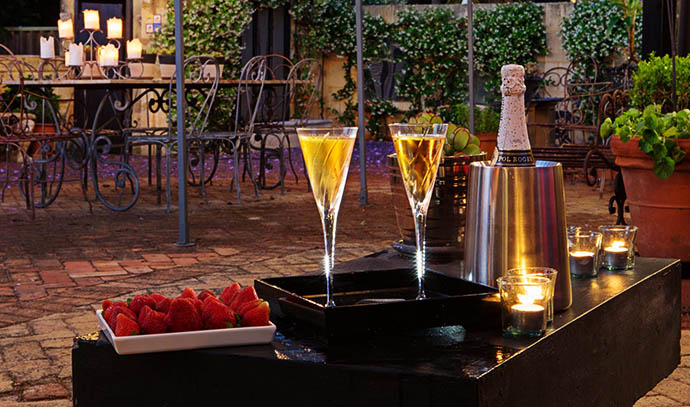 A bottle of champagne, a gift basket with locally made treats, and milk and bread in the fridge are just a few ways you can make your guests feel welcome – especially if they've arrived straight from the airport exhausted. Photo courtesy
Lyn Whitfield-King Photography
[/caption]
Put together a compendium
In addition to all of your contact details (including after-hours), numbers for emergency services, and a welcome note, it's good to include the following in a folder:
WiFi password
Local restaurant menus
Brochures for popular tourist attractions in your area
Recommended cafés, restaurants, grocery stores, bottle shops, chemists and banks
Street maps
Transport timetables
Instructions for dishwasher, oven, air conditioning and heating, TV, stereo etc.
Safety
If guests have access to a swimming pool or spa, ensure that it complies with council regulations (fencing, self-closing gate and latch, resuscitation chart etc.) and that guests are aware of your rules. For guest comfort and safety, you will also need a flashlight, fire extinguisher (more than one depending on the size of your property), working fire alarms, and a basic first aid kit. If you want to go a step further, include a few extras like a spare toothbrush and toothpaste; sanitary napkins, and Berocca. [caption id="" align="alignnone" width="690"]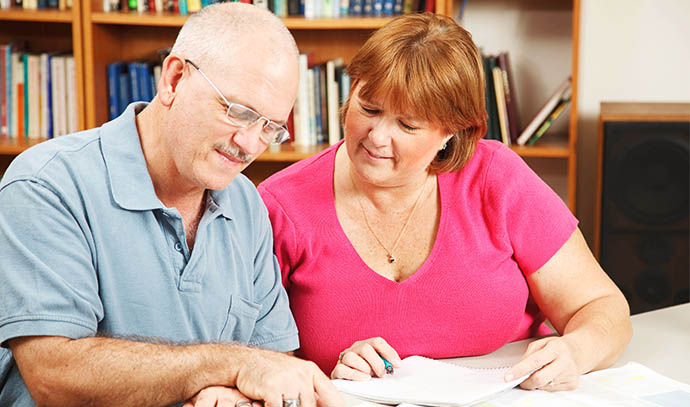 Avoid potential disputes by making terms and conditions easily available and identifiable for online bookings.[/caption]
The 10 basic T&Cs
Writing terms and conditions for a family beach house is not the same as writing one for a country B&B, so it's important that you create one specifically for your property. This list is by no means exhaustive, but it does give you an idea of what to consider.
Arrival and departures – include clear check in and check out times, and late check out fees.
Security bond – nominate an amount ($500-$1000 depending on what you are renting) that is held to account for any missing or damaged items, excessive noise leading to complaints, and extra cleaning costs if the property is not left in suitable condition
Changes – requests for an increase in guest numbers; a change in composition of guests. e.g. couples to all men, adults to teenagers etc.; and a different check-in date must be made in advance. Remember, the host retains the right to refuse or cancel a booking if any change is not agreed upon, and a cancellation does not constitute a change (refer to cancellation fees and a separate policy). Also, number of occupants must not exceed the number shown on the booking confirmation. Any additional occupants may be requested to leave the property and a deduction made on the security deposit.
Inappropriate bookings – as a duty of care to your property and your neighbours, you can reserve the right to refuse any bookings that you feel may be inappropriate.
Cancellation fees – advise guests to take out their own travel insurance in the event they have to cancel their booking for any unforeseen reasons
Conditions of the space or property – no pets without prior consent, removing excessive rubbish, smoke-free zones, fees for lost keys, and prohibiting parties and functions are just some of the conditions you can include in your T&Cs. Guest breaches can lead to additional fees, the forfeiting of the security bond, and even immediate eviction in extreme circumstances.
Excessive noise – unless you want to get your neighbours completely off side, let guests know minimal noise only to be audible outside of the property at any time. With the

Holiday Letting Organisation

, which acts as a noisy neighbour contact number, some hosts charge around $250 for the first call out, which is taken from the security deposit, while a second callout incurs a $500 fee. If HLO and/or the police, managers or security are called, or the group is warned for noise or anti-social behaviour more than once during their entire stay, their bond may be forfeited and they can be evicted without refund.
Indemnity – make it clear that you do not condone unsafe, unruly, irresponsible or illegal conduct/behaviour on the premises during their stay, nor do you accept responsibility for any actions, incidents, loss, damage, or injury on the property.
Responsibility and liability – renting out your home or investment property for short periods of time to earn extra cash does involve risk and is not something you should do without proper research and careful consideration.
License not a tenancy – as this is not a residential tenancy agreement under the residential tenancy legislation, guests are granted a limited permission to occupy your room or property only for holiday purposes. Failure to comply with your T&Cs may result in immediate termination and eviction. Refunds are not paid on terminated occupancies.
[embed]https://www.youtube.com/watch?v=8txZOXXVgdY[/embed]
Paying tax in the sharing economy
Providing a room, your home, or an investment property for a fee is called the sharing economy, and you need to consider if what you are paid needs to be included in your tax return. Put simply, additional income means extra taxes to pay at the end of financial year. If you're using online booking sites like Airbnb and Stayz, then the Australian Taxation Office (ATO) can easily track this income – regardless of how small you think it is. To avoid paying back taxes, and incurring fines and penalties, follow these three simple rules:
Don't hide or under-claim your income
Keep records and receipts for everything regarding the room or property as this paperwork will come in handy during tax time
Talk to your tax agent about how to properly claim all of your expenses
While Capital Gains Tax (CGT) is usually not payable on your family home when you sell it, if you do rent it out (or even a part of it) on sites like Airbnb then you might be up for a sizeable CGT bill. Again, talk to your financial specialist so that you fully understand the tax implications. [embed]https://www.youtube.com/watch?v=J9wIOu7VLnY[/embed]
Back to top