outdoor-home-lounge-area
Double duty outdoor furniture the latest trend
Phyllis, December 2015
Christmas is almost here and with it the opportunity to kick back and relax, or party hard with friends and family. Since there's no better place than home to do both during the Australian summer, why not enjoy both options in style with some of the latest outdoor furniture on the market. Teak is a great option for outdoor furniture according to
Outdoor Elegance
managing director
Joe Collins
. "If you have a private backyard space, you get to enjoy Australia's mild climate and wild environment whenever you want," Joe says. "However, some backyard décor and furnishings are more inviting than others are. If you have outdated or mismatched outdoor furniture, it's time to transform your space into an oasis that will encourage you to spend more time outside. Teak furniture is naturally weatherproof and sturdy enough to support you, your family, and your guests for many comfortable evenings to come."
But Joe says there one is one especially interesting development that will save you space, money and ensure you're right up to the minute in terms of design. "One of the biggest trends we have seen in outdoor furniture over the last year is the emergence in popularity for a combination lounge and dining outdoor setting," he explains. "It's more than just product and price. The thing that's really got people excited is that they can use it indoors." And why wouldn't you when they're just so attractive? "Casual dining tables are taller than normal coffee tables but lower than dining tables," Joe says. "Many houses have outdoor living areas attached to their indoor living areas. People don't want another dining set three metres from their indoor dining set. They love this concept of casual dining. The product serves both purposes, which is why people love it. It's an emerging category because it's so versatile and functional."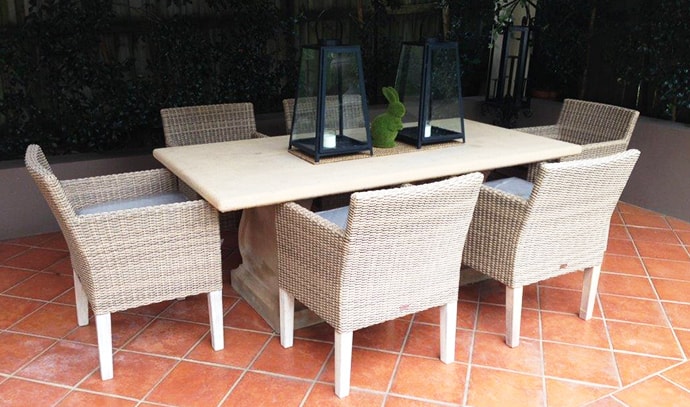 There's also the fact that casual dining settings save money and space as they double as outdoor lounge sets. "It's a great option if your outdoor space is limited and you want to make the most of what you have or even just to make your lounge setting even more functional. The lower dining table is built for a comfortable height when sitting at a lounge. Where a regular table would be around 72cm to 75cm high to accommodate a typical dining chair these tables are built around 68cm high to suit a lounge." A lava stone table is sure to catch everyone's eye, whether you opt for a multi-hued design (think stripes of red, black, green and beige) or a single stunning colour.
Outdoor Elegance
has lava stone tables that are handcrafted in Deruta Italy by ceramic masters Domiziani. Joe, who started
Outdoor Elegance
after selling the successful Boots Outdoors chain, says the Brando lava stone dining setting is not just the best performing table against the elements he has ever seen, "it is a work of art in itself, making it as suitable indoors as it is out."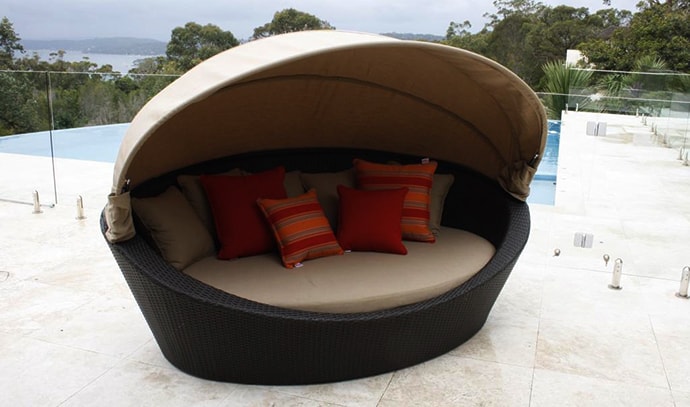 The basalt slabs are hand-painted and double baked to produce a table top that can withstand temperatures from -50 to 1000 degrees. With the added characteristics of tremendous UV, salt spray, acid and stain resistance this table is a unique blend of strength, durability and elegance. The table top stone is made from basalt produced from lava flows. "Basalt has been used for centuries in building projects due to its it's durability, ability to bear heavy loads and withstand deformation," Joe says. The stone slabs are machined and then hand painted producing the stunning finish that makes this product not just a table but a work of art.
After a double baking at 1000 degrees the table top slabs are ready. This process makes them ideal for any interior or exterior application with the product able to withstand extreme cold, extreme heat, salinity and sunlight. The table top can handle temperatures from -50 to 1000 degrees. "They have excellent impact resistance and will not stain or warp when in contact heat sources such as fire or hot cookware."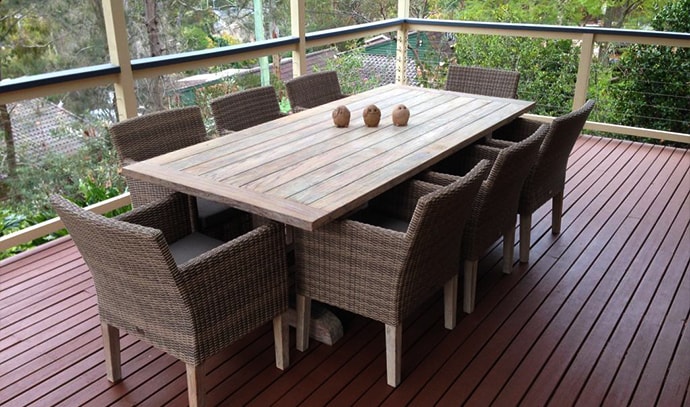 Then there's the Rositano stone table. Travertine and marble tiles are laid on a solid resin base that is then sealed to create a beautiful smooth finish. Teamed with Venetian chairs made from cast aluminium and you've got an elegant and timeless setting.
Images courtesy of Outdoor Elegance
For more information, visit:
http://outdoorelegance.com.au
Back to top