royal-design-studio-wallpaper-stencil-art-design-pattern
Decorating tips using stencils
Katie Adema, October 2016
The word 'stencil' might make you think of colouring pencils and long hours with your children. But now stencils are all grown up and making some serious noise in interior design. Over the past decade, the stencil trend has really taken off – and the options are continually growing, widening the creative opportunities for homeowners.
Why stencils?
The most notable benefit to using stencils is that it offers so much choice to the user – while wallpapers and tiles may come in many different patterns and colours, often the two don't come hand in hand. Stencil decorations allow you to select your patterns, where they go, how big they are and what colours they come in, and could potentially be easier on your wallet too! [caption id="attachment_6123" align="aligncenter" width="690" class=" "]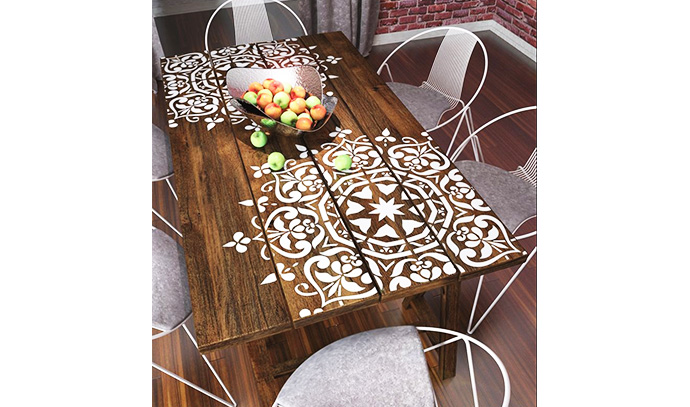 This hand-made reusable stencil is easy to install and paint over. Image via

www.etsy.com

.
[/caption]
What are the possibilities?
From revitalising a tired table top with a striking motif, to a subtle, luxurious wall pattern, the versatility of stencil decorations means your imagination is the only limit. Choose your weapons (colour schemes, paint and stencils) and apply to cupboards, mirrors, tables, tiles, walls, doors, floors and ceilings. If you need a bit of inspiration to get started, here are our top trendy ideas for stencil decorations: [caption id="attachment_6133" align="aligncenter" width="690" class=" "]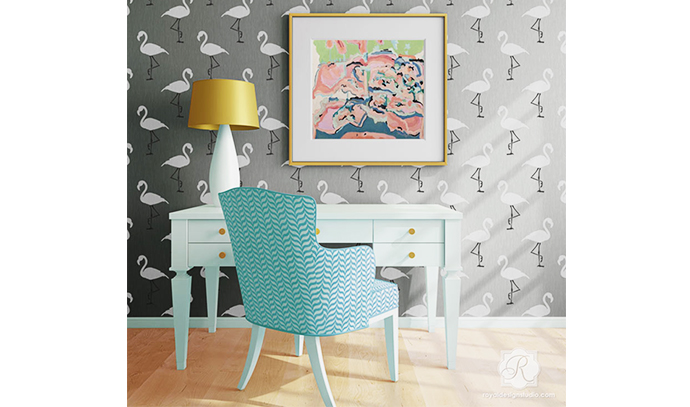 Customise a feature wall or cover an entire room with stencils that look like wallpaper. Image via

Royal Design Studio

.
[/caption]
Wall décor – feature walls, wallpapers and decorative focal points
Wallpaper can be limiting in terms of design flexibility, can be costly and tricky to put up. Customise a feature wall or cover an entire room in wallpaper-like patterns using a stencil and paint of your choosing – and you can even do it yourself if you feel up to the challenge. If you aren't a fan of complete wall coverings, decorative medallion stencils are a fantastic way to add impact to a space without overwhelming the room with a bold pattern. Think round shapes and Moroccan influences for a beautiful medallion that can be placed intermittently across the walls, or as a single piece in the middle of the wall in place of a hanging artwork. [caption id="attachment_6130" align="aligncenter" width="690" class=" "]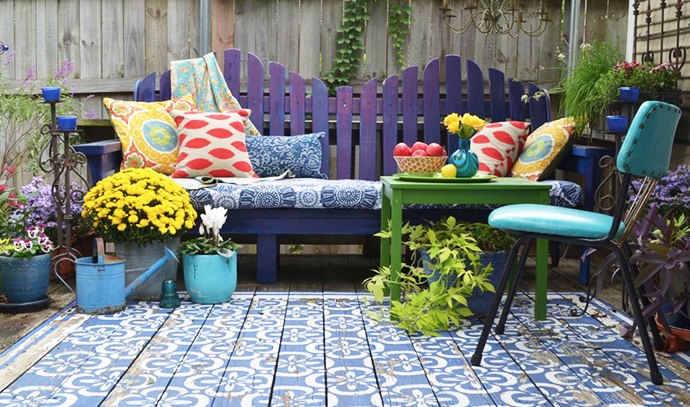 Stencils are a fantastic way to create an all-weather rug on your timber deck. Image via

www.trendir.com

.
[/caption]
Floor coverings – tiles, rugs and wooden floorboards
What makes stencils so flexible in terms of design is that they can be applied to any material, including fabric, timber and tiles. All you need is the right kind of paint to accompany the stencil of your choice to ensure its durability on that particular surface. Don't feel limited to the walls and ceiling of your home with stencils – look beneath your feet for a different approach. Apply a striking tribal stencil across a rug, or an intricate medallion stencil on a few tiles in the bathroom for a boho luxe vibe – this is a great way to update a room that you may not feel ready to completely renovate. [embed width="" height=""]https://www.youtube.com/watch?time_continue=1&v=5LjZiR2x-QI[/embed]
Timber furniture – cupboards, doors and tables
Wooden furniture is particularly suited to stencil application and can result in a striking finish. Cupboards, doors and other wooden furniture can all be transformed with patterned stencils, or with quirky stencil pieces in the shape of animals, clouds or stars. You may need to sand back a layer before applying – when sanded, paint the stencil onto the desired spot, and cover with a varnish or finish after the paint is dry. A gloss finish is fantastic for most kitchen and bathroom surfaces, while a matte finish is best for other furniture. A statement tabletop can be the difference between an ordinary kitchen and dining space and one that draws family and guests around it. White paint on timber is a classic combination that is hard to beat in terms of visual effect – and teamed with the right stencil, it can make the table a centrepiece for your gathering space. [caption id="attachment_6135" align="aligncenter" width="690" class=" "]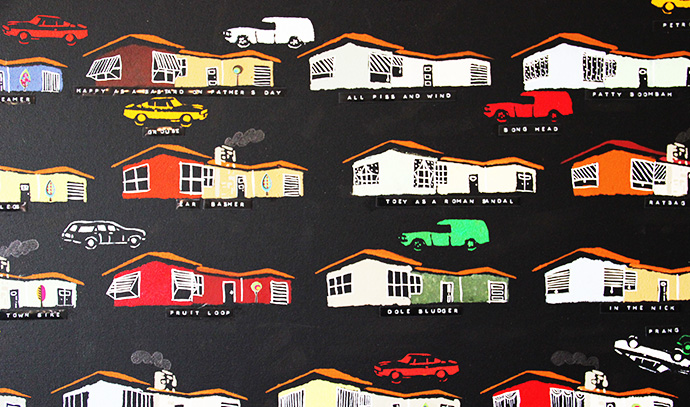 Stencil art by Australian artist

Kelly Sullivan

. Image courtesy of

Veda Dante

.
[/caption]
Framed stencil art
The annual
Stencil Art Prize
, which is the world's largest and longest running stencil event, attracts submissions from all over the world and encompasses nearly every stencil making method including hand drawn and hand cut stencils, computer generated stencil layers, silk screen stencils and screen printing processes, collage and mixed media stencils, spray paint techniques, water colour, and ink. Titled "Australia circa 1978, Q. What's changed A. Not much…", this striking piece by Melbourne artist
Kelly Sullivan
depicts quintessential fibro houses with cars racing past in graphic pop culture style. Each one has been labelled with iconic Aussie terms such as 'Fruit Loop' or 'Ratbag'.
Top image via
Royal Design Studio
.
Back to top