home-staircase-cockle-const
Creative staircase design ideas
Katie Adema, May 2015
When it comes to designing or revamping the interior of your home, we often focus on the big ticket items – the big, luxurious couch or flat screen TV, the marble top benches in the kitchen or the statement bathtub. Have you ever thought about the impact a well designed and perhaps slightly edgy staircase could have on the overall look of your home? If done right, a staircase can become a standout feature in your home according to
Craig D'Hyon, Director of Designer Staircases

.
"Stairs are now being seen as a design feature, and are being treated like a large piece of furniture that can contribute a great deal to the overall look and style of a home," he explains. "Years ago they were stuck in the corner, hidden behind walls, and viewed simply as a way of gaining access to the upper floors. "But now they are commonly found right in the entranceway as the first thing people see when they walk in, or in the middle of the main living and entertaining area. A staircase can set the whole mood and style of the home." This reflects the recent shift in interior design towards a focus on previously overlooked detail – it's the one-of-a-kind vintage lamp, or the collection of coffee table books, and the wooden detailing on a dining table and chairs that are taking centre stage. Here's just a few ways you can utilise little details to take your staircase from average to amazing.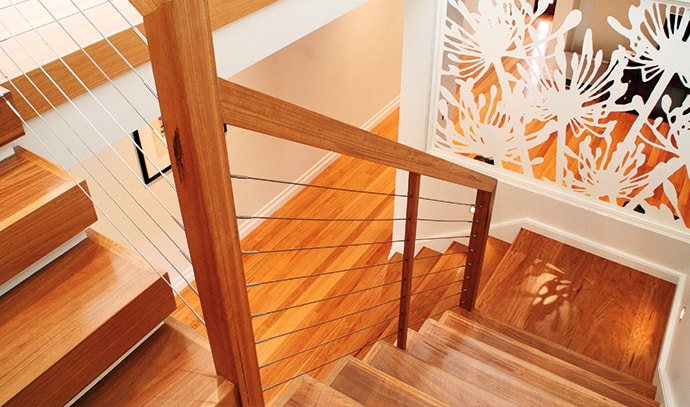 Wallpaper
After years of being out of favour, wallpaper has made a comeback in recent years. While plastering a whole wall in an outrageous pattern might not be up your alley, using the same wallpaper in small doses on your staircase can be very visually appealing. Wall stickers are also a good option if you're looking for a quick and creative fix. These come in all kinds of quirky designs, from animals and people, to graphic patterns and lettering. You could even spell out a message for your family in between steps! Many brands are removable, so you can change these whenever you feel the need for something different.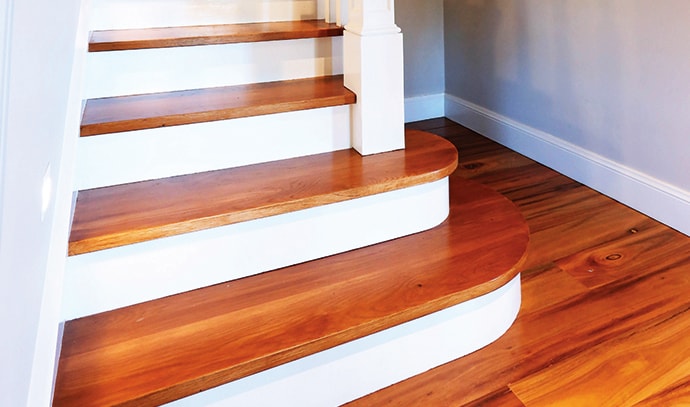 Material choice
If you are designing your staircase from scratch, the choice of materials it is made out of can up the wow factor quite considerably. Clean white paired with a quality choice in light timber for the steps can give a minimalist edge, while a darker, richer timber choice creates a moodier, more sophisticated feel. "The most popular material choices for our clients includes carpet, which is the cheapest choice, and timber, which people like to have matched to their timber floors," says Craig. "Tasmanian Oak and Victorian Ash are the most sought after timbers. "In terms of look, lighter timbers tend to open the space up more and make it look lighter and brighter, while dark timbers can sometimes emphasise clutter."
Paint
Paint can be one of the simplest ways to remove your stairway from the background to the focus of your entranceway or living space. Block colours painted onto the step surface, or even on the hand railing or space between steps, can be very effective in creating visual impact. "Painted timber can make the space look brighter," says Craig. "A popular look is breaking up timber stairs with bits of paint – painting the treads, or the risers, or the hand rails – depending on what look you are after." While considering the colour scheme of the room and home, a bold, deep blue, rich red or even pitch black add drama and contrast to any space, especially when paired with cream or white.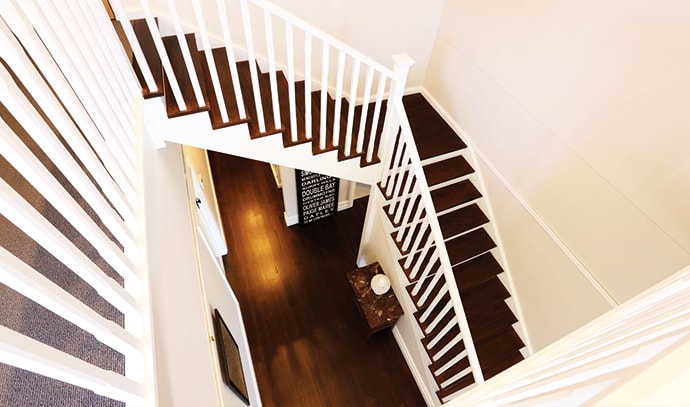 Hand rails
The style of hand rails (or even absence of hand rail altogether) can change the whole look of your stairway. A simple timber railing painted a bold colour gives it a playful look, while a more delicate railing can be smart and sleek-looking, or possibly whimsical if it is ornate in its design. Obviously this will also depend on who occupies your home – a floating style staircase with sections of no railing might not be the best option for a young family with little ones! "Glass accounts for 30% of handrail designs that we do for our clients, they are very popular in modern, sleek homes," says Craig. "Stainless steel and timber railings are also popular. "With railings, the building codes also come into play. Clients will come in with several designs they have found on the internet and we have to bin half of them straight away because they would never pass our building codes. "Australia is a lot stricter than other countries - for example, anything that has more than a one metre drop needs a railing on it, so the first few stairs don't have to have one, but the rest of the stairs do."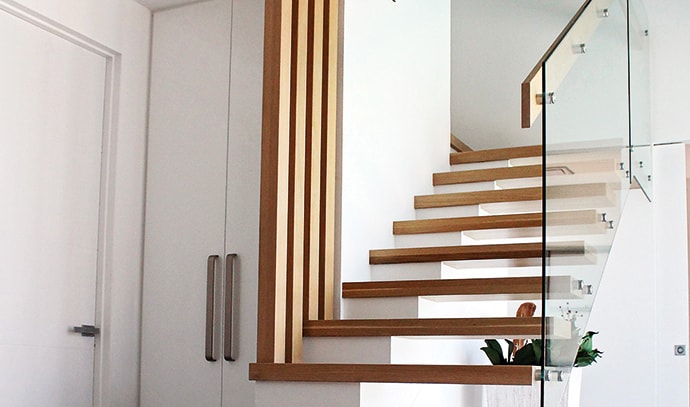 Practical uses
With extra space often hard to come by in our homes, we are forever looking for ways to create multi-purpose features that will help with storage problems. Clever design can turn your stairwell into a way of expanding the useful space in your home, says Craig. "People are getting a lot more design savvy nowadays, so we are being approached to do quite a few different things at the moment," he says. "A lot of people make their stairs multi-purpose and include storage space while others build shelving underneath and use it for displays, or wine. Even kitchen appliances such as an oven can be built in underneath as a space saving measure." A long staircase is also the perfect place to hang all of those family photos that are sitting in a drawer somewhere, as smaller pictures work well within the confines of the space. Hang in individual, mismatched frames in groups of three or four along the wall for an edgier look, or enlarge your favourites and pop them into larger, simpler frames for a minimalist approach. [alert style="alert-info" dismissable="false"]
Remodelling your stairs
So what's the procedure when you do want to remodel your staircase? Designer Staircases has thousands of designs for their clients to choose from - each design is then custom made for every home. They also happily design stairs from scratch, or take certain details from several different designs to create something perfect for their client. Director Craig D'Hyon takes us through some important points to think about when designing a staircase:
The important thing to consider is if the staircase design fits the overall style of the home. You don't want to interrupt the flow in a traditional home with an edgy, modern staircase, or stick an ornate, more traditional style staircase in a modern home.
Be aware of the practical implications of design decisions – we will let our clients know if a design if going to be hard to get up and down, or there might be a section of the stairs without a railing, etc
To pull out, re-design and put in a new set of stairs, the average cost would be around $4500. This depends largely on your material choice, as once you add the glass rail feature or very expensive timber, the price will go up
Stairs can be taken out and put in in one day, causing only a small disruption to those living in the home
Read more here: 
designerstaircases.com.au
[/alert]
Back to top