lonny-interior-design-living-room-home
How to create a luxe look for less in your home
Jane Ryder, September 2017
Five-star hotels specialise in it. Celebrities adore it. Professional designers make it look easy, and even many of
The Block
contestants can pull it off. 'It' is a luxe look interior and while it appears expensive, creating this enticing style in your home is more about clever than cash. While luxe is defined as 'expensive and of high quality', the good news is that with today's huge selection of homewares in stores and online, you can get the look, and often the quality, without the hefty price tag.
We all know a luxe look when we see one, but what actually makes an interior look luxe?
Essentially, luxe can be created with a neutral palette and a few key pieces. Less is best with luxe, which is a good way to keep to any budget. The key materials that scream luxe include velvet and satin fabrics, faux fur, sheepskin, glass, marble, mirrors, and brass, chrome and gold. And while black, white, cream, beige and grey are the timeless colours and tones of the luxe look, this past year they've been joined by soft or 'millennial' pink, deep sea blue and more recently forest green and rich dark magenta. It will come as no surprise that a bit of shopping around is required to create a luxe look on a budget (how often have you seen two almost identical cushions with vastly different price tags?) But for many, that's just one of the joys of redecorating. [caption id="" align="alignnone" width="690"]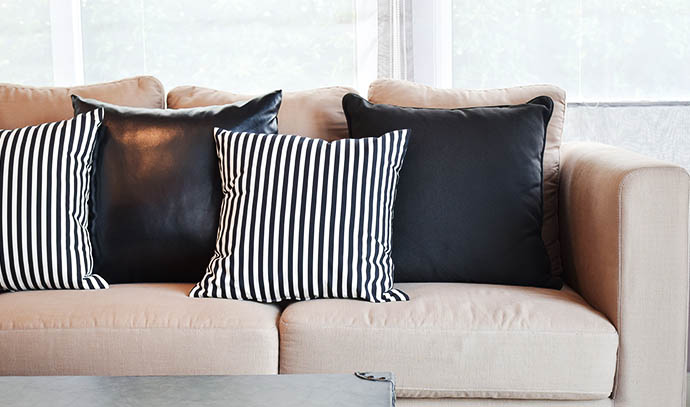 Create a luxurious contrast with faux leather and textured velvet cushion covers.[/caption]
Here's our 15 ways to create a luxe look for less in your home
 1.  Have a plan and a budget
It's easier to stick to a budget while creating a luxe look if you have a plan. Take a tour through your home and make note of what you need to remove, buy and update. Next, decide on a colour palette to help you choose large and small items and tie your finished luxe look together.
Popular luxe colour palettes are often a combination of two or three colours or tones: choose from white, black, polished or satin silver, chrome and brass, grey, stone, cream, and pale beige plus an accent colour such as soft pink, deep sea blue, forest green and rich dark magenta. Keep in mind that too many colours creates a busy, crowded look and luxe is all about clean, minimal, classic, and understated.
2.  Choose a mix of smooth and textured fabrics
A signature of the luxe look is a contrasting combination of smooth – satin, silk, chiffon – and textured – faux fur, synthetic leather, chunky knits, sheepskin and velvet – materials and fabrics.
Choose a few velvet and satin cushions, a knitted throw (the large 'extreme knitting' style shows the texture and knit pattern off well), a rough jute rug or ottoman, and give your bedroom instant luxe with a sheepskin rug or velvet bedhead. IKEA has affordable faux and real sheepskin rugs and Adairs and Brosa can deliver velvet bedheads or you can make one with your choice of velvet from Spotlight. Like a rich dessert, it's best not to over indulge in velvet; one or two pieces are enough for any room.
3.  A little light metal
Metal, particularly chrome and brass, when combined with glass, stone and marble, create a luxe look. Metallic decorative pieces, framed mirrors and furniture frames and legs instantly give an interior a classic, stylish look. If metal legged furniture is out of your price range, you can create a metallic finish with paint. Affordable options include Adair's round Verona side table which has slim metallic legs and Temple & Webster's oval River Coffee Table, which may lack a luxe sounding name but has all the luxe features including a glass top, mirror shelf and metal frame.
4.  Mirror effect
Metallic or metal-look framed and bevel-edged mirrors are key luxe decorative pieces. Temple & Webster has a large range of well-priced bevel-edged mirrors including the Kinsella, Anna and Contractor Teresa Art Deco styles.
If metal framed mirrors are a little out of your budget – and too heavy for your walls -  buy mirrors with metal finishes such as Temple & Webster's decorative mirrors Victor Mirror I in gold or silver finish and Brita Oval Wall Mirror in a bronze finish, or buy a plaster or timber framed mirror like IKEA's Stabekk round mirror which you can paint the metallic hue of your choice after a little light sanding.
[caption id="" align="alignnone" width="690"]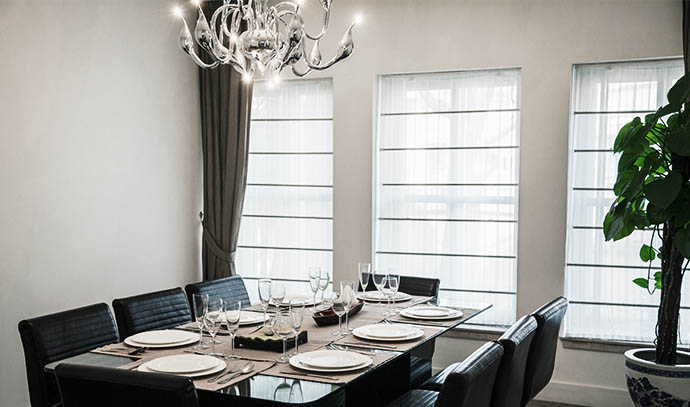 Chandeliers add instant glamour to a room and thanks to stores like Beacon Lighting, you don't have to spend a fortune to have one.[/caption]
5.  Luxe lighting
Luxe interiors often boast light fixtures fashioned from metals, crystal, and opaque and clear glass and while their designs make them bold statement pieces, their lighting is soft!
With this in mind, either go for one chandelier or a group of pendants with dimmers or low wattage globes to create a soft, luxe effect. Beacon Lighting has a range of affordable chandeliers and pendant lights. If you prefer a modern luxe look, consider their glass and metal Ando and Aksel pendants, and for a sophisticated ultra-luxe look, check out their Art Deco-style Zeal Chandelier in Antique Black and Crystal and Waldorf Chandelier in Smoke Nickel: with its circuits of smoked glass prisms it's everything you'd expect from a light that shares its name with the luxurious Waldorf Astoria hotel. For a softer look, Beacon Lighting's Paris crystal chandeliers' sheer fabric creates a softer, subtler look.
Carry the luxe look through to your table lamps: three budget-friendly options that feature a stylish combination of glass, metal, and soft fabrics include Kmart's Zurich Lamp and Temple & Webster's Gina Table Lamp and Taryn Table Lamp (its exquisite cut glass metal-trimmed base is perfectly balanced by its soft fabric white shade).
6.  Long sheer curtains
Long, as in floor to almost the ceiling, sheer curtains subtly diffuse light, soften a room and gently coo "luxe". They also effectively hide pokey or unattractive window frames, regardless of their size or shape. And best of all: sheer curtains come ready made at affordable prices, such as Spotlight's  sheer KOO Lennox Curtain in white, taupe or chalky charcoal.
7.  Upholstered bedheads
An upholstered bedhead instantly gives a look of luxe to any bedroom. IKEA and Temple & Webster have a range of upholstered bedheads in linen and velvet, many studded and at affordable prices.
8.  A hero decorative piece
A hero decorative piece doesn't have to be new. In fact, luxe interiors often blend old and new pieces to create a rich, interesting and sophisticated look. And old doesn't always mean outdated so a pre-loved piece from any era can create a stylish look of luxe.
The trick is to choose a piece that isn't too bright or busy and ties in colourwise. For example, decorative pieces made of marble, glass, chrome, silver, granite or stone or stone-look materials complement interior palettes of black, white, grey, soft pink, and beige. If your hero piece is large, it can take pride of place on your coffee table or sideboard on its own. However, if it's small, grab a couple more pieces with different sizes, colours and textures, and can create a little cluster of three or five. Why three or five? Odd numbers of items seem to please the eye better.
If you don't already have a hero piece or pieces in the look you want, take a look through your local markets and op shops where you can find one-off pieces, old and new, that can give your home a unique luxe look for less. Yesteryear's luxe décor items can be truly valuable finds and can add big luxe for a small price. If you live in Sydney, Brisbane or Melbourne, the Finders Keepers design markets feature art and craft by independent Australian-based makers and designers.
Alternately, take a look at what you already have stored away – you may re-discover a long-forgotten piece or re-purpose a couple of others. A glass vase, marble urn, cut glass decanter, brandy balloon glasses, or candle holders positioned on your sideboard top will instantly create a luxe vignette.
[caption id="" align="alignnone" width="690"]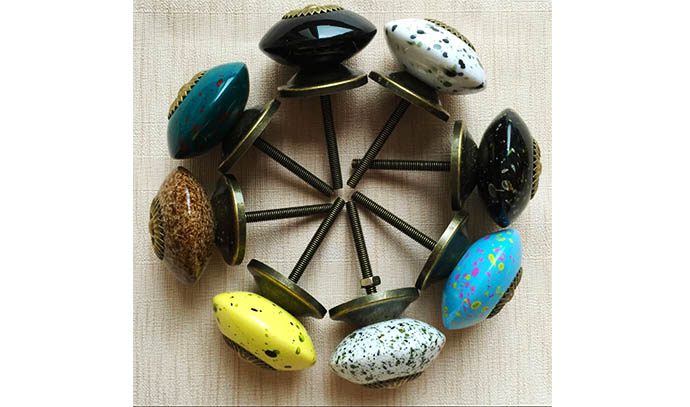 Decorative knobs and handles are an easy and affordable way to add a touch of luxury and visual appeal to doors, cupboards and dressers. Image via
aliexpress.com
[/caption]
9.  Less is best
Less is best with luxe so curate and declutter: it may take a little time but it doesn't cost a cent! A few well-chosen decorative pieces will draw the eye and shine. This also goes for the number of cushions on your couch or armchair.
If you're having difficulty editing, remember that cluttered says pokey and crowded, not stylish and luxe, and that you can move pieces to other rooms and store others at the ready to rotate when you tire of the ones that made the first cull. Don't make your decorative pieces compete for space and attention: curate your personal collection to give a few pieces starring roles in your new luxe look interiors
10. Hardware overhaul
An easy and relatively affordable way to luxe your home is to replace door, cabinetry and window treatment hardware. Choose handles and knobs in metals, glass, marble and ceramic in timeless modern, classic and Art Deco styles and luxe up your front door with a new matching knocker, mail box flap frame and house number.
If you have curtains, continue the luxe look with metallic or metal painted timber rods and brass, chrome and porcelain finials, brackets and cord weights. Affordable hardware including handles, knobs and finials can be found at Restoration Online.
11. Splash out on one statement piece
By saving on smaller ticket items such as cushions, throws and ornaments you may have some spare cash in your budget to splash out on one statement piece. A large quality rug, couch, armchair or art work can do more than impress – it anchors all the smaller pieces and give the room comfort, a touch of grandeur, and, well, luxe.
Affordable art work, both originals and prints, is available online and at art markets. Kirribilli in Sydney hosts regular Art, Design & Fashion Markets and photos.com sell a huge range of photographic prints by some of the world's great fashion and lifestyle photographers, including Slim Aarons. Large canvases with abstract art often seen on The Block make a room look luxe and unique. Artfinder and Art Lovers Australia have a huge constantly updated selection of original artwork at a variety of prices, and for prints, visit United Artworks and Kmart which has abstract prints for under $20.
12. Rotate to refresh
Save money (for a statement piece?) by moving rotating furnishings and furniture between rooms instead of buying new. An armchair and small side table transported from the living room to the corner of a bedroom creates instant luxe feel, particularly with a faux fur or velvet cushion or throw at the ready for when you curl up with a good book. And a photo frame or wall art that you have tired of in your bedroom may give another part of your home a fresh new feel.
[caption id="" align="alignnone" width="690"]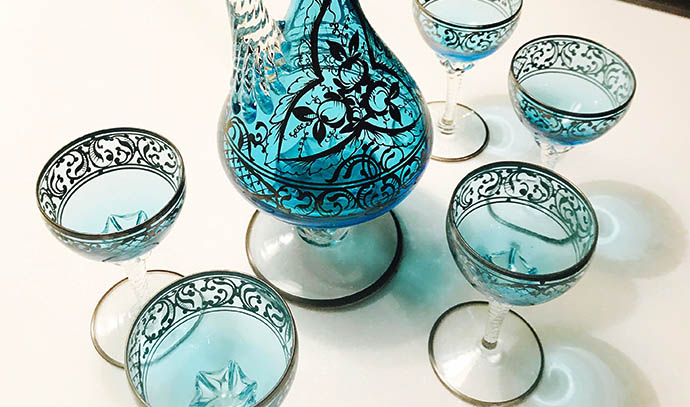 Scour secondhand stores and antique shops for decorative glasses to add a touch of luxury to everyday entertaining. Image courtesy Veda Dante.[/caption]
13. Allude to a luxe lifestyle
A luxe interior is, after all, a reflection of a luxe life so accoutrements of a luxury, stylish lifestyle will give it a touch of authenticity to your interiors (even if you don't sip cocktails every evening while listening to jazz).
A drinks trolley, glass-top coffee table or buffet, or Art Deco drinks cabinet with a display of decorative glasses, metallic ice bucket, retro cocktail shaker, and cut glass decanter or carafe suggests a social luxe life while a pile of books on the coffee table next to an inviting armchair reflects a luxe life of relaxing and reading.
14. Luxe the bathrooms
Don't forget to continue the luxe look into your bathrooms. First, remove your towels, lotions, toothbrushes, soap holder, laundry and waste bins, pot plants, scales, and floor mats before introducing pieces, new or old, in just one or two colours that complement your wall and vanity finish.
White towels and accessories always create a clean, fresh look (which is why many hotels favour them) and accommodate any colour. Keep to one or two soft hues for your toothbrush, cotton wool and soap holder and any ornaments, candles and vases. Embossed white ceramic and stone, particularly marble and marble look pieces say luxe (Kmart has affordable stone-look bathroom accessories with bamboo trim) and the addition of a metallic framed or bevel-edge mirror instantly makes any bathroom luxe.
15. Luxe up your existing furniture
Giving your old furniture a luxe look can be as easy as painting, covering and paneling. You or a furniture upholsterer can recover your old bedhead or ottoman in a luxurious fabric such as velvet, and with attachable panels, you can revive your existing cabinetry. Stylkea is a new range of peel and stick overlay panels by Gold Coast-based designer Kylie Hughes. The panels transform IKEA pieces and may fit other furniture brands too, depending on their measurements. According to Kylie, the panels are easier to apply than putting together an IKEA's flat pack. Her silver mirror finish panel on a black painted chest of drawers says luxe, luxe, luxe.
If you prefer to choose the finish of your panels My Overlays sells lightweight fretwork panels that can be painted and attached to furniture, mirrors, walls, doors, staircases and glass.
Back to top