interior-design-living-room-kitchen-dining-area-broken-plan-living
Broken plan living: the new open plan?
Katie Adema, December 2015
By now, most Aussie homeowners have heard of open plan living – most of you would likely be currently living in a home that is designed with an open plan layout. Knocking down a few internal walls and joining living spaces together has been hailed as the answer to a new and improved style of living for quite a few years now, as it offers families the opportunity to expand their functional space. But how many of you have heard of the term 'broken plan living'? If you haven't, get ready to hear it a few more times, as its about to become a buzz word in interior design.
What is broken plan living?
Broken plan living is essentially the movement away from open plan design towards incorporating quieter spaces for retreat. This benefits all members of the household – everyone needs their own space from time to time, whether they just need some time to relax with a book, or need to focus on a big project with a looming deadline. It also accommodates the different personalities within the home – someone may want to watch a particular tv show while another family member is planning on playing a game with a friend, and another is browsing the net on their tablet device. Broken plan living allows everyone to do their own thing without disturbing other members of the household. It can be seen as a slight return to the Victorian style of housing, with a separate cooking and living space, and a 'best room'. While the word 'broken' gives an idea of disjointedness, this concept is all about interconnected living. Each space may have a specified purpose, however, the spaces are all connected and able to fulfil a different purpose for different family members.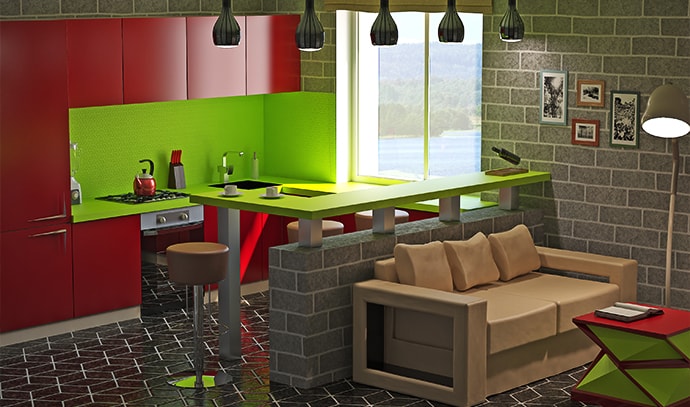 What factors are driving the movement?
The increased use of smart phones and tablet devices whilst in the home are said to be the main reason behind this interior design trend. Many homes have more smart devices than they have people, and so the need for small quiet spaces is clearly there as family members seek solitude. Lifestyle trends highlighting 'quiet time' and meditation practises as vital to overall health and wellbeing, such as adult colouring books, the practise of mindfulness, and technology free hours, also may be a driving force behind broken plan living.
Who is using it?
Broken plan living is striking a chord with people of all demographics, from young professional couples to families with older children. Basically, if you are the type of person who needs a break from time to time, or space to focus on work or study, then you could benefit from this style of home.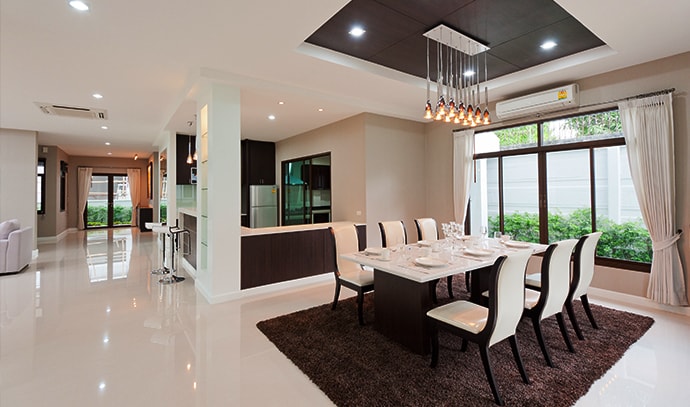 How do I jump on board?
You don't have to start putting up walls everywhere to create smaller, quieter spaces around your home – even small changes can make a big difference!
Set up some bookshelves with an accompanying armchair or lounge in a corner of one of your living spaces. You can form little havens like this all around your home, whether they are small or large.
If you work from home, consider moving your office from your dining room table to a separate room, or even just a hidden desk inside a cupboard. This way, your workspace is differentiated from your leisure space, and plus, you can hide your mess much easier!
Families with children can benefit a great deal from broken plan living – having a 'kids' living space and an adult one can be just what your sanity levels need. If you don't have the luxury of two living spaces, even claiming one of the lounges as your own could be enough!
Back to top