house-exterior-night-lights-designer-swimming-pool-dusk
Brighten up the night with pool lights
Phyllis, August 2016
It's almost spring – and that means swimming season is just around the corner. There's one great way to ensure that you, your family and friends can enjoy splashing around day AND night – and that's to install some pool lights. Not only to they enable the pool party to continue after sunset, they add to the overall ambience of your outdoor entertainment area. LED (light emitting diodes) have revolutionised the lighting industry over the past 10 years with their low energy usage and long lasting quality. They're available in flush-mounted or wall mounted fittings. The flush mounted lights protrude only 11mm from the pool wall, giving your pool a stylish, clean finish. Britestream are among the brightest on the market. Their super-bright LEDs are capable of delivering 352 lumens. (Lumens is the measure of the total amount of visible light (to the human eye) from a lamp or light source. The higher the lumen rating, the "brighter" the lamp will appear.) They're super energy efficient too, using just 15 watts of energy. That's about 15 per cent of the power consumed by a standard underwater halogen light. They're also built to last with a lifespan of 70,000 hours. To put that in perspective, if you ran your lights for six hours a day, they'd last 30 years. There's a pretty good chance you'll need to replace your pool before you need to replace the lights!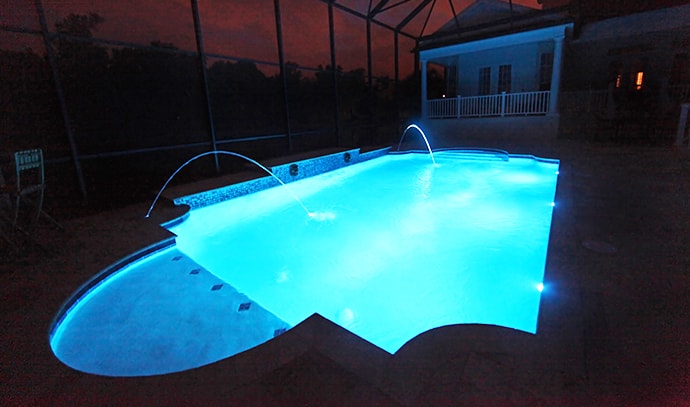 Energy saving
Although LED lights are usually more expensive than halogen, they have a number of advantages that are fast making them the most popular option on the market. LED lights use about 15 per cent of the energy of a halogen light. They also emit light in a specific direction, and don't create the same amount of heat as halogens. In fact, Waterco's Britestream lights have built-in heat management. The availability of high quality brighter LED lights is much more widespread, and the price has come down to make them more affordable and a viable option vs halogen. There are numerous options: wall mounted, surface mounted and retrofit LED lights in different diameters for concrete and fibreglass pools. Versatility is an integral part of LED lights, as they can produce myriad different colours without the need for coloured lenses. The Britestream's multi-coloured combinations are easily programmed via its light switch, and nine different colour programs are available.
Make the change
Britestream lights are designed so you can easily replace your existing halogen pool lights and, thus, slash your pool light electrical power requirements by 85%. The Britestream LED Replacement Kit includes a retrofit connector and a universal pool light adaptor, cleverly designed to adapt the Britestream to convert a majority of lights. Flush mounted lighting can be of the halogen or LED variety, and essentially is installed inside the wall of the pool so that it creates a smooth finish. All that can be seen is the face of the light. One of the main advantages of flush mounted lighting is the flexibility in terms of placement, as they can be placed almost anywhere inside your pool, including near stairs, as they do not protrude and therefore won't be knocked about. Surface mounted lighting is installed on the side of the pool, and therefore does stick out into the pool a certain amount, depending on the brand and model. The main advantage to surface mounted lighting is the amount of light they give off; not being installed inside the wall, they can light the pool considerably more than a flush mounted light. They can also be easily installed in concrete, fibreglass and vinyl pools. Another advantage is that existing surface mounted lights can be easily replaced by the Britestream surface mounted LED light via its adaptor plate.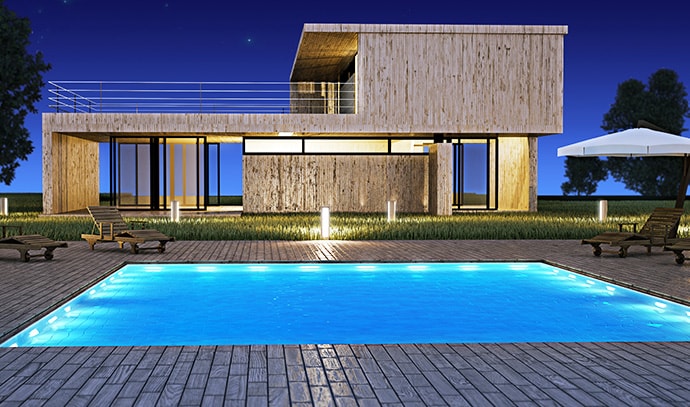 Colourful options
The design of the Britestream means its glow is cast 180 degrees without any shadows and a new innovative lens provides a uniform diffusion of light, which improves the intensity of the lights. A clever colour memory program means the Britestream will default to the last of the nine different colour programs selected, meaning you won't have to try to remember what your favourite selection is. Britestream's precision built circuit board is enclosed in a waterproof polycarbonate housing that is UV and corrosion proof. The LED's heat output is automatically managed by its electronic circuitry and slotted rims on its face further assist with heat dissipation. Best of all, Britestream LED lights can easily be retrofitted to most existing halogen light systems with a universal pool light adaptor and retrofit connector
Back to top