smeg-black-oven-black-fridge-dirty-kitchen
Black is the new black when it comes to home fittings and fixtures
Phyllis, April 2015
Above image courtesy of Smeg
From limousines to little black dresses, basic black has always been a style classic. So it's no surprise that black is the new, er, black when it comes to home décor, fittings and fixtures. And why wouldn't it be? It can be formal as a stand-alone feature – or provide the perfect foil for vibrant colours like red or yellow. So what's out there when it comes to adding a bit of noir chic to the home?
Kitchen chic
Unless you're a total goth or emo, black walls are out. But a black kitchen sink is totally "in". Teamed with matte black taps and you'll never have to worry about cleaning the chrome again. Tradelink has a wide range of both to choose from. Thanks to White Magic's new black range of kitchen tea towels, cleaning cloths and coasters, the busiest room in the house can look effortlessly chic (and clean) all the time. Black is also a big part of this season's colour palette for tableware, with Noritake's rustic themed Colorwave stoneware boasting a graphite exterior. Then there's a black fridge (Smeg has a gorgeous retro design), dishwasher and freestanding cooktop or oven and cooktop. (Various companies have black appliances in their range.) [caption id="attachment_2524" align="alignleft" width="690"]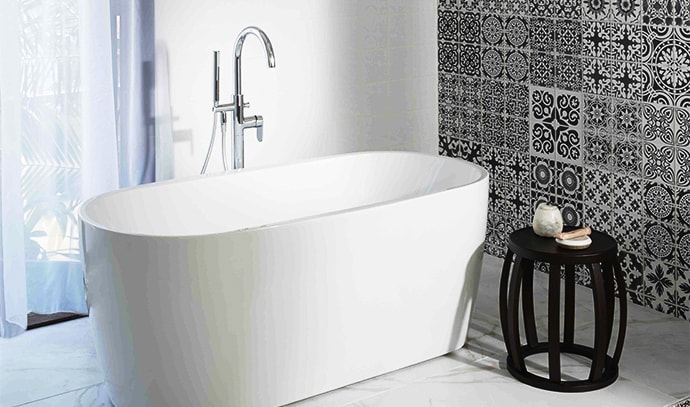 Image courtesy of

Tradelink
[/caption]
Bold bathrooms
Walk down the hall to the bathroom and there's scope for matte black taps and shower roses. Tradelink has a new range in various styles with matching accessories that can be teamed with a black bathtub and, dare we say it, a black toilet. (Yes, they exist. Check out Argent Australia's website for its black Villeroy & Boch loo.) Solid black tiles would be too depressing (and dark) in the average bathroom, but the bold monochrome patterns in the display bathroom pictured on this page perfectly sets off the display of Tradelink's recently relaunched Raymor brand of bathroom products. Add a black stool and it's effortlessly chic without being overwhelming. Beaumont Tiles' Fusion and Arcade ranges are another example of how black can be incorporated into a colour scheme to create a timeless an elegant appeal.
Back to top