jodie-cooper-the-konex-yellow-study-room-interior-design-modern-furniture-displays
Bijou decorating tips
Veda Dante, April 2016
Like so many French words, 'bijou' – pronounced
bee-zhooz
– is an elegant word that is used to describe small, "charming" spaces. Adopted decades ago by the English, a 'bijou residence' is typically viewed as a cosy apartment flat, bungalow or guesthouse. When it comes to interior design tips for Australian homeowners, bijou can translate to anything small, be it a particularly snug room in the house, or an under utilised corner of a room. Winner of the 2016
'

Best of Houzz

'
in the Design category for the second year running, professional Perth interior designer
Jodie Cooper
shares some of the award-wining tricks she uses to make the most of bijou spaces.
Use floor rugs to define an area
When your lounge is backed up against the wall, a rug that floats in front of the furniture helps pulls the room together. A patterned rug in the entrance of your home – another typically small, awkward space - makes a strong first impression but ensure the colours don't clash with nearby furnishings. Flat weaves or very low piles are best to ensure easy clearance when opening the front door. To prevent a small, narrow room from looking like a bowling alley, try floating pieces in the centre of the room, like the lovely round coffee table pictured above, which helps maintain a consistent colour palette so the space feels well proportioned.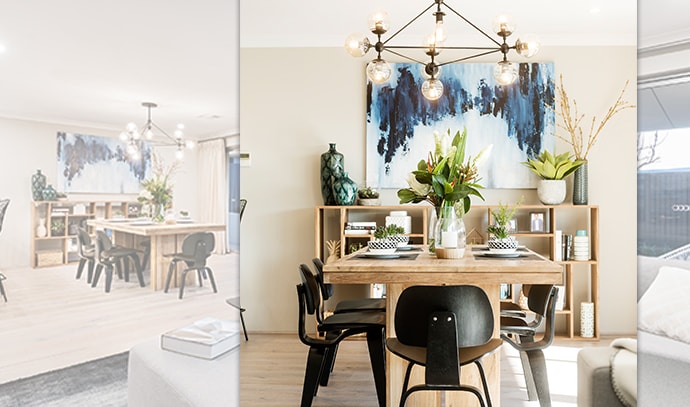 Create a focal point
A large piece of wall art or patterned floor rug adds a striking focal point as soon as you enter a room, which in turn distracts your attention from its less than stellar dimensions. Not only do large artworks help scale up bijou spaces but also act as a strong centre of gravity around which everything else in the room revolves. Stick to light, bright colours and look for tall, slender artworks that make ceilings appear higher, much like the vertical lines on a dress give the wearer the illusion of appearing taller. Another designer trick to make a room look larger – or specifically, ceilings higher – is to place curtain rods close to the ceiling (a couple of inches below the crown moulding will suffice) and extend the rod at least four inches on either side of the window. This makes the window appear both wider and higher, and allows more light to enter the room when the curtains are open. [caption id="attachment_4497" align="alignleft" width="690"]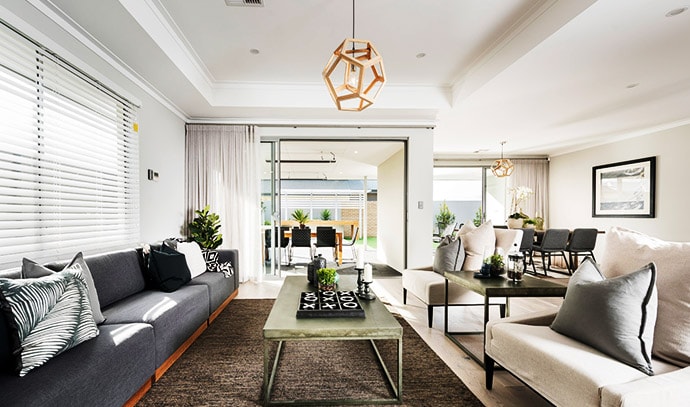 Image courtesy of Jodie Cooper Design
[/caption]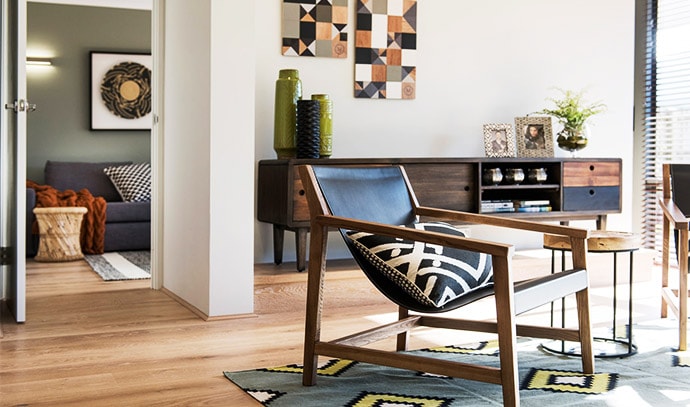 Ditch the modular
Rather than fill the room with large pieces of furniture, like a modular setting, instead opt for a lounge coupled with occasional chairs. Large, bulky designs with rolled arms and cushioned backs like the Chesterfield does not suit bijou spaces. Instead, look for sleek, streamlined furniture with skinny arms and legs and tightly upholstered backs. Neutral or light colour palettes prevent small spaces from feeling closed in, and also reflect light that enters the room. You can add your personality with bold furniture colours, accent cushions and bright accessories but just remember that too many statement colours in one small space can feel overwhelming.
Above images feature homes from www.newlevel.com.au
Back to top