townhouse-home-white-fence-australia
Australian home values hot stuff during winter
Lisa Llewellyn, September 2014
…and set to stay hot in spring
Despite the cooler weather in Melbourne and Sydney (and the constant rain in Sydney during August), it certainly didn't cool (or dampen) enthusiasm for the property market in these two cities. And many are gearing up for a busy spring rush.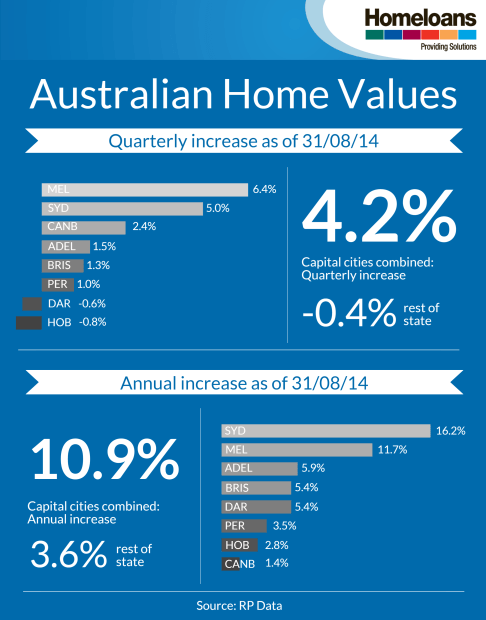 According to property information provider
RP Data
, for the winter quarter (three months to 31 August), house prices posted the biggest jump over the three months of winter since 2007. While Sydney recorded a five per cent rise in property values over the cooler months, Melbourne certainly topped that with a 6.4 per cent increase.  Next on the list were Canberra homes (up 2.4 per cent), Adelaide (1.5 per cent), Brisbane (1.3 per cent) and Perth (1 per cent). Hobart was down 0.8 per cent, while Darwin dropped 0.6 per cent. "Over the latest growth cycle we have seen Sydney dwelling values increase by 27.2 per cent and Melbourne values up by 19.5 per cent," said RP Data research director
Tim Lawless
. "Sydney and Melbourne were also the strongest performing cities during the 2009/10 growth cycle. Since the beginning of 2009 we have seen values rise by a cumulative 50.1 per cent and 46.1 per cent respectively in Sydney and Melbourne." The next best performer was Perth, where values are now 15 per cent higher, RP Data's figures showed. This was followed by Adelaide at 9.9 per cent and Brisbane with 5.3 per cent. In Hobart, dwelling values are actually 1.5 per cent lower.
Spring a litmus test
With the onset of spring, Mr Lawless expects listings numbers to rise over the coming month "which will provide a real test for the housing market." "Considering the ongoing high rate of auction clearance rates, a generally rapid rate of sale and the ongoing low interest rate environment, it's likely that dwelling values will rise even further over the next three months," he said. "Consumer confidence is also moving in the right direction now after the post-budget slump, which will add fuel to the exuberant buying and selling conditions we have seen during winter." Research analyst
Harrison Hall
from franchise group PRDnationwide says that in Sydney "change over buyers" (second or third homeowners) and investors have been the driving demographics for increases in Sydney property values. "They have played a large part in the growth in Sydney's inner west, while investors have been more prevalent in the outer west and north west Sydney," Mr Hall says. Fellow PRDnationwide research analyst
Augustine Conteh
says it's a similar story in Melbourne "thanks to interest rates being held constant, marginal improvement in housing finance and a number of other key indicators." "Overall, the Melbourne property market is expected to show an increase in demand which will influence price," Mr Conteh says. "Demand is expected to come from investors, change over buyers and some first timers, due to a comparatively low entry price."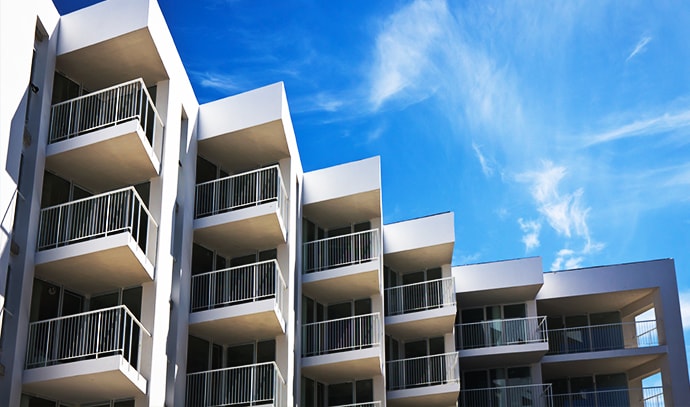 [alert style="alert-info" dismissable="false"]
Firming rental yields… but investor activity still strong
Rental rates have been rising at a slower pace than dwelling values and RP Data expects to see a compression in rental yields across each of the capital cities. The only regions where yields have moved higher over the past 12 months have been across the Adelaide and Hobart apartment markets. Across the combined capital cities, the typical gross yield on a house has reduced from 4.1 per cent to 3.7 per cent over the past 12 months. RP Data's Tim Lawless said the most significant yield compression is taking place in Sydney and Melbourne. "Over the past year we have seen Sydney's gross rental yields fall from 47 basis points, from 4.1 per cent to 3.6 per cent," he said. "In Melbourne, where rental yields are even lower, we have seen gross yields fall by 32 basis points over the year to reach 3.2 per cent gross. Given the current rate of value growth and moderate rental growth, it won't be long before Sydney yields have moved below those of Melbourne. "With yields so low in the cities where values are seeing the largest capital gains, it is clear that investors remain very much focused on value growth rather than yield. "Investors are mostly concentrated across the Sydney and Melbourne apartment markets where capital gains have been strong but yields have been pushed very low. Potentially there are better investment returns to be had in the smaller capital cities where the growth trend is less mature and yields are also healthier." PRDnationwide's Harrison Hall expects a lower growth rate for Sydney's residential rental market moving forward. "[That's] due to more investors in the marketplace, which should result in a less competitive rental market (i.e. more stock, less tenants)," Mr Hall said. "There should be continued demand from investors thanks to low interest rates and strong capital growth prospects. However, caution should be advised for those looking to purchase, as current price growth is unsustainable and there is a threat of mid-term oversupply, particularly for apartments. "Median rents report some growth, but it is unlikely it will match the growth in sales prices. An increase in stock and lower yield should provide welcome news for renters." Melbourne, too, is expected to record low rental income growth. "Falls in confidence and the battle with potential oversupply has left a low rental yield of 3.7 per cent in the winter season," Mr Conteh added. "However, Melbourne is expected to continue as an investor hotspot thanks to increases in investor expenditure ($3.4billion in June).  Foreign buyers are expected to increase their demand due to a fall in the exchange rate and the tendency of foreign buyers to sidestep the laws for home buying." [/alert] [caption id="attachment_3420" align="alignleft" width="690"]
Augustine Conteh
(left) and
Harrison Hall
(right), PRDNationwide[/caption]
Data from www.prdnationwide.com.au, and www.rpdata.com
Back to top