dr-who-tardis-bed-cubicle-and-blue-tardis-door
Add some "space" to your home - TARDIS-style
Phyllis, August 2015
"Who are you?"
Anyone who's grown up in the past 50 years knows the answer:
The Doctor
. When the BBC brought
Dr Who
out of retirement in 2005 with Christopher Eccleston in the title role, it brought the Time Lord back into mainstream culture (and our homes) in more ways than via a TV screen. Suddenly it was cool to be a nerd and even cooler to have TARDIS' (or is it TARDII?) around the house and garden. The benefit of owning a
Time And Relative Dimension In Space
machine is, of course, that it's bigger on the inside, making it perfect for storage (as well as travelling to other dimensions). So here are a few fun ways bring some added "space" into your home Dr Who style. Now nothing sucks up floor space like a bed, but several people have taken the fold-down bed-in-a-cupboard concept to a new level with a TARDIS bed. Close, the underside of the bed is painted to look like the famous police box. A night, it folds down to reveal … the same police box on a doona cover. These are available at ABC shops around Australia (or online). Of course, if building a TARDIS bed seems a little difficult, you can still cuddle up on the sofa with a TARDIS cushion, while sipping your favourite brew from a TARDIS mug and munching biscuits from your TARDIS cookie jar. Slip into the bathroom for a shower and there's a TARDIS shower curtain. But back to the creative stuff. Check out Pinterest: 
www.pinterest.com
and it's clear to see that The Doctor is invading homes in myriad ways. There are bookshelves and DVD cupboards hidden between TARDIS doors. Then there's the front door (yes a REAL front door) painted to loom like the famous police box. (Step inside and you'll find a whole house!) On a smaller sale, one enterprising person built a cover for their telescope. Come to think of it, this wouldn't be a bad way to disguise a hot water system either.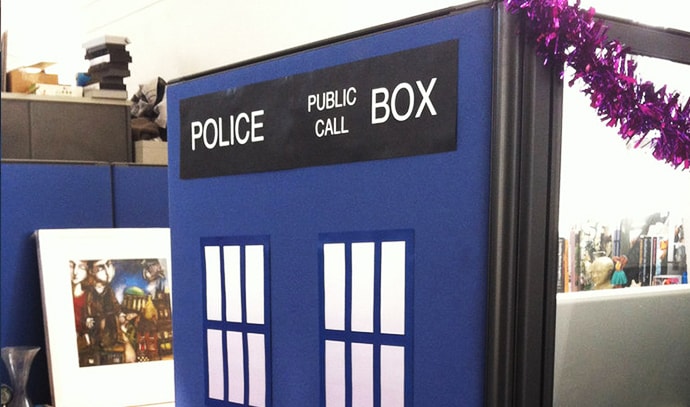 One wit I discovered on the 'net had turned his blue office cubicle into a time travelling portal, another painted her fridge and on country Victoria a dad built a TARDIS shelter by the side of the road so his son could stay dry while waiting for the school bus. Those who don't want (or aren't allowed) to have a TARDIS popping out of walls or doorways, there are still many ways to incorporate them into a tasteful (if intergalactic) décor). A handmade TARDIS teapot will set you back $194 from Jadeflower on Etsy, or there's always the good old ABC shop (online anyway) with backpacks, lunch bags and salt and pepper shakers. [alert style="alert-info" dismissible="false"]
5 fun facts about the TARDIS
Asteroid 3325

, a main belt asteroid discovered in 1984, is named TARDIS after the Doctor's time/space machine.
The distinctive TARDIS sound effect was originally created by simply rubbing the bass strings of a piano with a key. This sound was then modified by the

BBC Radiophonic Worksho

p

.
The word TARDIS became so familiar to British audiences that it was added to the Oxford English Dictionary.
The Doctor's TARDIS has a broken "

Chameleon circuit

" which is supposed to enable it to disguise itself to blend into any environment. For example in ancient Rome, it might look like a Roman pillar or statue from the outside. However in the first ever episode An Unearthly Child, we discover that the circuit is broken and the TARDIS is stuck in the shape of a police box.

Physicists Ben Tippett and Dave Tsang

actually wrote a paper about how TARDIS time travel might be possible. Tippet and Tsang propose that the TARDIS moves as a bubble of space-time back and forth along a loop of time.
[/alert]
Back to top