wooden-dining-table-plates-utensils
8 tips to keep your timber dining table looking like new
Joseph Webb, December 2017
Whether you're splurging on a designer centerpiece from
Fanuli
, upgrading with an affordable replacement from
Freedom
, or looking for a pre-loved family favourite on
Gumtree
– there are a few key factors to think about when choosing a timber dining table for your home. After all, it's not just a place to eat but for many of us also where we help the kids with their homework, collaborate on the 1,000-piece puzzle, and solve the world's problems during dinner parties with friends. Timber is one of those timeless materials that transcend trends, and can actually look better with a little wear and tear – unless glass and acrylic. However, before you splash the cash on a new investment piece, here are a few pointers to help you find the right one for your family's needs. [caption id="" align="alignnone" width="690"]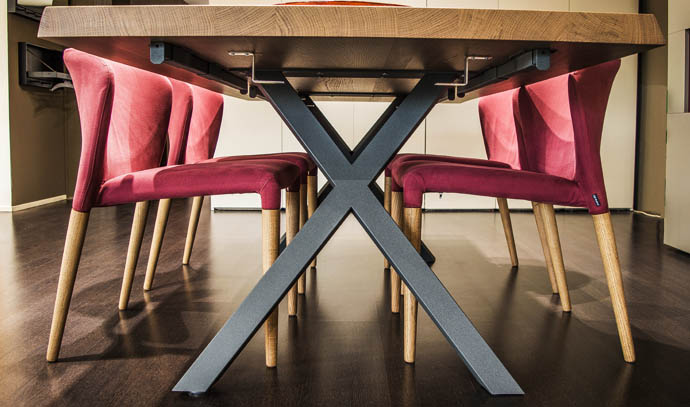 Industrial hardware like metal legs add contrast to warm timber tones.[/caption]
5 things to consider before buying a timber dining table
Size: Consider the size of the room and the number of people who will be using it on a regular basis. Allow for pushing back of chairs and for dinner guests circulating without pressing up against each other
Shape: Square, rectangular, round, or customised to suit the unique shape of your kitchen or dining room – it all depends on your personal tastes and entertaining needs
Style: Traditional, transitional, industrial, contemporary or country – which style will best complement your interior décor?
Usage: Will the table be used strictly for meals, or do you need a multifunctional design with plenty of space for teens to use their laptops while dad spreads out his morning newspaper? 
Budget: This is a key factor in deciding what you can afford. Customisations come at a cost, as do exotic timbers imported from overseas
[caption id="" align="alignnone" width="690"]
While timber is a low maintenance material, it will look better for longer if you follow a few maintenance tips.[/caption]
8 ways to care for your timber dining table and chairs
Rita, Brad and Alexander Barella from
Natural Timber Décor
have been designing and hand-crafting wooden furniture – often from Australian hardwoods like Jarrah and Northern Mahogany – for more than two decades. We asked them to share their top tips to ensure your timber table stays looking great for years to come.
Avoid placing timber furniture in direct sunlight
Arrange pieces so they're not adjacent to heating or air conditioning outlets
Do not place furniture directly under windows
Avoid placing plastic objects such as lamp bases, ornaments and cups directly onto your furniture as they may contain ingredients that may react with and damage the finish
Protective padding is strongly recommended when using your furniture as a writing surface
Clean up spills quickly. Even water left over a prolonged period of time may cause damage
Polish your furniture regularly. Use a clean, soft, dry, lint-free absorbent cloth, rubbing the polish in the direction of the grain. Do not use polishes that are silicone based, due to the difficulty of removing residue should repair or refinishing become necessary
Always follow the care label instructions for fabric and leather dining chairs. In time, fabric or leather will develop 'comfort creases', which are a normal occurrence and not considered a defect
Back to top