mohician-cameo-cushions-delaney-detail-pillows
7 simple tips to decorate with cushions
Phyllis, November 2015
Plump, plush and perfectly divine. Who can resist a cushion? Unfortunately, the effortlessly elegant arrangements we see in magazines, shops and display homes can seem almost impossible to replicate. Then there's the problem of choice, Plain or patterned? Large or small? And how many?
Kasey Gillingham
of
Little Miss Gee
says you can never have too many cushions. "Cushions are great for adding a little interesting design flair to your home," she says. "They can add a splash of colour or texture to your décor, and can brighten up any minimalist styled room. "Floral is one trend that will continue throughout this spring and summer. But avoid overdoing it. Less is more. A single piece is often enough. For the perfect look pair a floral cushion with solid tones. "And the resurgence of handmade design is a welcoming alternative for those seeking a distinctive and one-of-a-kind product individually handcrafted. Get ahead of the pack and own something that is imperfect, tactile and truly hard to find. [caption id="attachment_3367" align="alignleft" width="690"]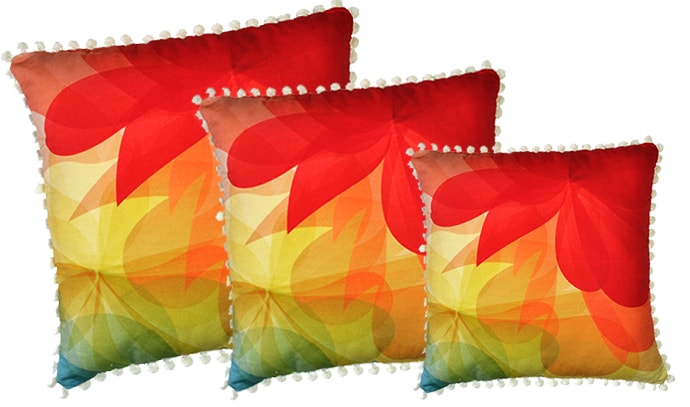 Image courtesy of

Little Miss Gee

- Summer Blossom Collection: Summer Pom Pom cushion
[/caption]
Kasey's
Summer Blossom Collection
is inspired by, well, flowers. Think warm summery days, icy-poles and juicy watermelon. Add the cute pom pom trim and you've got something divine that screams summer and will be a talking point with guests over Christmas. If you want a look that no-one else will have, Kasey's hand-made designs are perfect. "There's various designs available," she says. "They are digitally printed onto a linen-cotton blend. The back is 100 per cent linen in white with an envelope zipper closure and trimmed with white pom-pom trim. Each one is completely one-of-a-kind and made by hand by myself."
CUSHION TIPS
1.   Colour
Never match your cushions with your sofa. Your cushions should pull together all the colours and patterns in your room. Choose the colour of your cushions based on other colours in the room. Don't just think about walls and other soft furnishings. Take inspiration from table lamps, artworks or knick knacks. This will help tie everything in the room together. Think about using online colour swatches and pick out two or three central colours in your room. Your scatter cushions will only need one of these colours somewhere in them to carry this central theme through. Perhaps choose one or two solid colours, then a few with patterns that have elements of the room's colours.
[caption id="attachment_3380" align="alignleft" width="690"]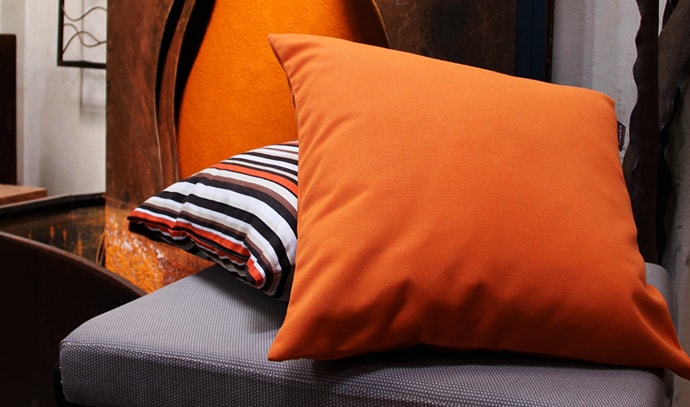 Image courtesy of Elements
[/caption]
2.   Pattern
You can mix different patterns together if they have similar colours that will, again, tie them together. The patterns may be different, but if you ensure they are similar in size, they won't look odd. Another idea is to place plain cushions between the patterned ones.
3.   Placement
It's stating the obvious, but start with the biggest cushions at the back and layer your way to the front getting smaller as you go. Speaking of layers, loads of cushions may look great, but they'll be all over the floor when people try to sit down. Make sure you leave plenty of room for bottoms to fit on the seat!
[caption id="attachment_3381" align="alignleft" width="690"]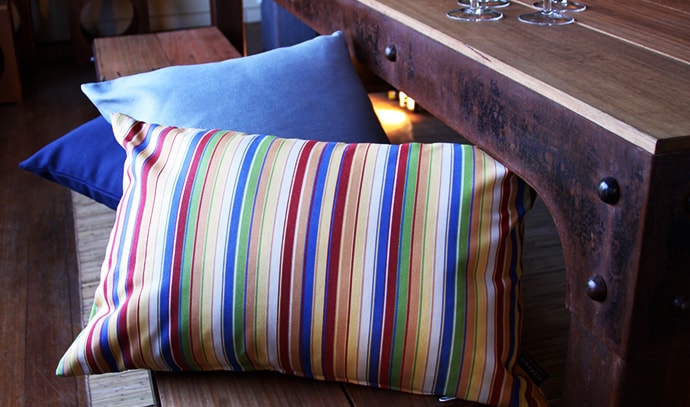 Image courtesy of Elements
[/caption]
4.   Number
If you want a traditional look then have an even number of scatter cushions. Consider two matching solid square colours for each corner of the sofa, then add two smaller matching patterned cushions in front of the other two. On the other hand, a modern or eclectic style room calls for an odd number. A three seater sofa could have five different scatter cushions. Just make syure they all comes from your colour palette.
5.   Size and shape
Cushions don't need to be the same shape and size. Try two solid coloured large cushions that pull together the different tones in the room, then some slightly smaller ones with different patterns but similar colour palettes placed in front. Finish off the arrangement with a small rectangular cushion in the middle that is patterned with similar tones to the two solids.
[caption id="attachment_3366" align="alignleft" width="690"]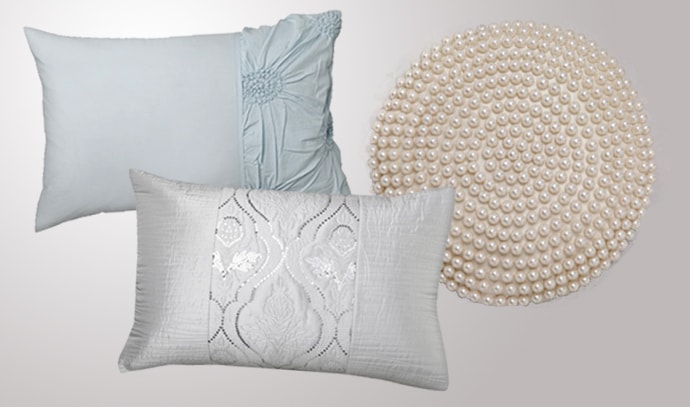 (top-left)
Tamsin Seafoam
pillow ; (top-bottom)
Lopez Silver
pillow; (right)
Antoinette Pearl round
cushion[/caption]
6.   Texture
Of course you may like to stick with variations of one colour, but break things up with a variety of textures, such as washed linens next to knits. (Both very now.)
7.   Reflect the seasons
Look for bright colours and cheery florals in spring and summer, then swap to darker earthier tones in autumn and winter for a cosier feel.
Kasey's Summer Blossom Collection
cushions are 45cm x 45cm and cost $55. More information:
http://www.littlemissgee.com
Back to top